New stadium: Philippines raising the bar for professional sports infrastructure
source: StadiumDB.com; author: michał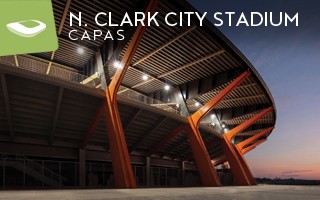 Until this stadium, which has successfully hosted the 2019 Southeast Asian Games, the country had no public stadium of international standards. This has changed now, in style.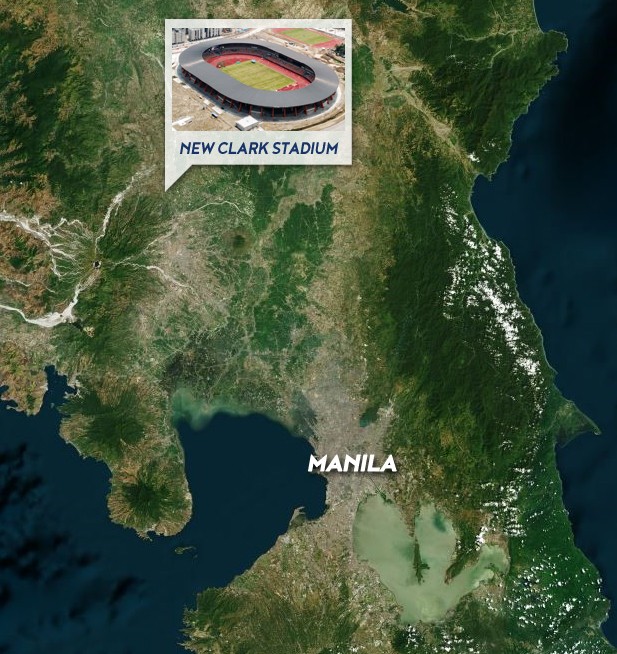 When it was decided that New Clark City would get a major sports complex, the city itself wasn't even there yet. It's still a planned metropolis for over 1 million people with land earmarked nearly 90 km north of Manila. In 2019 the sports and leisure hub became one of the first pieces of the city delivered, along with wide avenues leading to it.
Interestingly, until this project the Philippines had no major stadium meeting both FIFA and IAAF international requirements. While there is a truly impressive complex north of Manila with Philippine Sports Stadium as its part, it's a commercial religious hub of Iglesia ni Cristo, not public. That's why public authorities decided to create a central area for Philippino athletes to train at precisely in New Clark City. The decision was connected to the bid for 2019 SEA Games, which were to be held at this new development... even if no other transport beyond busses was to be available.
In total some 50-60 hectares were earmarked for the development, including a riverwalk park. Aside from the main stadium meeting highest requirements, you'll find a secondary training stadium, vast field for throwing sports, covered natatorium for 2,000 people and athletes' village able to hold over 1,000 sportspeople, to become residential in the long run.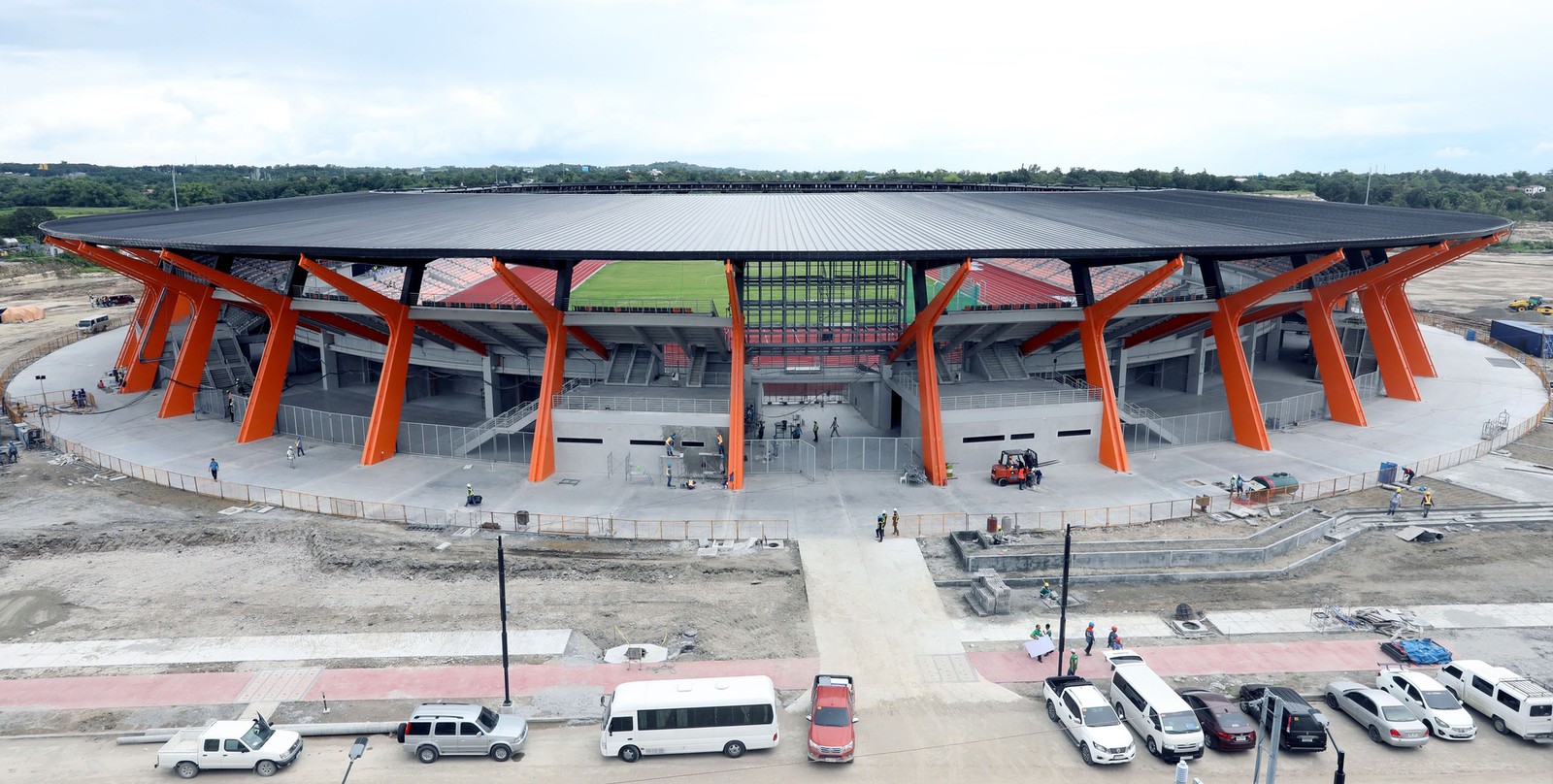 The stadium design was awarded to Manila's Budji+Royal, a company for whom it was the first such project. Realising that New Clark City will not become the next greenest development, they decided to opt for a Philippino sensitivity instead of seeking what was economically beyond reach. The approach used was described as 'practical luxury', which means the best aesthetic outcome with simple means.
The oval stadium may have a simple structure bot it's not like every other stadium you've seen. The lower ring of seating (11 rows) was created entirely on reinforced concrete, while the upper tier (10 rows) rests almost completely on steel prefabs integrated with the roof structure. The western main pavilion stands our with its glazing inside and out (even the VIP area can be enclosed behind glass to offer air conditioning).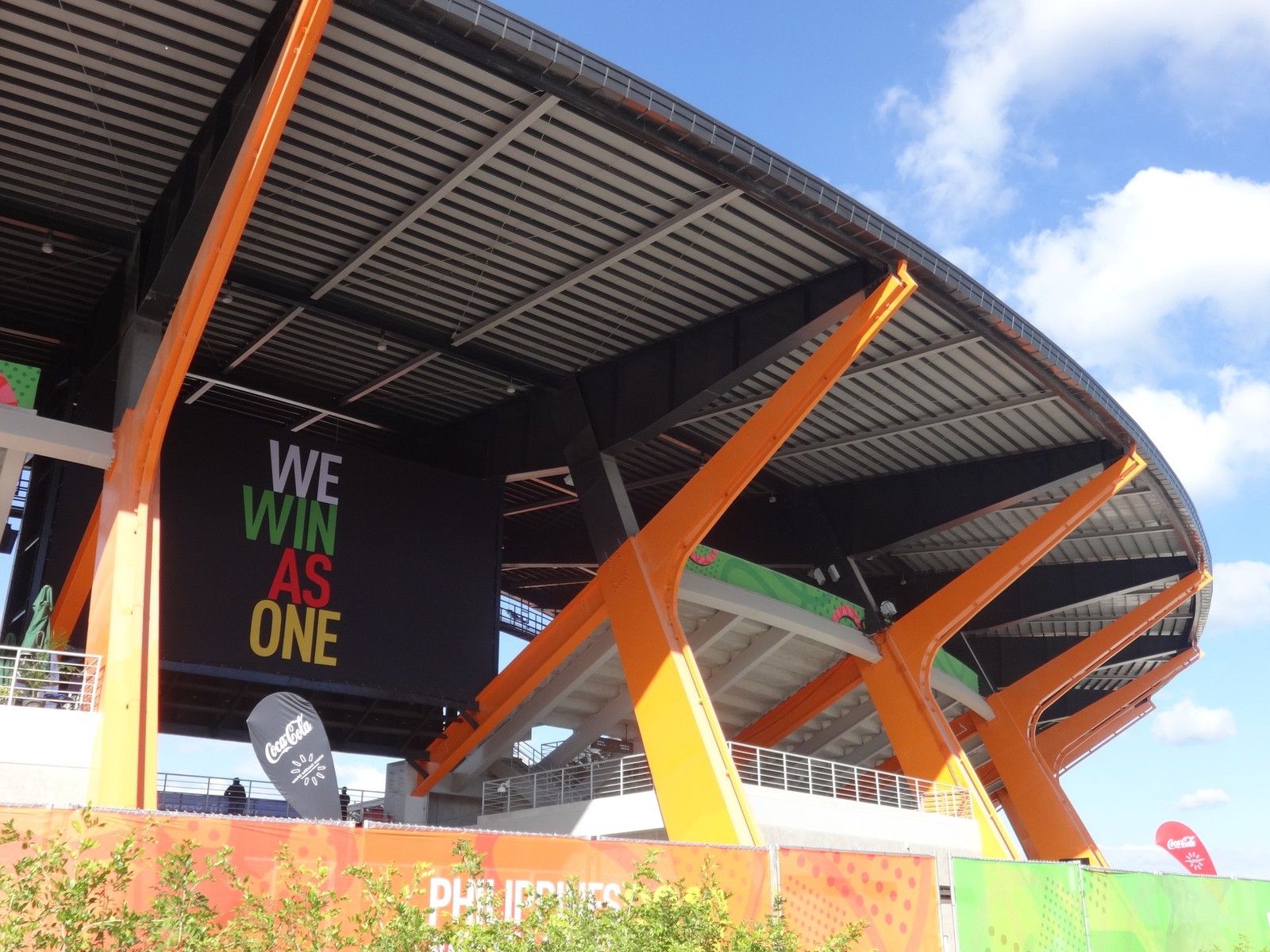 © patrickroque01 (cc: by-sa)
Architects decided to honour Mount Pinatubo, the giant volcano just 30 km south, with their design. And they did so literally, using the lahar lying around (volcanic ash debris flowing down from Pinatubo) as part of the concrete mix. The stadium is thus made partly with volcanic material. While concrete is rarely treated as natural material, here its colour is associated precisely with natural events. The concrete walls were thus left largely unpainted, which makes the use of lahar stand out but also has a simple advantage of simplifying maintenance.
The grey concrete corresponds well to black steel prefabs of the roof. The canopy, also as a way to resemble a crater (caldero) is continuous and covers all of the auditorium. The neutral colour scheme is livened by bright orange paintwork of external steel columns to bring to mind lava. Also the seating is an orange-black mosaic, representing hot and cold lava.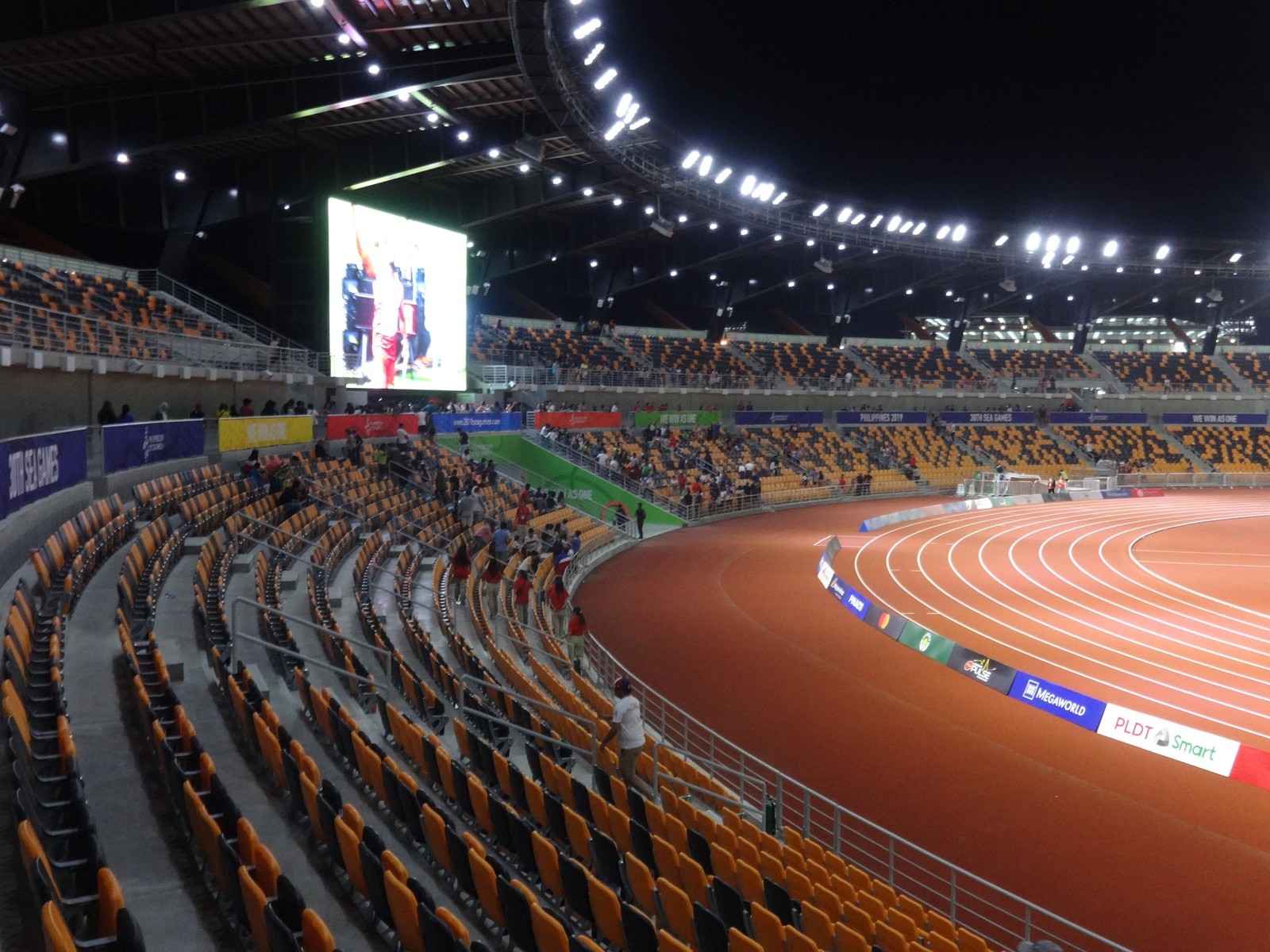 © patrickroque01 (cc: by-sa)
Even the roof's outer cladding is nearly black (21,000 m2), complimenting the colour scheme. The canopy was placed intentionally higher than necessary to ensure proper ventilation of the stands and facilitate mounting of floodlights on its edge rather than using masts. Roof covers not just fans inside but also those directly around the stadium, ensuring shade and rain protection at the public concourse. And because the proximity of volcanos means also the risk of earth shaking, it's designed to withstand 8.9 degree earthquakes.
The project's scale is impressive especially when one considers the time needed to deliver fully functional facilities. While usually such investments take 2-3 years, here it only took 17 months to hand over the stadium, while athletes were able to use it almost 2 months earlier. Official budget for the main stadium, secondary stadium and throwing field is 4 billion peso, which at the time of opening represented $78.6 million.