New stadium: Our belated star
source: StadiumDB.com; author: michał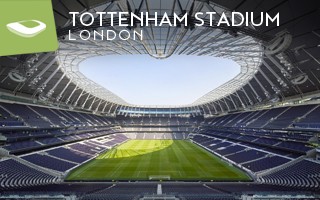 No, we weren't waiting for Brexit to finally happen, we simply didn't have the photos required to create a presentation worthy of such stadium. But now that it's here, we're really happy how it's presented.
Tottenham had played host at the site beside High Road since 1899, when the first iteration of White Hart Lane opened. The stadium, designed in part by the famous Archibald Leitch, saw crowds of over 70,000 at its peak. But the 1990s brought reforms that forced capacity to fall drastically, quite understandable for a stadium sitting on just 2.4 hectares.
At the same time Tottenham was looking north in order to secure land adjacent to the stadium and build something bigger. The plan was first announced in 2007, by 2009 planning application for a new 56,000-seat stadium was filed, designed by KSS Group. The stadium would be part of the Northumberland Redevelopment Project, a major revitalisation scheme for the district. The stadium would mostly be built north of White Hart Lane, allowing transition during construction, while it would be completed after WHL is demolished. However, Tottenham didn't even commit to the scheme entirely until their other option of moving to London Stadium failed.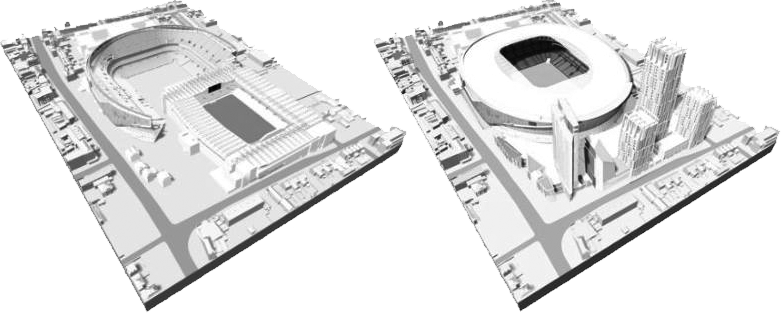 But that wasn't the only factor impeding progress. The club faced an uphill struggle with final landowners north of WHL, which only ended in March of 2015, seeing the last company forcibly selling land. That long wait was used to amend plans significantly, with the club appointing Populous as new designers. New brief included capacity of 60,000 and a venue capable of also hosting NFL football.
As it turned out, that resulted in a playing field unlike anything we've seen. Not only does it retract, it retracts in three pieces and has a second playing field (synthetic, for NFL and concerts) hidden 1.6m below. The field moves in three massive trays, each weighing over 3,000 tons. Because of scarce space, the field doesn't leave the stadium entirely, it hides under the south stand and its front plaza. That's why it had to be divided into long strips: to enable erection of support columns for the stand.
The hybrid main field rests in its garage only as long as necessary, returning back within as little as 25 minutes from initiation. Once it travels all the distance, two side segments attach to the central one, creating a seamless field. Eventually this system should support full season of both Premier League and NFL, should London land a franchise. One more stunning feature is the grow light system which relies on six 70-meter trusses hovering above the field without touching it at all.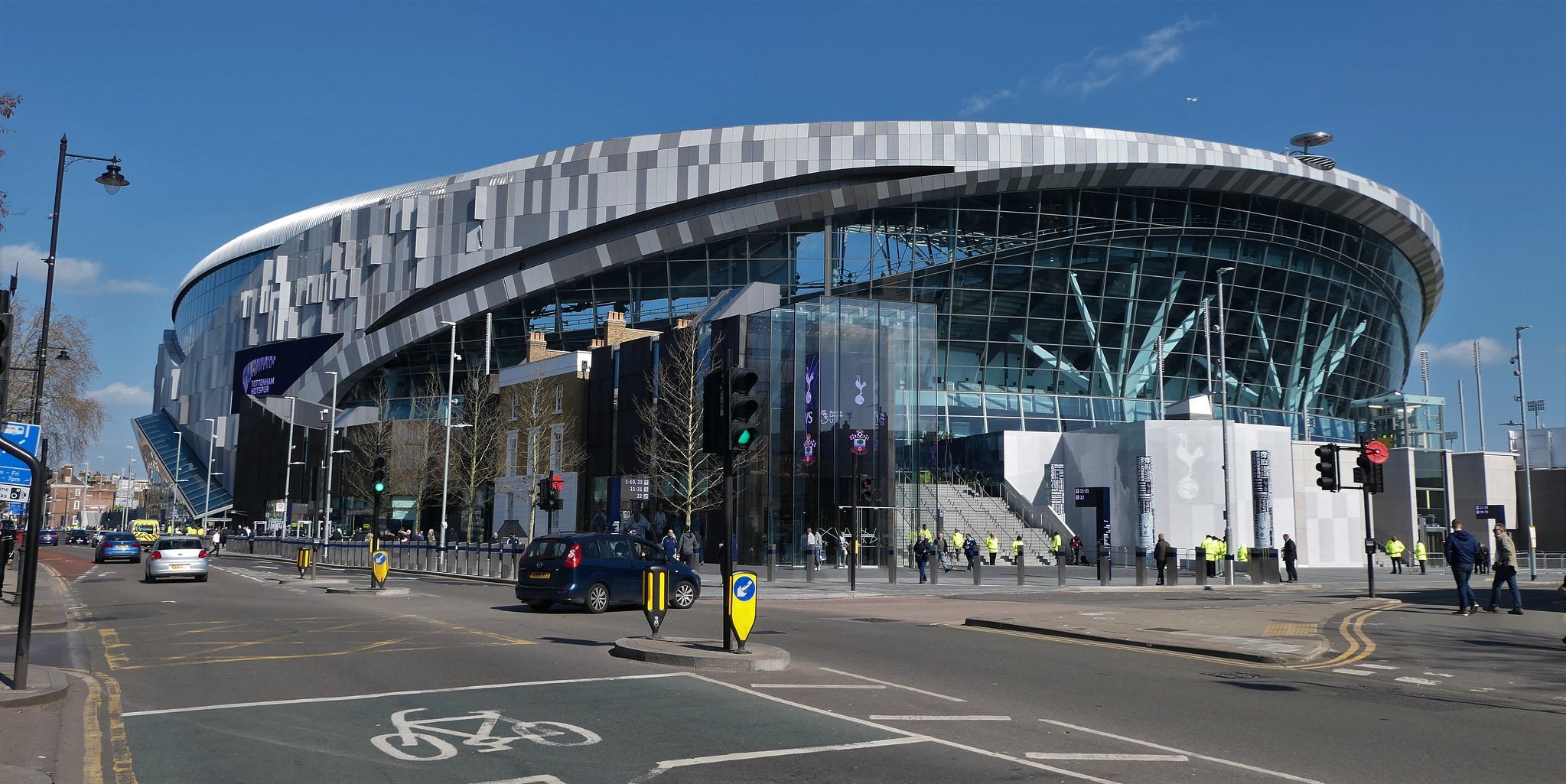 © sbally1
The stadium's outer form stands out from the district's skyline, reaching 48 meters. Eventually the effect should be diminished with high-rise planned beside the ground. Although the 250-meter long venue will still be clearly visible. While not ideally symmetrical, the oval stadium has its axis of symmetry running from the north to the south, only with minor irregularities in facade cladding.
There are three dominant materials used in the stadium's outer shell, both the facades and roof. First it's metal (4,801 perforated steel-aluminium panels cover the facade, 27,654m2 in total), glass (genereous glazing ensuring sunlight access to vast atria and single 7,000m2 span in the south) and concrete (largely prefab architectural concrete at the basis of the ground). The perforated panels, some of which are tilted from the facade, create a dynamic shape, covering much of the regular glazing. By day the stadium is metallic, neutral. By night it comes alive with dynamic lighting.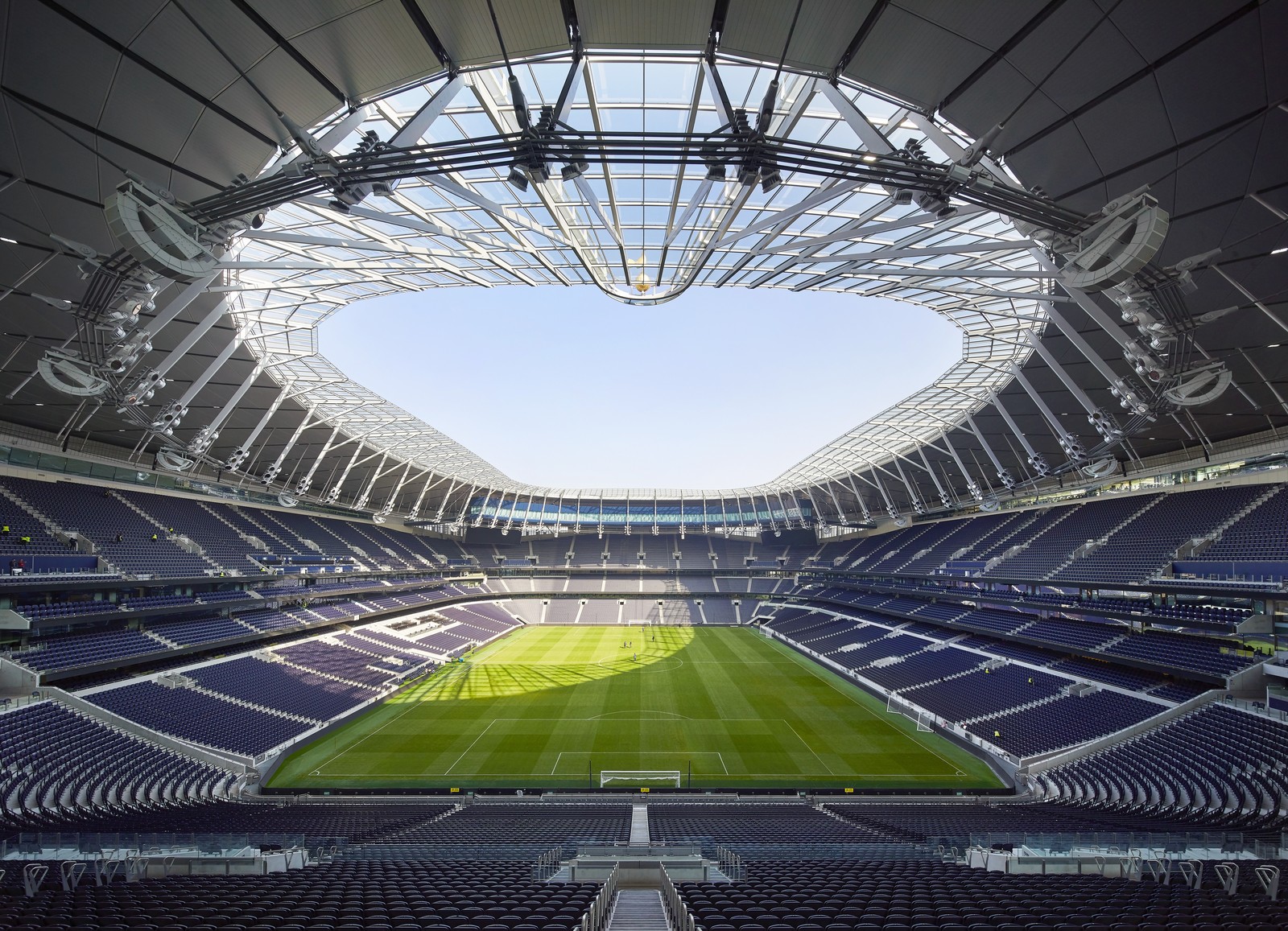 © Hufton+Crow
From the very beginning the seating bowl was announced as very compact, robust. It was even considered a go at Arsenal, whose stadium was criticised for distance between fans and the field. At Tottenham the closes seat is 4.99m away from the field (south stand, grows to 7.97m on other sides). At the steepest point the stands reach 35 degrees, as much as permitted. The vast south stand received the title of England's largest single tiered end with 17,500 seats.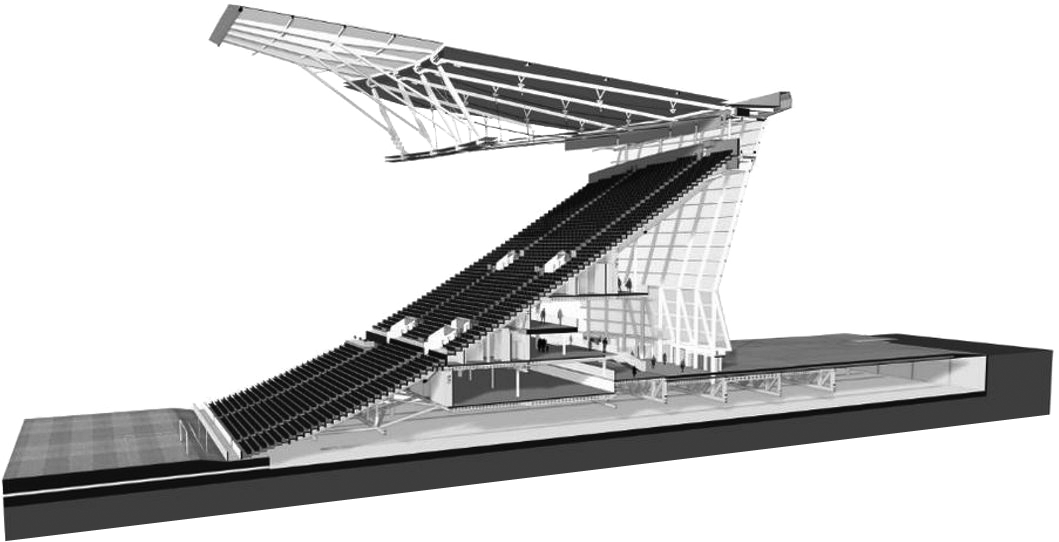 The seating layout decisively turns all eyes on the south, however it's actually the north stand that is the tallest, reaching 35.5m. However, with other sides being between 33-34m, visually the auditorium seems to reach the same height. Both stands along the sides are divided into four tiers, of which two middle ones are premium seating only, while the bottom tier is partly dedicated to most affluent visitors. In total the stadium offers over 8,000 premium seats and 70 private boxes of different standards.
Even though the stands may seem symmetrical, each has a different structure underneath. In all cases its primarily based on steel (16,700 tons of structure steel was used) but main columns vary, mainly being Y-shaped. By far the most spectacular columns are the two 'trees' under the south end. Each of the two trees (standing exactly between segments of the resting field) weighs 275 tons and and becomes a major aesthetic element, not just a piece of engineering. But even smaller columns, invisible to fans, can weigh as much as 200 tons each.
© sbally1
Along with progress of construction, the amount of steel used was increasing due to replacement of reinforced concrete by steel prefabs in order to speed up the process. But there was one area in which some steel was actually saved. The roof structure was initially planned as regular truss structure, later replaced by tensile cable structure, which reduced the wieght by 600 tons. Similar to that of Volgograd, the new structure consists of 54 upper and 54 lower radial cables measuring approximately 42m and 38m long respectively. Two inner rings of the roof are connected by 'flying columns' that also support floodlighting for the field.
Instead of traditional membrane, the roof is made up of 287 glass roof sections and 810 roof cassettes consisting of metal and acoustic panels facing the bowl, and a metallic finish polymer membrane facing the sky. The roof has some 30,000 m2 (part of it is bonded glass selected over polycarbonate) and was designed partly with a boost of atmosphere in mind. In the north a row of boxes was installed under the roof, while in the south the roof is topped with a 4.5-meter cockerel sculpture and equipped with a skywalk, letting tourists to look inside the ground from above.
The stadium ended up holding over 62,000 already in its first year, which is almost twice the size of White Hart Lane (36,000). In terms of footprint the stadium also is roughly twice the size of its predecessor (43,000 compared to 24,000 m2). But in terms of floor space it's four times the size, reaching 120,000 m2, spread across 9 levels. It's thus no wonder that over 60 catering points were fitted inside, including the longest bar in Europe (65m) or another bar with its own microbrewery. And that's just a piece of what regular fans have on offer, the hospitality areas are a story of their own...
Construction of a stadium that large had to take long, as if the prolonged waiting wasn't enough to test Spurs fans' patience. Enabling works on the northern part were launched back in 2014, sped up in 2015 as the compulsory purchase order for last landowners came. Inauguration was then expected in early fall of 2018, some 3 years of first major works. That deadline was missed a few times, however, seeing opening only in April of 2019. It also didn't go perfectly in terms of budget. Initially expected to cost some £400, the stadium saw final price tag possibly double (reaching some £1 billion with secondary facilities), however Spurs never revealed the detailed price tag for the stadium alone.