New stadium: Late by two years but finally opened
source: StadiumDB.com; author: michał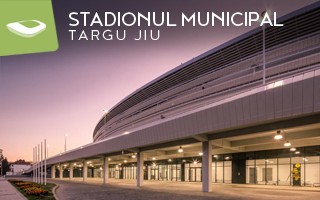 We expected to see the stadium delivered earlier and – since we don't speak Romanian – we really couldn't get our heads around why it wasn't opened. But now that it arrived, the new Targu Jiu stadium is quite a handsome one.
Located just north of strict city centre, the municipal stadium in Targu Jiu was built in 1963 along the representative Constantin Brâncuşi Boulevard, only separated from it by a strip of courts and playing fields. From the west the stadium was connected with public green areas just along the Jiu riverfront.
When governmental funding was avilable and Pandurii Targu Jiu were fighting for Romania's top honours in 2014, decision to demolish the old stadium and build a new one was made. Demolition began in the summer of 2015 and by autumn it was over, paving way for construction of the successor... with one exception.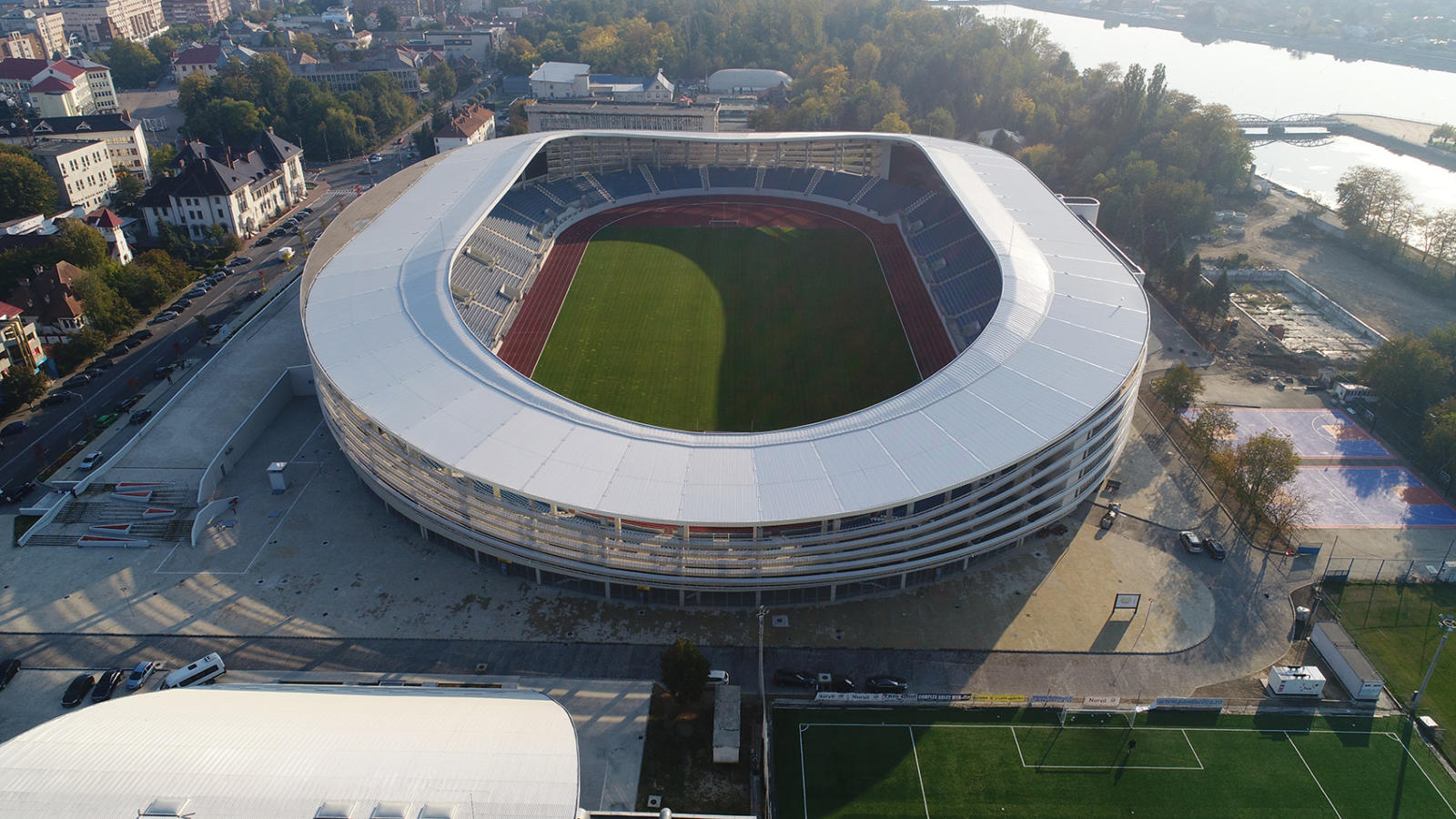 © FRF
There was a substantial building left, which had previously been attached to the west stand. This proved crucial in determining the stadium's future layout as architects decided to incorporate the hotel and in fact create a lounge overlooking the field on top of the 40 rooms. However, the sheer volume of the hotel meant that the main stand was to be moved towards the east, unlike most stadia.
In Targu Jiu's case it allowed to create an impressive main entrance in the east. Below ground level there is parking for over 150 cars, several coaches and all media vehicles. On ground level there's commercially viable floor space and main stadium entrance, while on top there is a vast ramp leading fans to the stadium's concourse. Importantly, the need for perimeter fencing was avoided, which frees up the stadium as a part of the leisure-oriented area.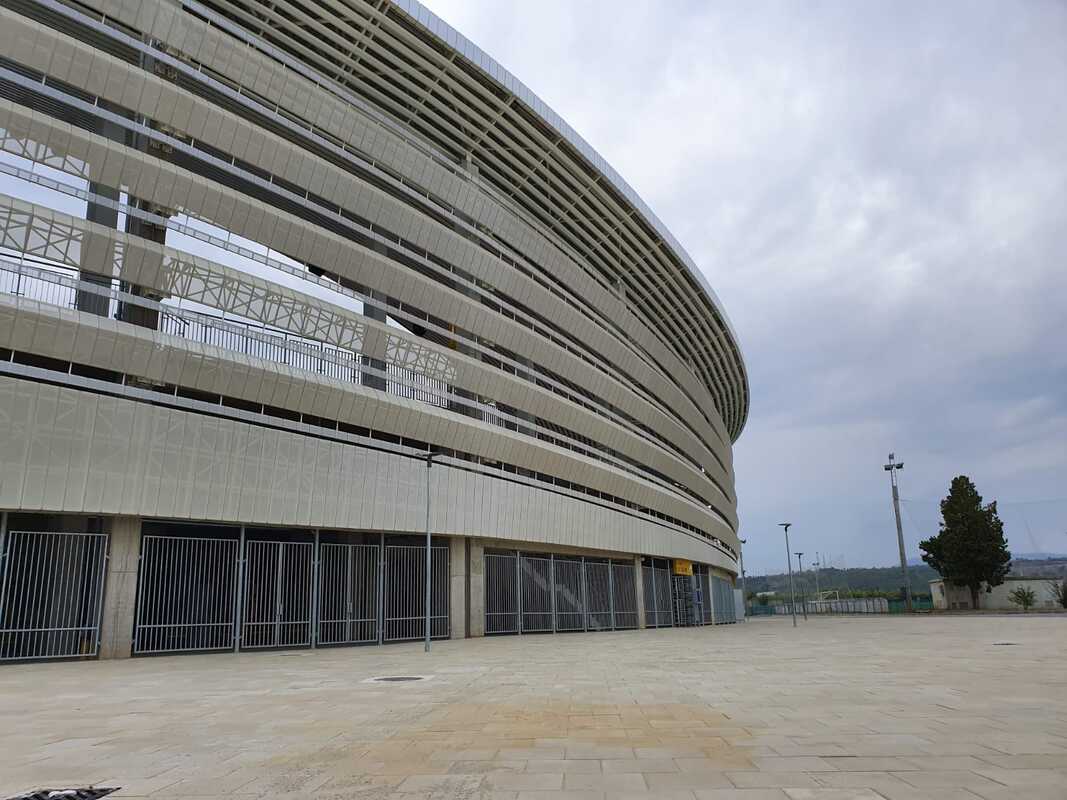 © ACI Cluj
Along the investor's decision, the running track was retained, which resulted in the stadium's length of 200 meters. Combined with height of 25m it creates a vast structure in already thick urban fabric. To reduce its impact the form smoothly reduces its height on both ends, while the facade consists of perforated sheets following the roof's rhythm.
The entire project covers 3.7 hectares and created 67,383 m2 of floor space. A total of 18,000 m3 of concrete was used but the roof itself proved efficient with just 1,300 tons of structural steel consumed throughout the project. As much as 1,600 m2 office space was created and hospitality is available on both the west and east side, including 18 private boxes.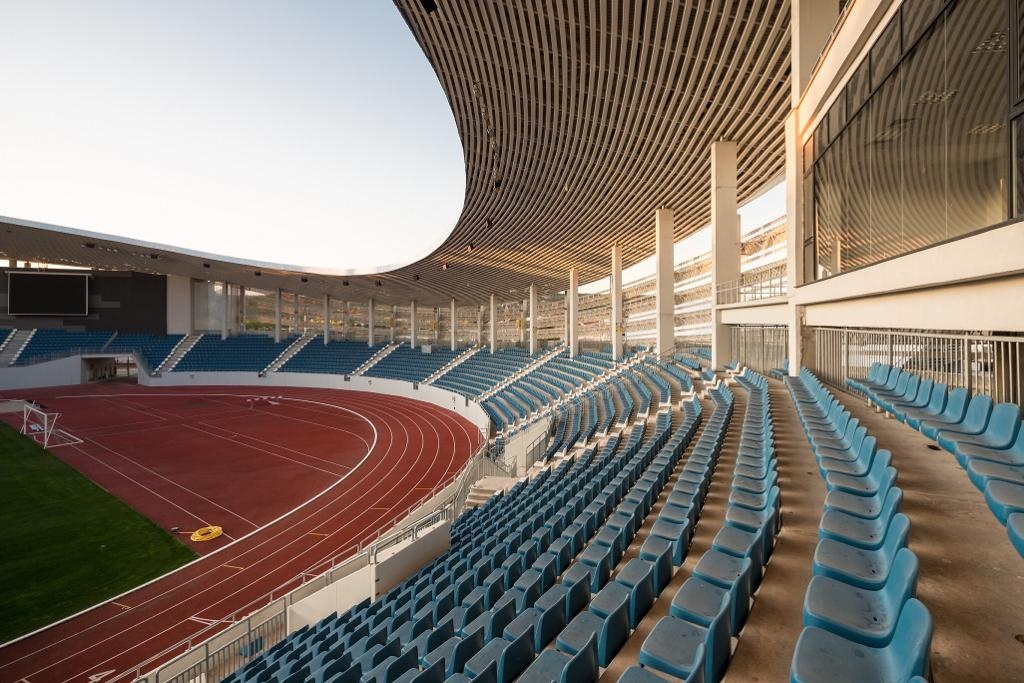 © Compania Națională de Investiții
The most problematic thing about this project was its... opening. The construction contract was worth RON 121 million (roughly €26m) and was to be delivered in 18 months, which would have meant a 2017 opening. And though physically it was, it had to wait for inauguration until late October of 2019.
Despite official claims of anciliary/additional works or repairs, unofficially there was a conflict between new mayor and the owner of Pandurii, the home team, which was forced to leave the city for a portion of that time. A proof of that conflict is supposedly the fact that there used to be a white sign reading Pandurii as part of the seating layout. Which disappeared long before opening.