New stadium: Italian gem of Albania
source: StadiumDB.com; author: michał
Designed by Italians, subcontracted to Italians, with elements of Italian equipment. It seems Albanians not only don't mind but even feel flattered that their new national stadium was actually conceived in Florence...
The historical Stadiumi Qemal Stafa was a crucial piece of Tirana's 20th century architecture, though not entirely because of its own value. It was part of the city's main axis, on its south end, created during the Italian occupation period. It's interconnected spatially with academic buildings and was initially intended to be delivered in stone. However, WWII and economic reality meant only the western front gate was built using this material, the rest supposedly becoming Tirana's first reinforced-concrete structure.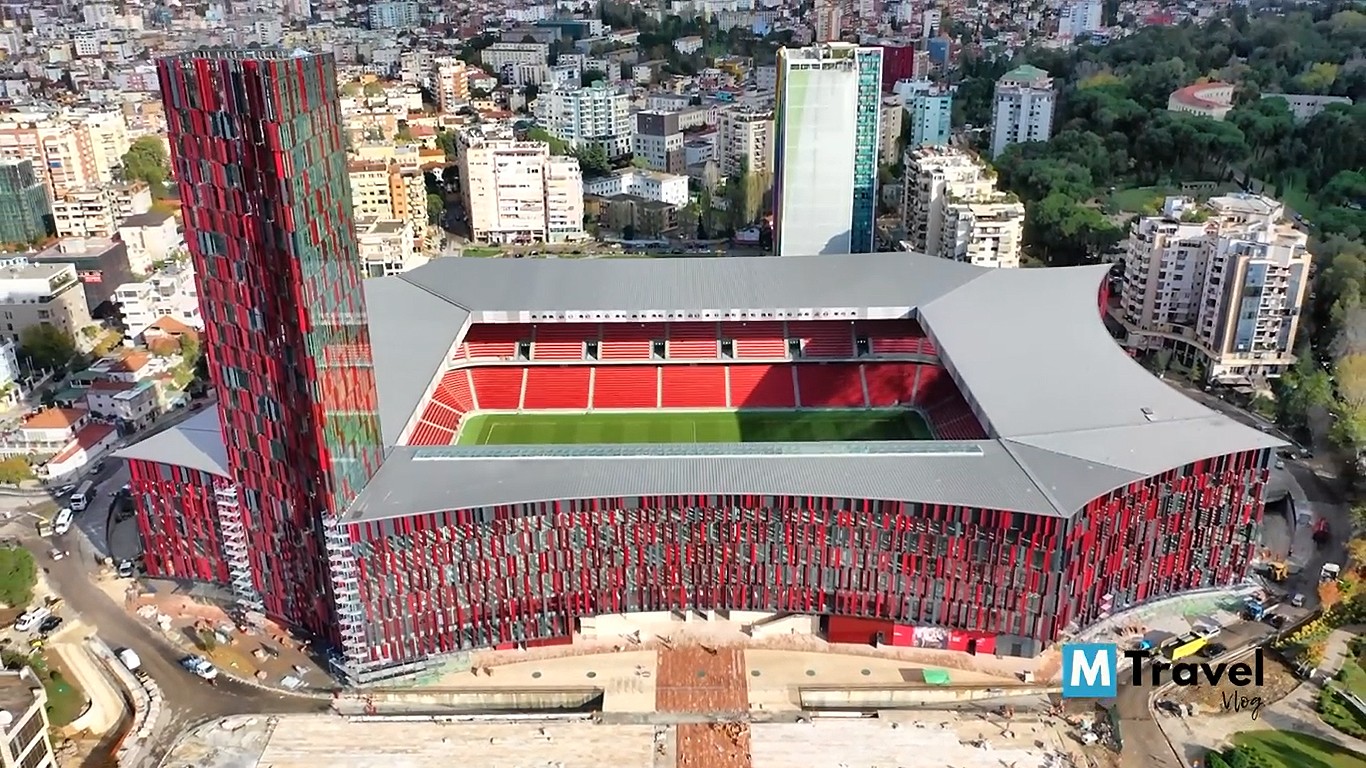 © M Travel vlog
Starting in 1946 the distinctively long stadium (over 250 due to irregularly long sides) the venue was home to national team and many club games, particularly those in European competitions. By late 20th century it was the only stadium meeting UEFA's requirements and from 2013 even it fell behind. By then the Albanian football federation and government were working on a vision for new national stadium but two concepts were eventually scrapped before a working solution was found in 2015.
It was then that construction giant AlbStar repsonded to call for offers in what became one of Tirana's largest projects. In return for VAT tax exemption and revenue from non-sporting facilities, the company agreed to deliver the new stadium and cover any overruns, albeit with a reduction of capacity from desired 30,000 to 22,000. The most spectacular part of the development is a new skyscraper in the north-western corner of the stadium with height of 112m, tallest nationwide upon opening of the stadium.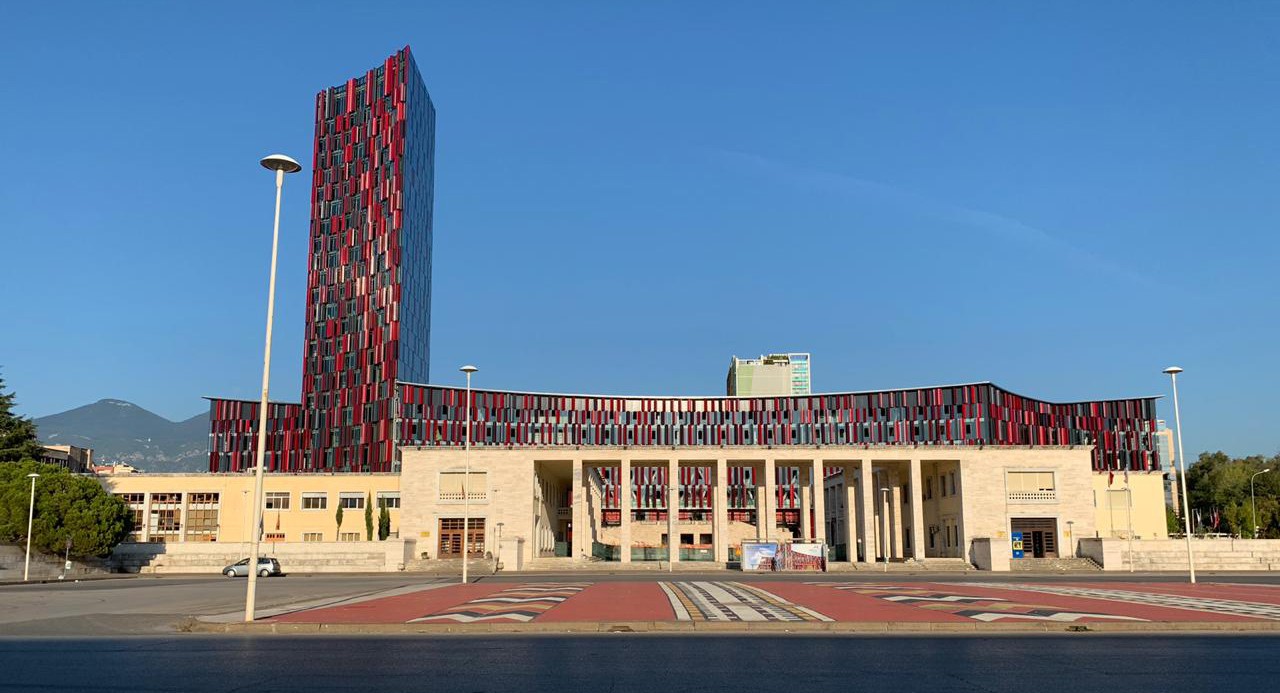 © OdettMelody
Just like with the old stadium, the new one's architect – Marco Casamonti – came from Florence. Casamonti proposed a stadium loosely inspired by Albania's geographic outline, with the footprint of an octagon with concave sides. Due to the amount of additional floor space the stadium is entirely covered with glass (21,600 m2), however additional decorative panels were also created to add national colours and vibrancy to the form. When seen from close distance, these panels have a pattern based on Albanian carpet decorations.
Thankfully it's not all about the modern design as traces of the old stadium were preserved. First, the stone front designed by Gherardo Bosio was restored and incorporated into the western facade. Second, entries and exits of underground parkings (reportedly no less than 256 cars) preserve the outline of the original oval stadium.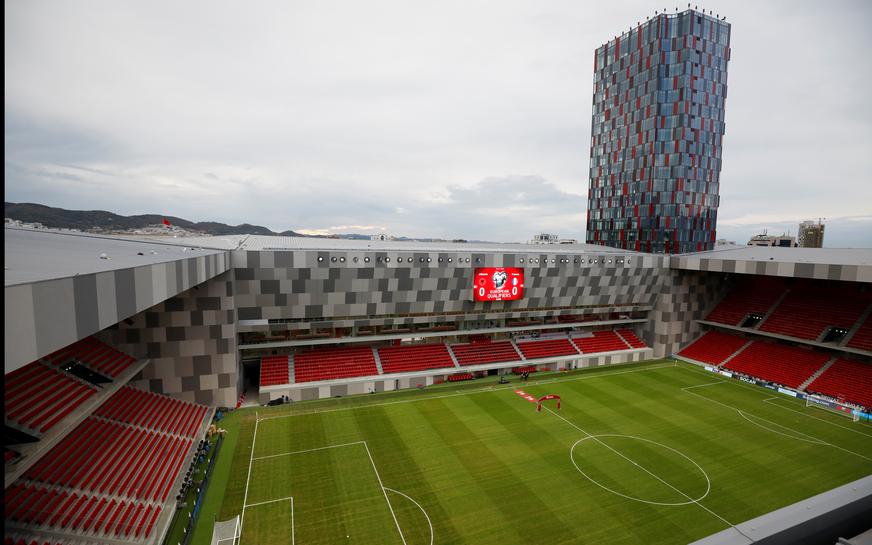 © Timea
The seating layout is unusual due to the reduction of west stand's size. Only some 1,500 seats are placed within the main stand, including a strip of skyboxes and another level for TV commentators. Western corners were cut out of the auditorium entirely. In order to avoid the overwhelming dominance of walls in the west a grey mosaic was proposed, contracting strongly with vibrant red seats and walls of the auditorium. Remaining three sides have a conventional double-tier layout.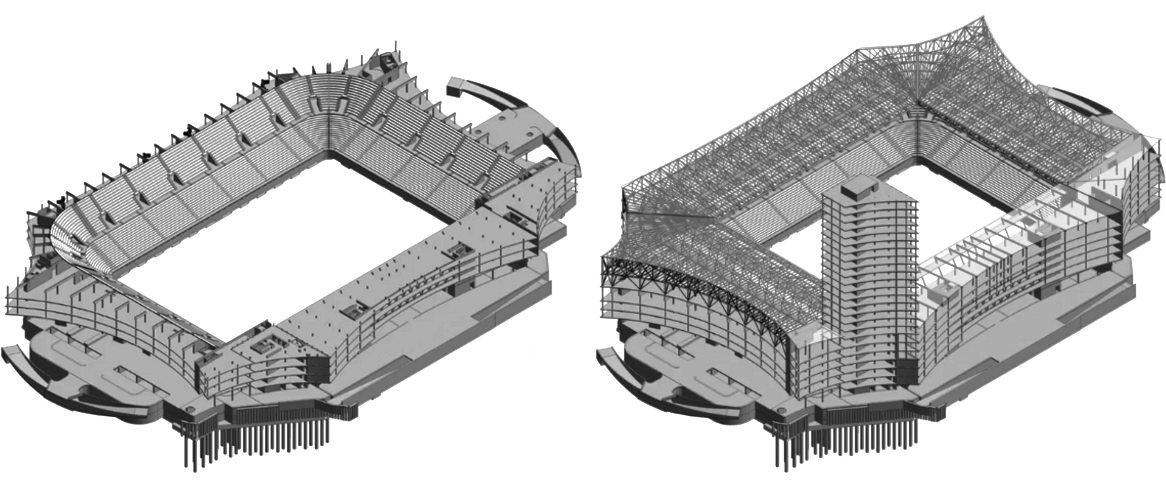 The project's complete plot reached 43,000 m2, of which the stadium's footprint is roughly 27,000 m2. Aside from the tower (over 10,000 m2, dedicated almost entirely to Marriott's new hotel), a shopping centre and 10,000 m2 of office space were created. In total the non-sporting floor space is 54,000 m2.
AlbStar officially began construction in September of 2016, following 3 months for demolition of the old ground and impressive amount of groun works. Up to 200,000 m3 of soil were removed to accommodate underground levels before 75,000 m3 of concrete was poured/installed, topped by 6,000 tons of structural steel. Initial delivery date was set for 2018 but the stadium eventually got delayed by a year, seeing inauguration in November of 2019. Delays corresponded with cost overruns, starting from €45 million and ending at up to €85 million.