New stadium: Datong's rugged charm
source: StadiumDB.com; author: michał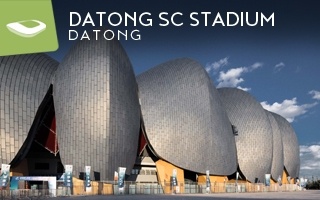 You may have not heard of this mining city but someone did because Datong's new multi-use stadium was nominated to be the next Stadium of the Year. And we have to agree, it's unlike anything we've seen!
The northern mining city of Daton was seeing great development from late 20th to early 21st century. Especially under mayor Geng Yanbo who became famous for planning to relocate 40,000 households and expand the city's build-up area twofold in a matter of several years. He later became infamous for corruption but before that happened a lot of prestigious architectural projects were commissioned, expected to put Datong on the cultural and tourist map of China instead of being known for coal mines and pollution.
Part of his master plan was the city's major sports complex, for which 43 hectares were earmarked beside the picturesque Wenyinghu Reservoir – an in-city lake created a few years earlier. Design competition was won in 2009 by Populous and CCDI, whose proposal offered a rough but strong aesthetic. Volume shapes were inspired by the rocky landscape of the Loess Plateau.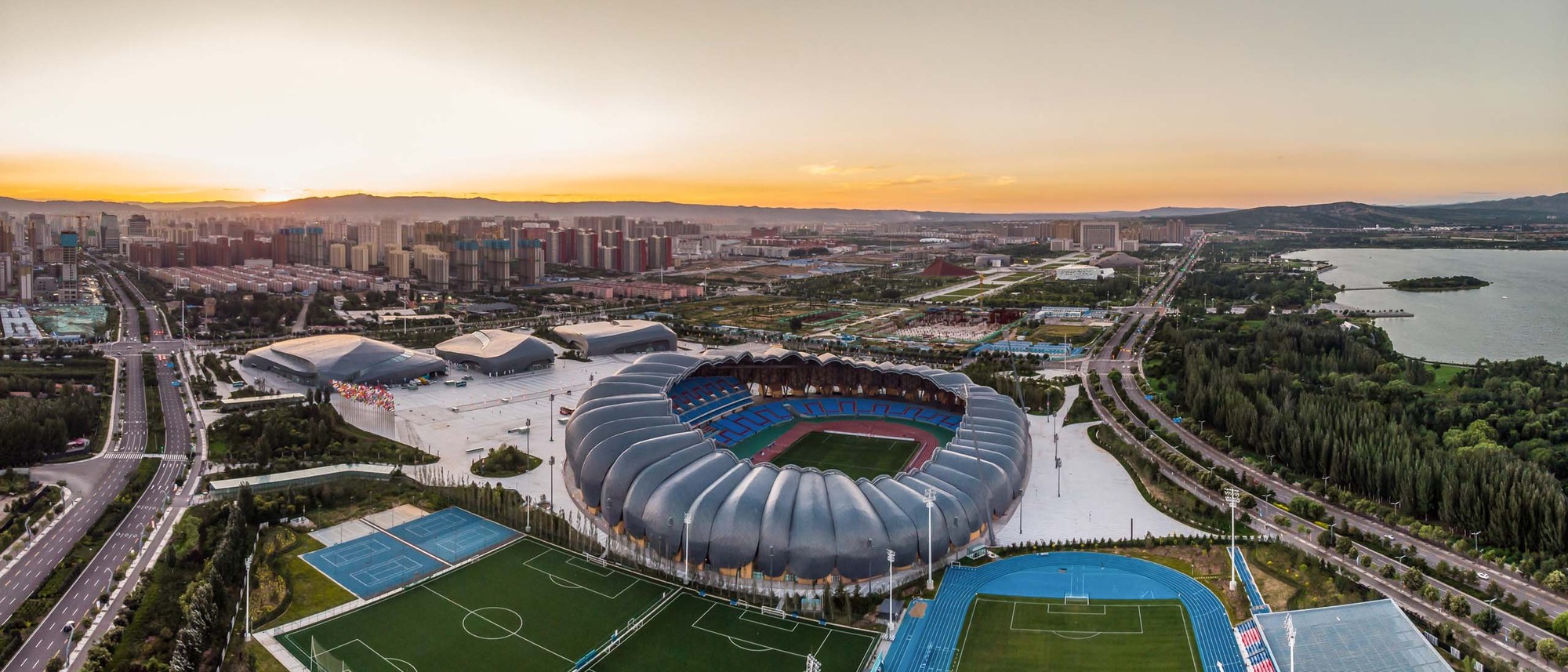 © Yang Zhang / CCDI
It's also consistent with the city's aesthetics – it's an old and rough mining community, after all. The themes of strength, masculinity and fortitude can be found in the sports venues. Additional meaning of the stadium is a representation of the community's tumultuous past. The clashing of ideals, power struggles, customs and traditions ultimately combine together to create something visually unique.
The entire complex was integrated into Datong's new main axis running from the north to the south. Central plaza of the sports center is exactly along that axis, hiding over 700 parking spaces and servicing docks beneath. Three indoor venues are located to the west of it (main multi-use arena with 7,512 seats, natatorium with 1,500 seats and smaller training arena between them), becoming a counter balance to the main facility in the east, a 30,000-seat stadium. In total the construction area is 101,700 m2, of which the stadium uses 41,075 m2.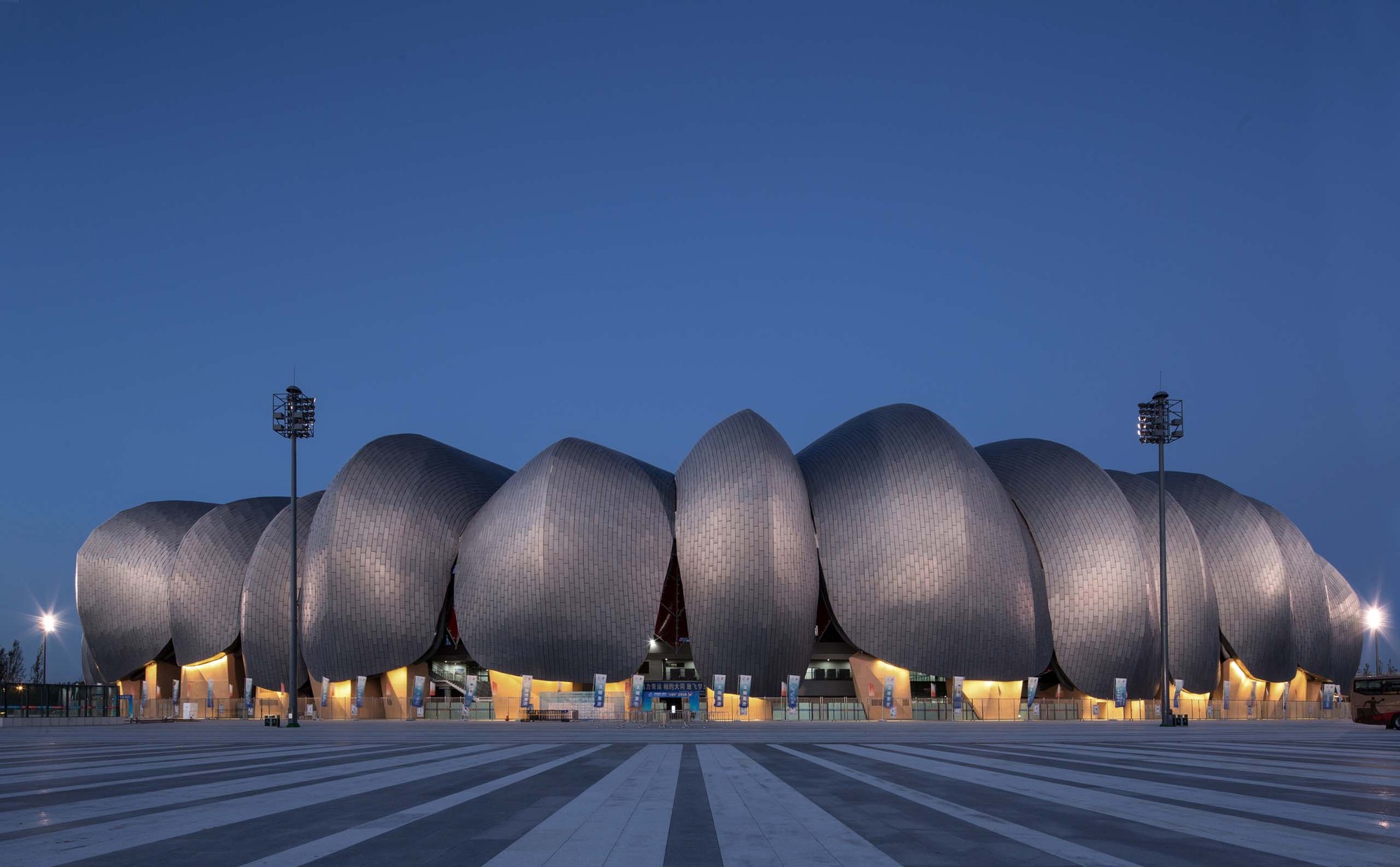 © Yang Zhang / CCDI
All four main volumes received the same finishing, consistent with the initial vision that suggested a metallic shine. In total some 100,000 m2 of quartz-zinc coated aluminium panels with a slight shade of blue were used to cover the 5,000 tons of structural steel. The material used makes venues shine on a sunny day and become greyish like stones when it's cloudy. However, night illumination proved challenging and eventually individual masts had to be spread across the complex to bring the buildings to life.
The main stadium owes its originality to the unique steel frame, creating a dome that is supposed to be an association to the nearby Yungang Grottoes when seen from the inside. The dome lowers to the east, which led to erection of two floodlight masts on that side. But once the dome is discounted, the stadium is very conventional. The oval lower tier of seating was placed in a sunken bowl and only on the west is not based on landfill. The seats are placed at a very low rake of 14 degrees with only the west stand's upper tier becoming really steep, at 30 degrees.

© Yang Zhang / CCDI
The complex wasn't built with any professional teams in mind, rather as the site of events of local and regional significance. On a daily basis most facilities are available to residents of the city for free or for a nominal fee.
The wait for new facilities proved dramatically long, however. It began promisingly in September of 2010 and by 2012 the stadium had all of its dome completed with all concrete works below also delivered. However, Datong's giant plans proved far too ambitious, especially combined with economic slowdown and coal market deterioration. So for a few years only part of the work was being done, depending on available resources. By 2014 the venues were covered, however it took years to fully clad them, ending in early 2019. This is when all facilities were opened to celebrate China Youth Games.