Belgium: Ciara rips roof off Ghelamco Arena
source: Nieuwsblad.be; author: michał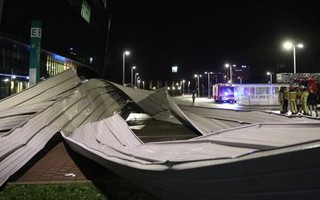 A portion of 100 square meters of metal sheeting was torn off Ghelamco Arena on Monday night. While nobody was injured, there was at least one person who had to flee to safety.
Cyclone Ciara continues to cause damage in Western Europe. Strong gusts of wind during Monday night's storm caused a portion of the roof sheet at Ghelamco Arena to fall off. Roughly 100 m2 from the north stand's section 323 was lifted and fell onto the parking site just outside the stadium.
Even though it was after 9 pm, there were people in direct vicinity of the accident. Fortunately, seeing the element detach, they fled the scene, according to Nieuwsblad.be.
KAA Gent has already commissioned a study into Ghelamco Arena roof's safety. Preliminary examination suggests the roof is intact and only one panel was affected at all, it may have been slightly loose. No football games should be affected by the incident.
It's the second reported stadium damage caused by Ciara, following the collapse of a shed roof at Wisbech Town FC stadium in England.