New stadium: Korea going football-specific
source: StadiumDB.com; author: michał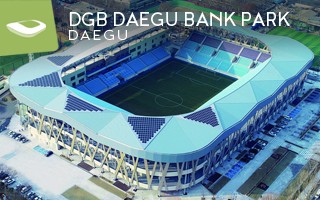 All it took was building a football-dedicated stadium with a fraction of seating compared to the giant built for the 2002 World Cup. And in a year Daegu FC's attendance has nearly tripled!
Though Daegu was among the 2002 World Cup host cities, the large stadium in south-eastern outskirts never really met demand of local football. That's why a different approach was taken when the old Citizen Stadium of 1948 was due for redevelopment. In 2016 a much smaller and football-specific venue was envisioned, breaking with the traditional running track.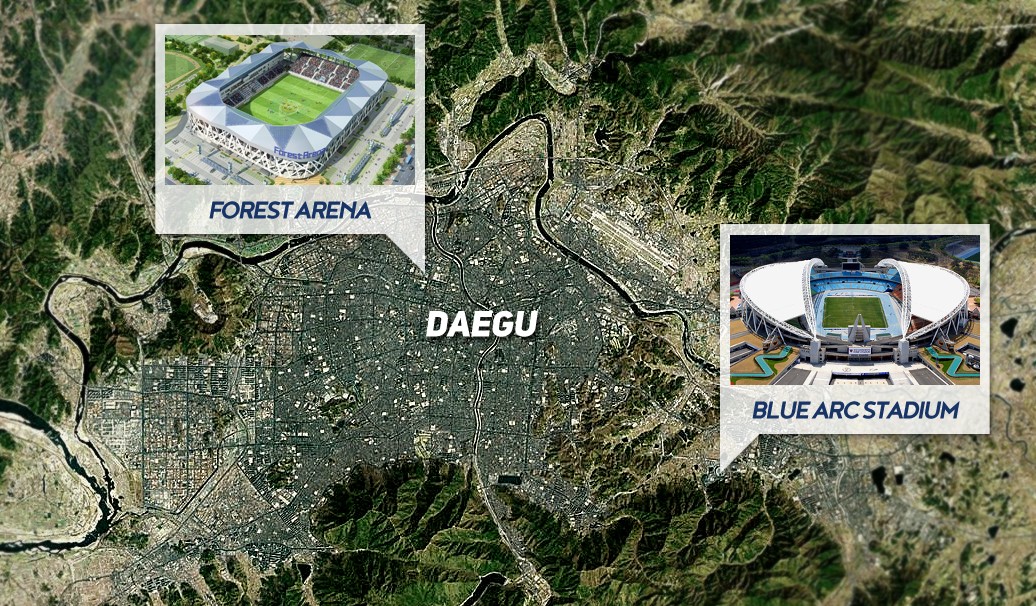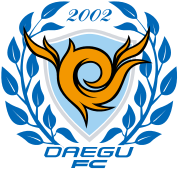 Financed by the municipality, the stadium was scaled down from nearly 20,000 to 12,000 in order to better suit actual demand for Daegu FC games. Eventually expansion to 15,000 is possible, should ticket demand grow. And already in the first season DFC attendance went up from 3,500 to over 10,700 per games, making the stadium a perfect fit.
In this respect it proved a good choice to opt for a compact stadium with robust seating bowl. Fans are just 7 meters away from the field and front row is elevated, while the stands are steep, bringing fans closer to the action than nearly all South Korean stadia. The south end also has a safe standing area with position for a capo coordinating chants. Though placed high above spectators, the roof helps amplify the noise generated.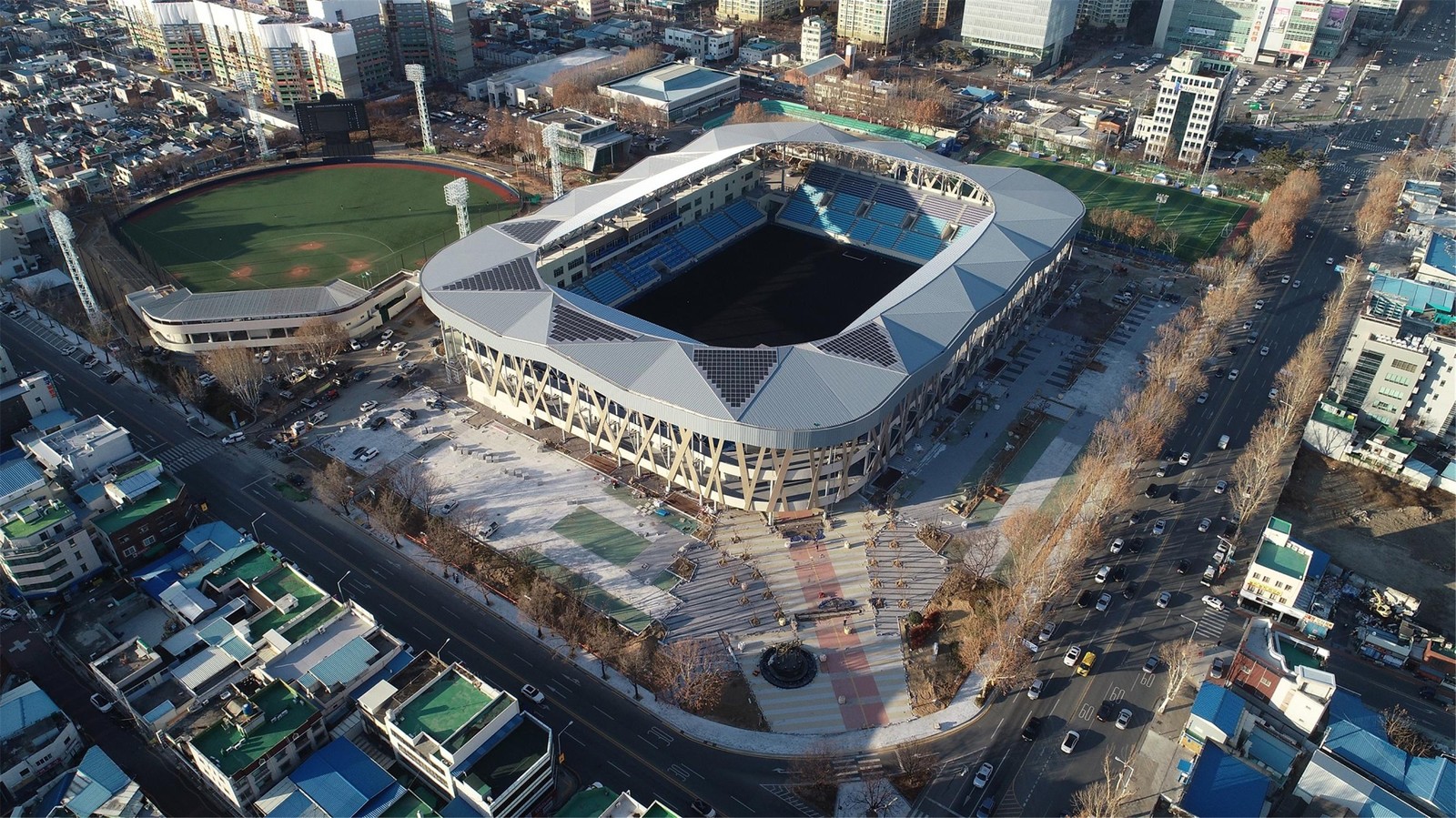 © Daegu city
In terms of symbolism, architects chose to follow Daegu's most common symbol, the forest. Thus the name Forest Arena dynamic, angular roof and decorative slanted columns instead of a more opaque facade. However, the stadium's openwork structure also includes upper rows of seating being placed on steel prefabs, which allows wind to impact comfort of fans occupying these areas. Issues with personal belongings or litter falling down onto the public concourse thrugh gaps were also reported.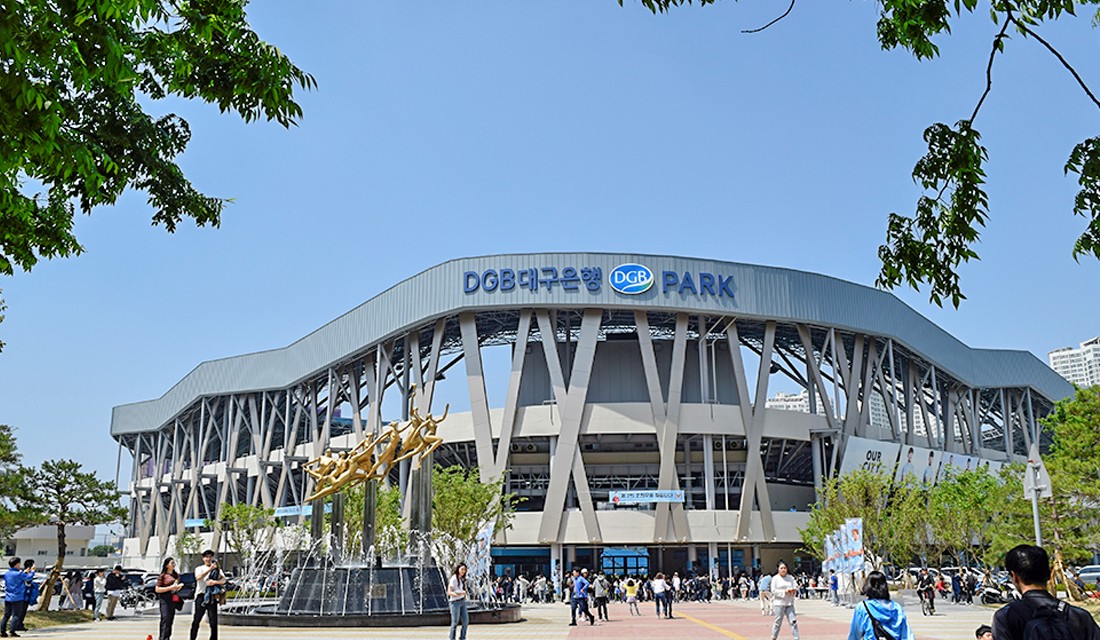 © Mooyoung Architects & Engineers
Despite having a footprint 4,000 m2 smaller than its predecessor (25,000 instead of 29,000 m2), the new stadium offers an impressive gross floor area of 39,440 m2. This is owed in part to the main administrative building with 3 floors, but largely to the fact that the stadium has two levels of public concourse despite its modest scale. The west and east stand also have 2 elevators each, ensuring accessibility for the disabled.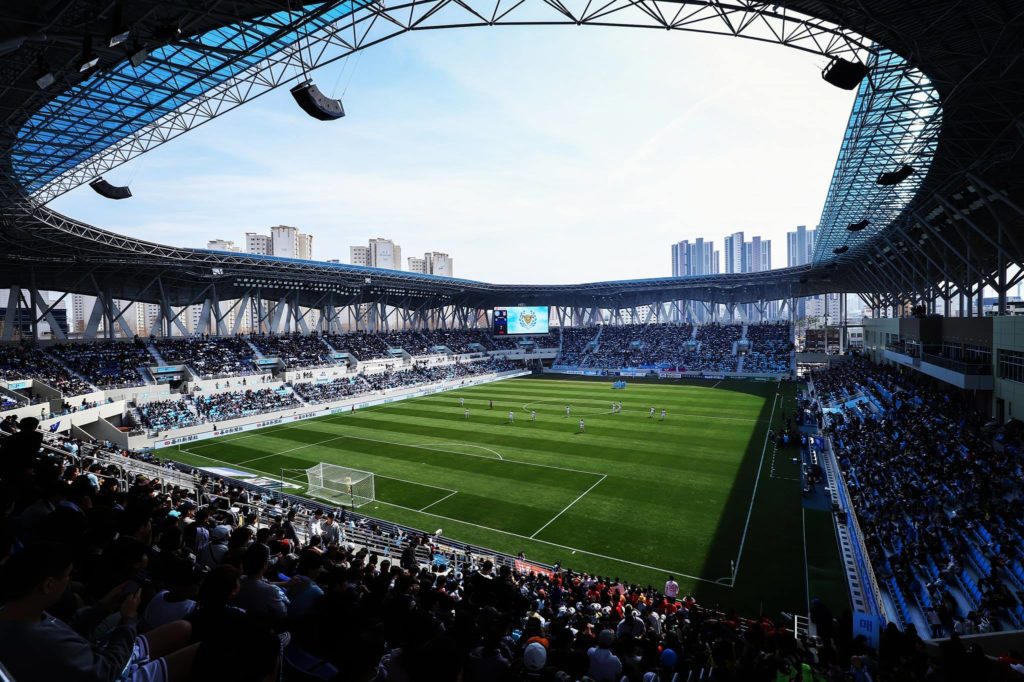 © Daegu city
Initially the stadium was hoped to cost relatively modest ₩35 billion but already in 2017 a significant increase to ₩42 billion was confirmed. In the end, the official price tag reached ₩51.5 billion ($44m) despite a number of arguable choices. In its first year, for example, the stadium only had one giant screen, which meant part of the audience had no view of it (2nd one added in 2020), while the capacity and location of sanitary facilities was questioned.
Being located almost at the heart of Daegu, the ground has great public transport connections, including two subway lines and a rail line. Its official name is still – as during construction – Forest Arena, however naming rights for 3 years were secured by DGB Daegu Bank, which has its headquarters a few blocks away.