New stadium: "How about we let people walk on the roof?"
source: StadiumDB.com; author: michał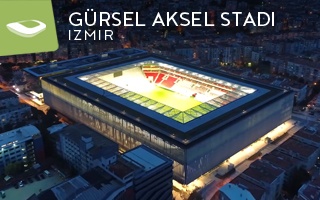 Victory over famous Beşiktaş, sell-out crowd and talks of expansion already upon opening. What more could you want? Perhaps a 650-meter skywalk open to everyone on the roof? That's exactly what they have in Izmir!
Last Sunday was really intensive for part of Izmir's population. Not for those in the centre, where Altay Alsancak is based. Not for those in the north, where Karşıyaka supporters dominate. But in the south-western Konak district it was all about the red and yellow colours of Göztepe, returning to their roots after years of playing elsewhere.
Even the might Beşiktaş couldn't spoil (hosts won 2:1) opening of the new stadium. Thatnks to the help of Burak Büyükbayraktar oraz Melihsah Özdemir we can today show you the latest gem of Turkey's Süper Lig. Its history is short but already fascinating.
In the west end of the Konak district, in Üçkuyular, there's a place considered the spiritual home by the vibrant Göztepe fanbase. Here, just 350 meters away from the seafront, the club's stadium was built in 1949. Over time, especially with heavy spatial constraints and the need to fit many disciplines (including athletics or tennis) the stadium proved beyond retrofitting to host professional football.
Finally in 2016 it was demolished and contractor for the successor was selected. Despite it being a completely new stadium, there was no mention of changing its name, which honours a club legend, Gürsel Aksel. Between 1955 and 1972 the player represented Göztepe 390 times, receiving the honour of the 'great captain'.
While most stadia in Turkey are being built far from city centres, in this case location is symbolic. So with the same spatial constraints and a plot of just 34,600 m2 (including southern plaza for fans to gather at), construction of a new 20,000-seater was announced. In order to fit all desired uses and accommodate any vehicles the field was lifted to the height of 670cm above street level. This way significant commercial floor space on ground level was created, as well as a vast underground car park for 500 cars.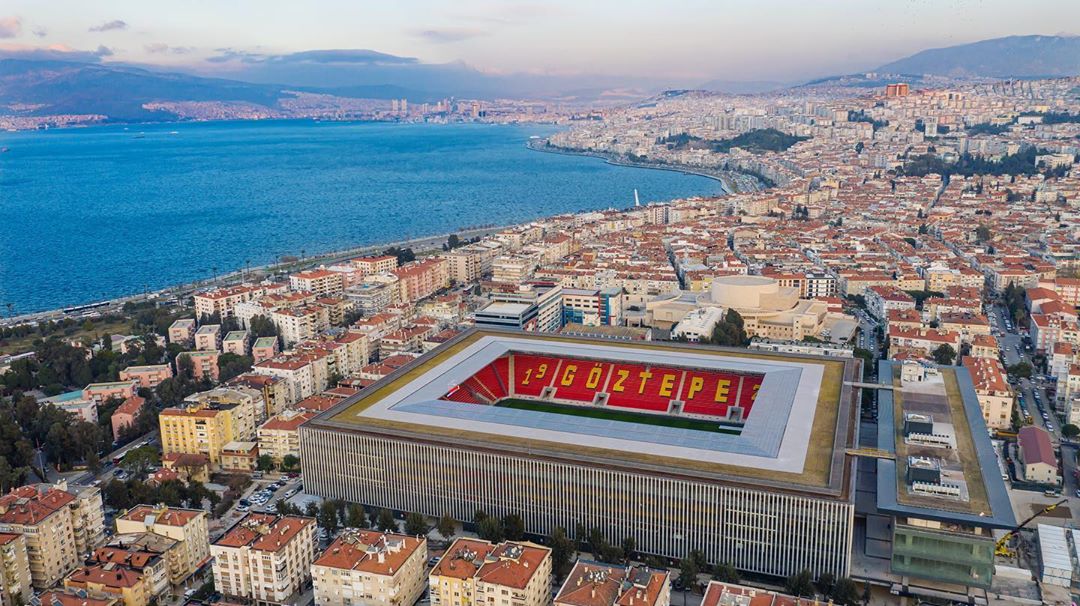 © Selçuk Dursun (cc: by-sa)
The field is at the same height as is the public concourse, which means most supporters (excluding the main stand only) enter the seating bowl from the front row level. From that point they may have to climb 26 rows, depending on their seats. The single-tiered bowl is very compact, which should facilitate creating atmosphere. Only in the west regular seating is limited, while two levels of hospitality areas top the stand (with 41 boxes instead of 24 planned initially).
Despite the stadium being built for 20,000 people, in Izmir there's already talk of expansion. But how could they expand if there was little room to begin with? Well, this month the Turkish FA (TFF) has announced that standing room will be allowed nationwide. With the option to dismantle some of the brand new seats, the stadium could grow to 25,000 or even more.
© Melihsah Özdemir, SIS Pitches
The stadium itself was built with a truly modest footprint of 23,700 m2, although it has a second volume attached in the south, housing two levels of office space. In order not to limit crowd flow and public space of the southern plaza, the offices are raised to some 10 meters, creating an interesting 'underbelly' through which supporters enter. This way as much as 6,000 m2 of public and partly covered space was released. This area is also where the club's museum is housed.
The two connected volumes differ in outer cladding. Facade of the offices is regular glazing, while the stadium itself is covered with rhythmic non-reflective blinds. Texture is important because their non-reflective nature protects nearby residents from sunlight reflecting, primarily from the partly glazed west side. On remaining three sides a mesh spans between the blinds, ensuring ventilation of the stadium and its concourse.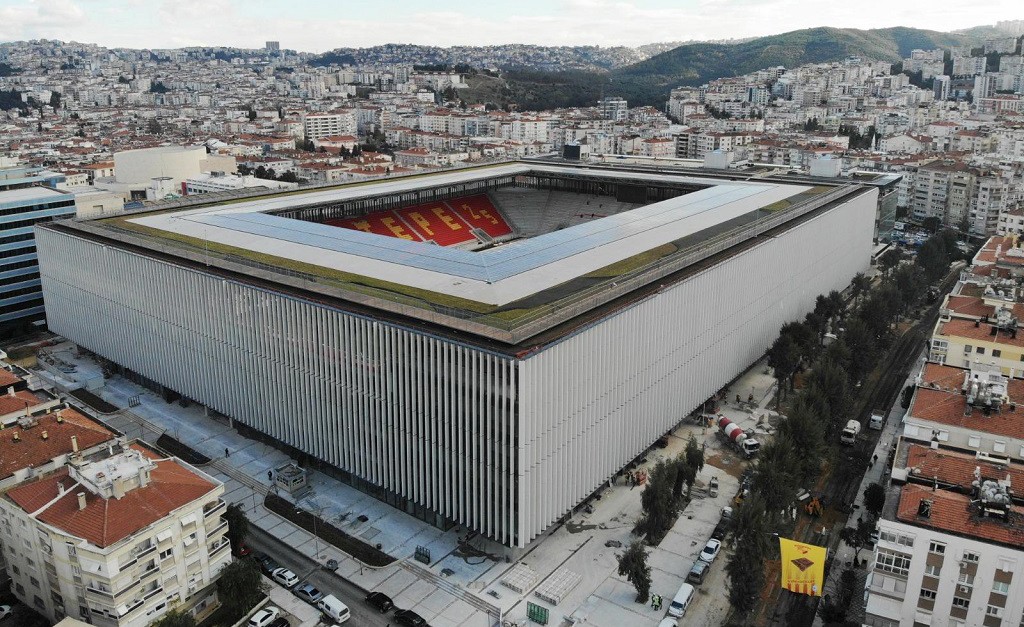 © Konak Belediyesi
The most unique feature of the stadium is the fact that even the 16,600m2 roof (5,250 m2 of which is transparent) becomes an open space for use. Elevators and staircases lead residents to a skywalk of 650 meters, around the entire stadium. The skywalk is open for everyone, except for matchdays. It's considered a way to give residents some breathing space in the thick urban fabric of Izmir, well above noisy streets and just above the roofs of other buildings, some 30 meters high. Originally it was supposed to have trees and public green as well but logistical and financial constraints reduced it only to strips of grass.
Speaking of budget, the stadium was delivered for TRY 219 million, which at the time of opening represented some $36.7 million. While delays and cost overruns aren't rare in Turkey, this stadium was reported to be delivered as projected, also in terms of schedule.