Kentucky: Louisville City announce stadium opening
source: StadiumDB.com; author: michał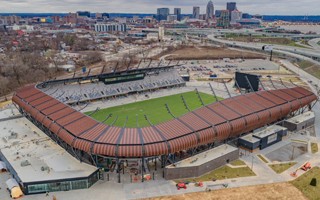 Following a failed rebranding but successful season ticket campaign, Louisville City are eager for a fresh USL start at their new stadium. Lynn Family Stadium will officially open on April 11.
Louisville City have confirmed the opening date for their purpose-built stadium in Butchertown, one of still rather few across USA's second league, USL Championship. The venue will see its first game on April 11, when Birmingham Legion come to town. The game will be broadcasted by ESPN TV, which is why detailed timing will depend on the TV schedule.
The stadium has been under construction since late June of 2018, which means inauguration in less than 2 years. Seated capacity is 11,700 but total matchday crowds are expected to reach as many as 14,000 people. Or so was the official version. But more recently club president Brad Estes suggested it's going to be 'well over 15,000'.
Decmeber 31 2019 from Higher Perspective on Vimeo.
Louisville City have already confirmed beating USL Championship's season ticket record, having exceeded 5,000 season ticket members back in November. It's expected that the new stadium will be packed to capacity not only on opening day.
Since August the stadium has an official commercial name, though it promotes a family rather than brand. The Lynn Family Stadium celebrates partnership between the football club and Mark and Cindy Lynn, prominent family from the area. The couple secured naming rights for 10 years for an undisclosed amount.
While stadium construction is going as planned and is nearly complete, Louisville City has had a major issue with rebranding. Introduced just before Christmas, the club's new crest proved extremely unpopular with supporters. Thankfully the club did the mature thing and admitted mistake in not consulting fans about the change. Now a more inclusive rebranding process is being carried out with the team using its old crest for the 2020 season.