England: Portsmouth reveal first phase of Fratton Park upgrades
source: StadiumDB.com; author: michał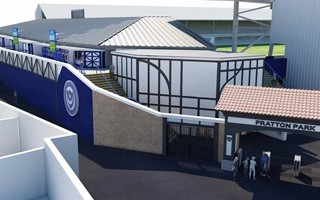 It's a modest scheme but really needed one, too. With the proposed revamp the smallest stand of Fratton Park will finally offer the required facilities for both regular ticket holders and disabled fans.
It wasn't so long ago that Portsmouth FC supporters were fighting to keep their club afloat. They cleared all debt and sold it to a new private investor, former Disney CEO Michael Eisner. Eisner went on to promise upgrades at Fratton Park and now it's time to go forward with those.
Earlier today the club released renderings of the first phase. It will cover Milton End, the east stand of Fratton Park, currently the smallest and most modest in terms of infrastructure. While the current sections or roof will not be reconfigured in a major way, there are positive changes worth noting.

Milton End will grow from its current size of 2,885 to some 3,200 seats. Crucially, the increase will include two new covered wheelchair platforms, ensuring that disabled away fans can watch games with their own crowd. Also, the division between home and away fans will be more flexible, allowing Pompey to allow up to 800 more home supporters if demand warrants it.
Based on solid landfill, Milton End has no facilities beneath the auditorium. That's why a new cantilevered public concourse is planned, which will include catering kiosks and toilets.
Planning application is expected to be filed "shortly", according to the club's statement. As has been previously advised, while planning is to be submitted for this first phase, there remains issues relating to more general transport and access infrastructure that is outside of the club's control.