SDC5: Here are the winning designs
source: MSTADIA.net; author: michał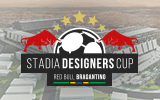 Igor Laerte - remember that name. Designer from Brazil is the very first in the history of the Stadia Designers Cup to win two editions in a row! What's more, he did it in a spectacular style outclassing rivals in every field. Despite this, the competition leaves South America and returns to Europe in 2020!
The old-new champion collects the most points in the Public vote (185 points) and dominated the Jury vote by winning in each of three categories ("architecture", "functionality" and "presentation"). The leader of both rankings from the first to the last day gather a total of 438 points.
The Winner as a reward for taking first place will receive a personalized glass statuette, commemorative t-shirt and a #MSTADIAdraws poster with a cross-section of the his own Winning concept.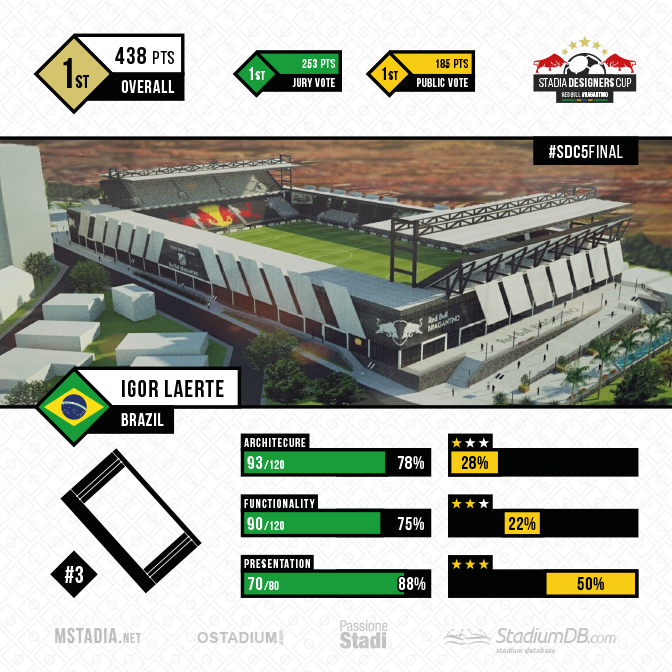 While the Winner was practically known from the very first days of voting, behind his back, a fierce fight not only for 2nd place took place. According to competition regulations the Cup cannot stay in the same country for two years in a row, so the battle for 2nd place was also a race for the right to host Stadia Designers Cup in 2020!
In the end, the designer who introduced himself as marseille13 took his place the 2nd step of the podium. The sum of 200 and 108 points respectively in Jury and Public votes gave a total of 308 points and the privilege of hosting the sixth edition of the competition in his homeland - Germany. In addition, the runner-up will receive the #MSTADIAdraws poster with a cross-section of his competition concept.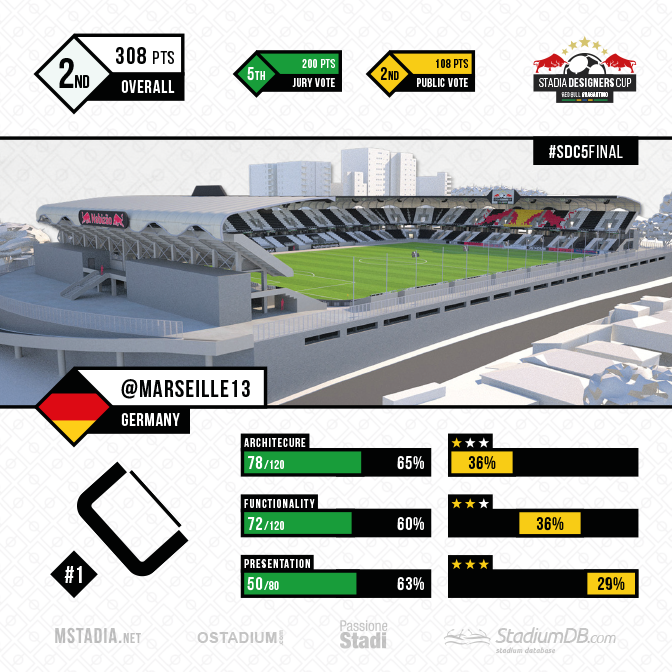 Five points - that would be enough for instead from sunny Brazil, the Cup on the way to the next edition would have to cross not the Atlantic Ocean, but the Pacific. Jay Stewart from Australia scored 206 points (III) in the Jury vote and 97 points (IV) from the audience. Thus, for the second time in a row, he reports third in the final ranking. His total score is 303 points. For taking the lowest place on the podium, like the other two best designers he will receive the #MSTADIAdraws poster with a cross-section of his own stadium.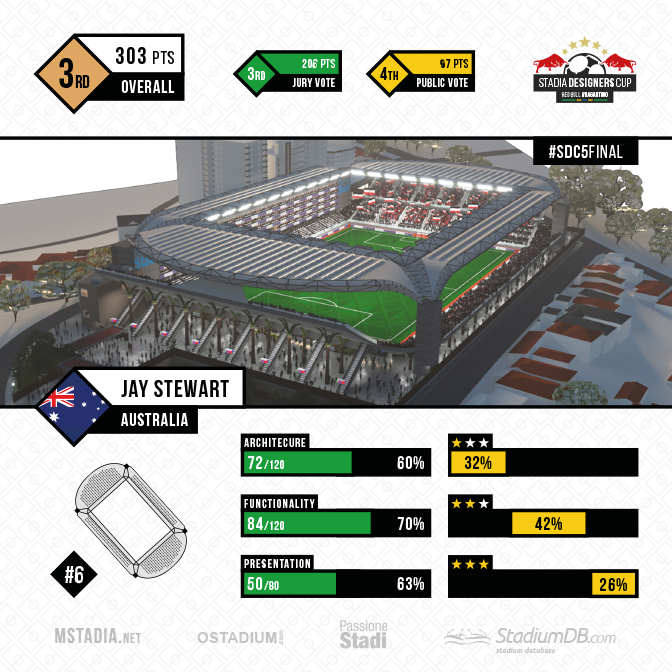 Full ranking and detailed statistics are available in the official competition thread on SkyscraperCity.com.
The Stadium Designers Cup is a competition for stadium design enthusiasts that allows all lovers of graphics and sports arenas to take on the challenge and create a stadium. The fifth edition is now a history, and we invite you today to actively participate in the competition next year, when the competition will be hosted by our western neighbors - Germany!