New stadium: First of Sydney's new stadia
source: StadiumDB.com; author: michał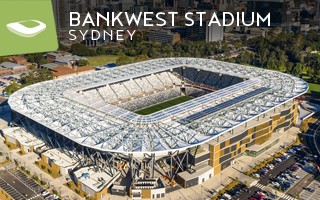 While eyes turn on the future of Allianz Stadium and ANZ Stadium, Sydney already has its first fresh sports venue. Bankwest Stadium opened this year in Parramatta and it joins StadiumDB now.
Construction of the new football and rugby stadium to replace aged Parramatta Stadium became part of New South Wales' major infrastructure reform back in 2015. This was the first major stadium to undergo reconstruction and the successor hasn't been exactly built on the site of the historical venue, it was moved towards the street, taking out swimming pools at the same time. It now covers 80,000 m2 out of the green Parramatta River bend.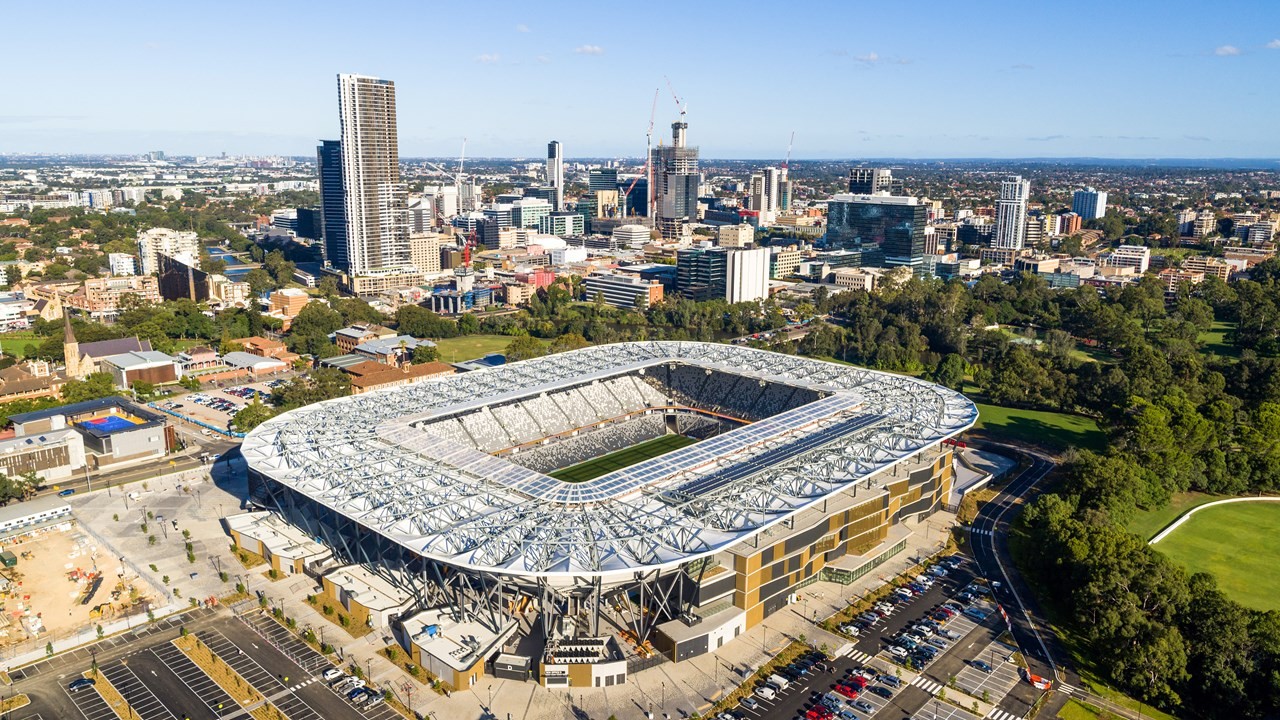 © Bankwest Stadium
In order to design a friendly and welcoming seating bowl, the lower tier of seating (with 15 rows) was sunken below street level, which offers many people access to their seats without climbing any stairs. But climbing is the right word for the upper tier, which holds 20,000 people and rises 26 rows up, becoming the steepest grandstand ever built in Australia (rake of nearly 34 degrees). Combined with close proximity to the field (5.5m in rugby configuration), this creates a robust, atmospheric cauldron.
The west stand, externally clad with wood, might not offer many seats overall but houses tremendous amount of facilities across 5 levels. This includes hospitality areas on each level, starting from field club that allows 120 guests to watch players warm up. The biggest single lounge can hold 700 guests and, combined with several smaller halls and 38 boxes the stadium offers some 3,000 premium seats.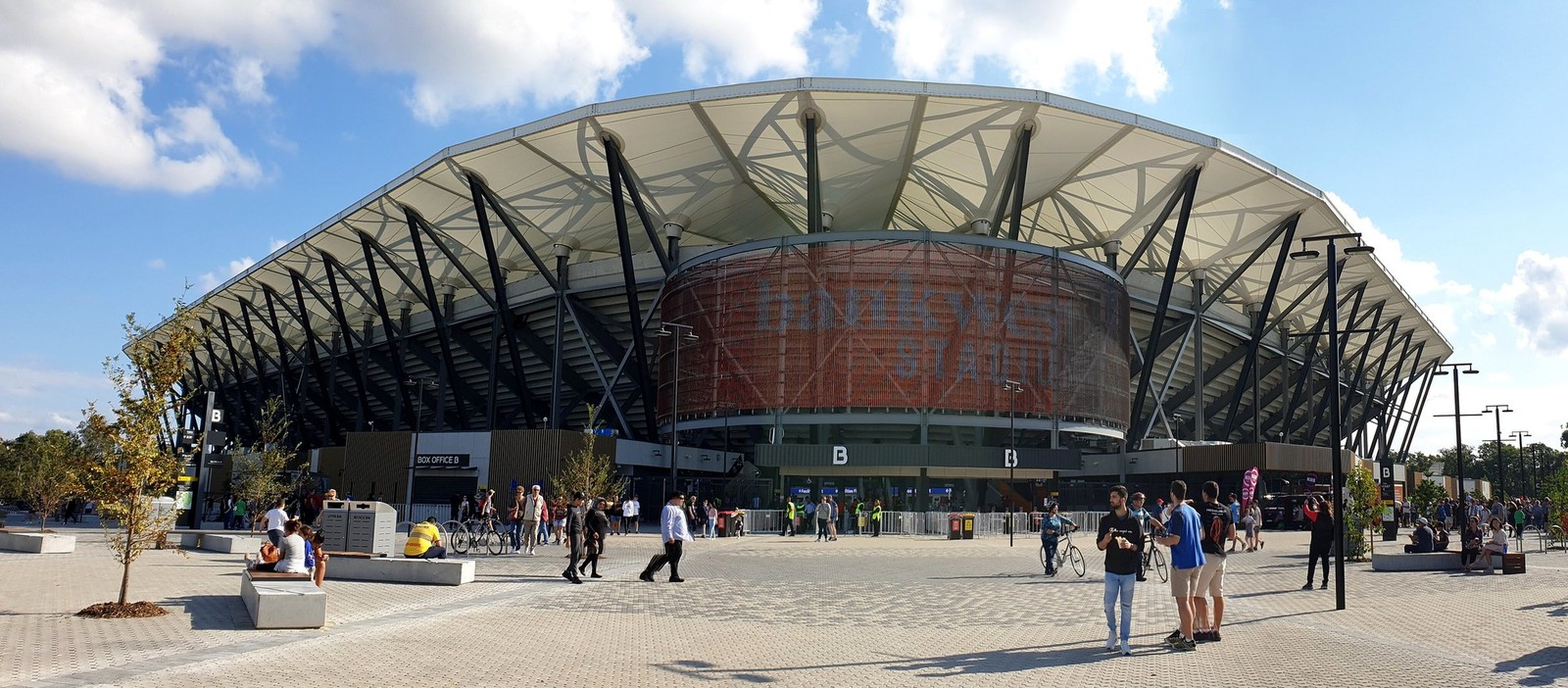 © Danny J. Palmer
West stand aside, the stadium's structure is modest and simple. The lower tier has catering and sanitary facilities on ground level, while the upper tier rises on bare steel columns. 4,500 tons of structural steel was used to erect the stands and on top of it further 2,600 tons of the roof structure were placed. Its size allows not only to cover all spectators, but also to provide shade for pedestrians in direct vicinity of the stadium.
Entirely covered with membrane, the stadium's roof lets UV rays through to enable unobstructed grass growth. Most of the sheets is translucent PTFE (23,400 m2), while the inner halo is nearly transparent ETFE (4,600 m2). A very rare solution utilised in this project is placement of the main membrane below primary steel structure rather than on top of it, which defines the stadium's outer appearance.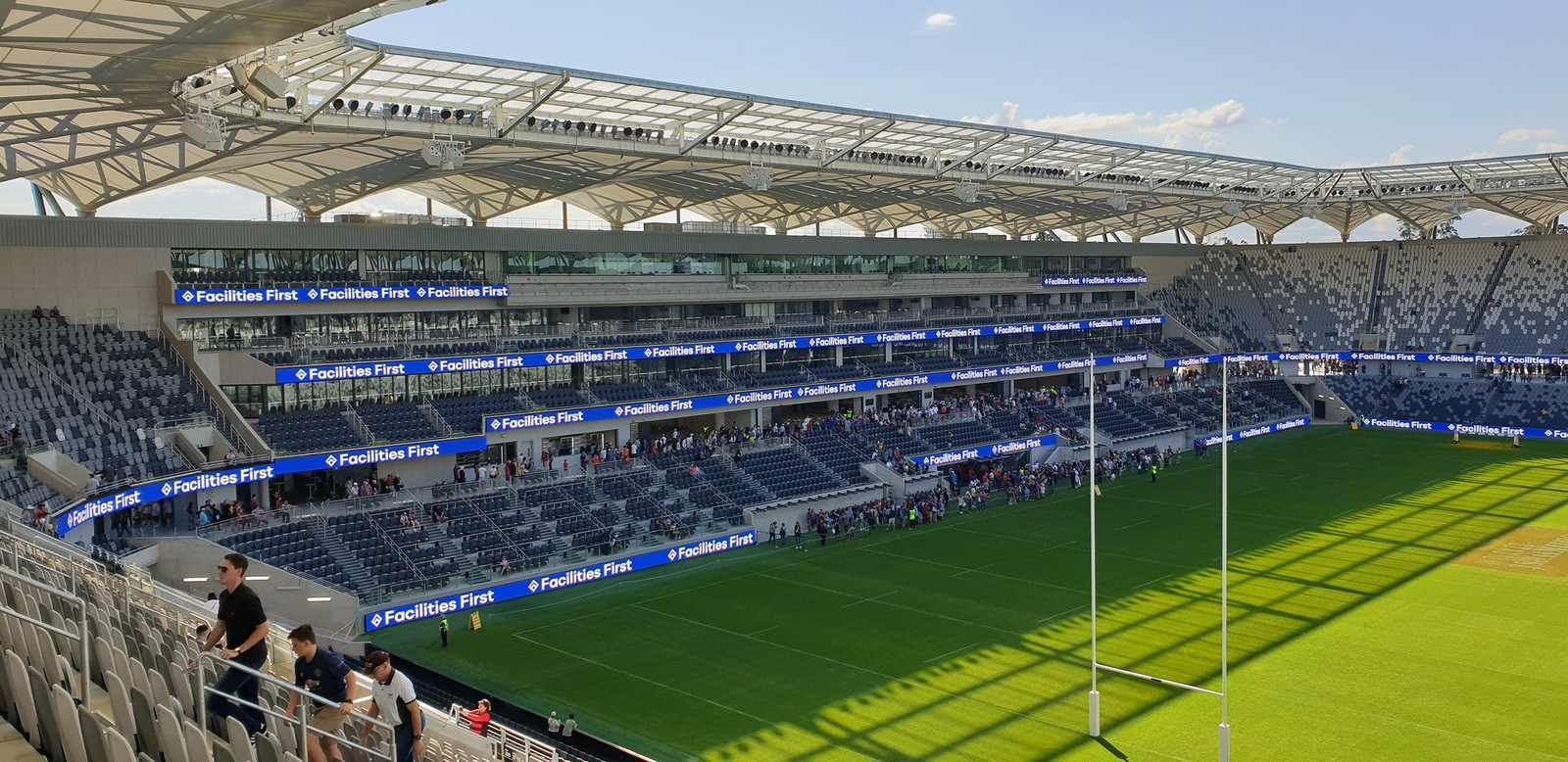 © Danny J. Palmer
Initially the new home of Western Sydney Wanderers and Parramatta Eels was expected to cost $300 million but ended up with a 360 million (US$245 m) price tag. And yet some features advertised initially weren't delivered. This includes LED-illuminated outer mesh which was supposed to wrap the stadium while eventually only adorns the north-eastern corner's rotunda. The north stand was also supposed to have both tiers merge to ensure better atmosphere, something also not done.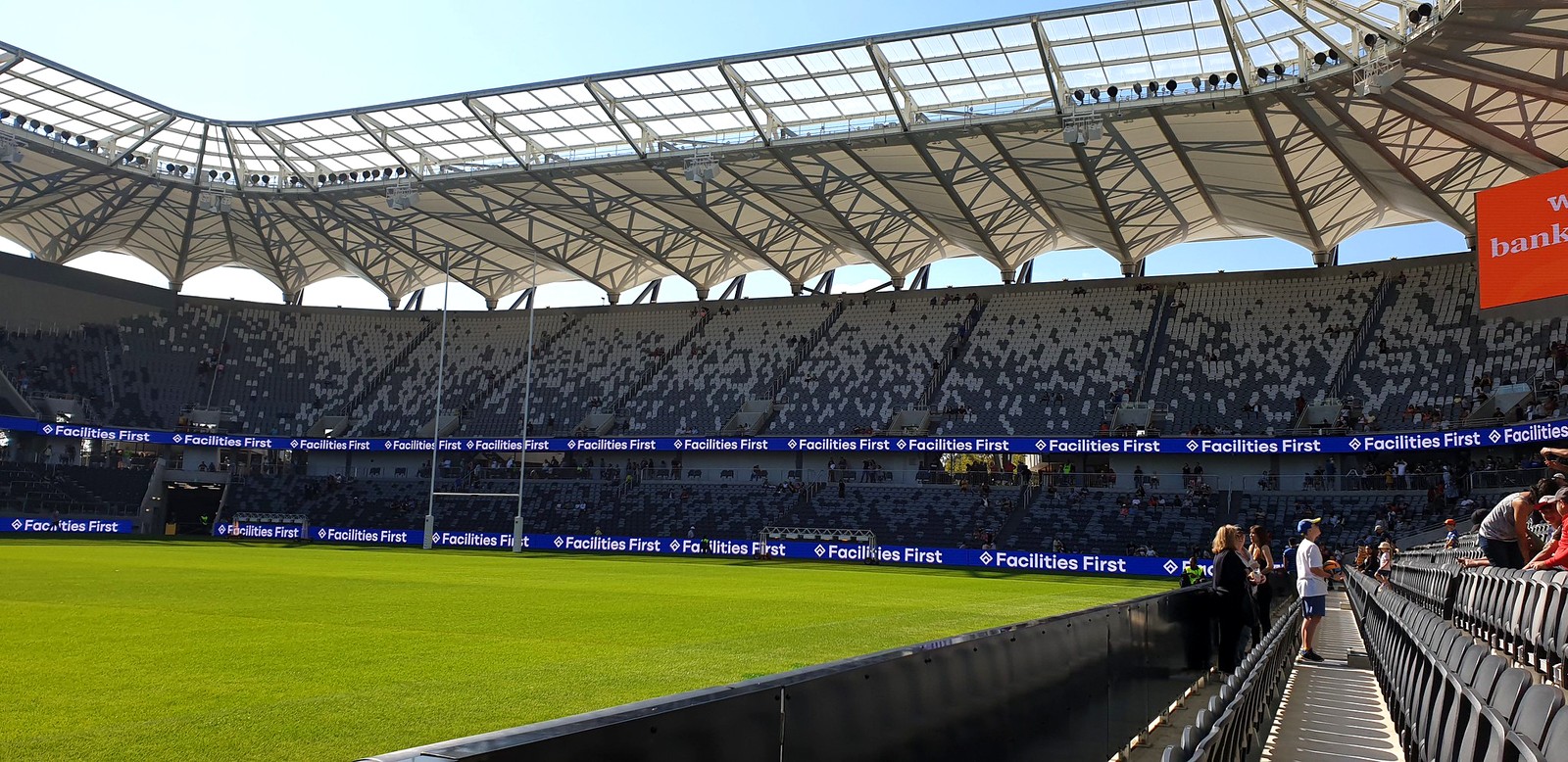 © Danny J. Palmer
Which doesn't mean it doesn't have interesting features. 1,200 seats in the lower north stand are convertible from seating to standing, depending on the sport. Meanwhile, rainwater collection and solar power generation (small 100KW plant) are among the efforts which earned this stadium its LEED Gold certificate.
Construction ended officially in early 2019, allowing an April inauguration. Due to conversions at other major stadia, Eels and Wanderers were joined by other teams, including Wests Tigers, Waratahs, Bulldogs and Rabbitohs. Since the stadium became Sydney's first modern stadium in two decades, it quickly earned popularity. This may have proven helpful in securing its first 7-year naming rights deal, with Bankwest.