#MisjaStadion: 86-90 – Five recently upgraded grounds
source: StadiumDB.com; author: michał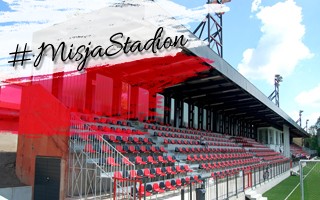 We're staying within small Polish stadiums, but all of these were revamped in recent years. Here are five latest stadium additions before we move on to the final 10 from Poland!

Built historically along the river Białka, the municipal stadium in Janów Lubelski was long known for having a relatively large grandstand for some 1,500 people. However, the old structure was considered beyond its safe lifespan and dmeolished in 2017.
Immediately afterwards construction of its successor began, this time with reinforced concrete and cantilevered roof. And though it has just slightly smaller footprint, the grandstand holds much fewer people, just 600, due to installation of individual seats. Behind it high quality facilities for players and referees was created, all of which was delivered in late 2018.

The municipal stadium in Ożarów owes its current shape to the 2010-2011 redevelopment, when both grandstands were delivered, along the east and west sides. The latter serves as main one, thus the partial cover and individual roof, along with facilities for the players. In the east nearly only standing room is available.
The ground offers a 4-lane running track, while the complex also has two training fields at the players' disposal – one natural and one synthetic.

Placed near the northern exit from Pasłęk, the main municipal stadium offers seating on two small grandstands, both rebuilt from scratch in 2009. The main one in the north holds 700 people, while the south side is significantly smaller, offering 396 seats.
On a daily and weekly basis the stadium is used by local side Polonia Pasłęk. Its players can also use the full-sized training field just north, which also has its own seating for spectators. The stadium has 6-lane running track laid in 2012. Upon reopening the ground was renamed to honour the late pope John Paul II.

Historically, the sports stadium in Opole Lubelskie was always located in the northern part of town, however it was initially a multi-use stadium, with a running track. Remnants of that track had to be removed when complete reconstruction began in 2017, converting it to a football-only venue.
The new ground was created with two small grandstand, of which the southern one plays key role, offering 539 seats, some of them covered. In the north only 174 seats were delivered, of which 50 are in the away enclosure.
The project was worth over PLN 5 million, of which 40% was financed by the Ministry of Sport and Tourism. Not only does the stadium offer evening training thanks to floodlights, upon opening it offered one of Poland's biggest in-stadium photovoltaic systems. Local residents have also received an outdoor gym.

Barely fitted within dense residential surroundings, Prądniczanka's stadium has been in operation since 1970s, almost entirely hidden from public view of people not aware where to find it. Having fallen into disrepair over the years, it attracted fewer people until redevelopment opportunity arrived in 2016. First the club offices were modernised, at the forefront of the stadium, then came time for the ground itself.
In 2017-19 the stadium was redefined, receiving a brand new main grandstand, 113 meters long. Larger than before and for the first time with roof over all seats, it retains club colours and mixed reinforced concrete with steel, with a touch of illuminated, profiled glazing. As part of the economic calculation, half of the seats are placed on cheaper and demountable steel structure.
Redeveloped ground received efficient lighting and, due to planned occupancy of the field, surface was changed from natural to synthetic. Unfortunately it proved impossible to create a regulation-sized field due to spatial constraints (final size 100x63m), which means even domestically the stadium would not hold games above the fourth tier.