Argentina: ¡Bienvenido a casa, Pincharratas!
source: StadiumDB.com; author: michał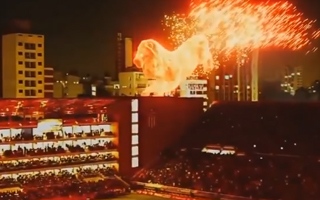 Pardon our Spanish, we just thought it's worth it. After all, third reconstruction began 17 years ago and for the past 14 years (or, as they count it: 5,186 days) Estudiantes were forced to live a nomadic life. Their exodus is over now!
While not all construction and furnishing works are complete just yet, the redeveloped Estadio Jorge Luis Hirschi is already open to the public and that counts more than anything. After all, the very last game at the old ground took place in late August of 2005, pushing Estudiantes on the road for over 14 years.
Their journey ended yesterday evening with a celebratory concert by La Bomba de Tiempo and Diego Torres, a fireworks display and numerous sentimental events, like the revealing of Carlos Salvador Bilardo monument. With Bilardo on the team, Estudiantes celebrated 3 Copa Libertdaores titles at this very ground. Well, not exactly, the field was slightly relocated during the latest revamp.
One of the night's highlights included a giant hologram of a lion leaping onto the field. While very impressive, it wasn't visible to the naked eye, rather through special app or via the giant screens:
© Estudiantes de La Plata
But it's still the very same cherished address, on the corner of Avenida 1 (thus the nickname Uno) and Calle 57, used for football since 1907.
The yearning for a return home was so immense, that probably even without the planned attractions Estudiantes fans would have probably filled the ground. From now on they'll be here for good as the stadium meets not only domestic but also international requirements.
Of course the reopened stadium has nothing in common with that closed in 2005, it's been entirely rebuilt. Well, there's a slight portion dating back to 2002, which at that point was being built just behind the old stadium.
To learn more about the new Estadio Jorge Luis Hirschi, please visit our fresh presentation of the stadium, with information and images courtesy of Estudiantes de La Plata!