Rome: Roma stadium slightly more expensive
source: Corrierre.it / LaRoma24.it; author: michał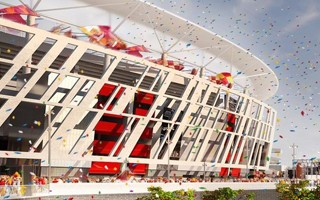 The largest Roman sports and commerce centre will surely cost more than €1 billion now. But the slight nudge in price shouldn't be a problem. More importantly, review of all proceedings to date delivered very satisfying results.
We have to be careful with any optimism regarding this project but it really seems we're moving towards construction of the new AS Roma stadium. After years of numerous delays it seems Tor di Valle will change its appearance for good.
How do we know that? You may remember the political scandal from March, which saw major figures connected to this and other projects arrested. Though no-one from Roma or Eurnova was involved, mayor Virginia Raggi ordered a complete and thorough review of all proceedings to date regarding this particular project.
That audit is now over. The general management, department of public labour and department of mobility all gave the unconditional green light, which means all their previous proceedings and decisions remain valid.
The fourth department, of urban planning, delivered a more nuanced response. It's also a green light but this time conditional. The main difference being further €18 million that Eurnova and AS Roma would have to put forward to expropriate private land for the project. The difference is owed to updated valuation of the land which, ironically, gained value because of the expected complex.
So far the Roma stadium investors secured over half of the required land. Further 8% is owned publicly, largely around roads and railway infrastructure. The remainder is private, with considerable percentage owned by companies of the Armellini Group.
Along with the updates a new estimate of expected cost was revealed. The current price tag is €1.025 billion, of which the stadium should cost around €400m. The expected increase of €18 million is under 2% of the total, so it should not pose a major issue.
Keep in mind, AS Roma has been lobbying for the complex since 2014. So far there have been several major obstacles, the largest of which – quite literally – was the scale of skyscrapers, eventually replaced by smaller buildings. The long-desired complex has also seen arguments about the extent of public funding for infrastructure and transport network.