Lisbon: Sporting's stadium to be named after CR7?
source: Tuttosport.com; author: michał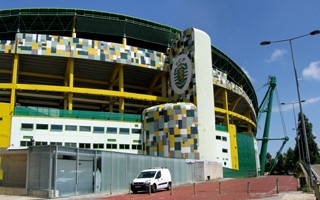 Speaking ot Italian website Tuttosport, Sporting president admited he wouldn't rule out naming the club's stadium after Cristiano Ronaldo. This would change a 63-year-long tradition of Jose Alvalade's name adorning the stadium.
Portuguese media over the weekend noticed an interview given by Frederico Varandas, president of Sporting, to Tuttosport in Italy. "Sporting is known as the club that launched Cristiano Ronaldo and that makes us very proud. For us he represents the absolute symbol in the club's history. Granting his name to our stadium is a hypothesis that we do not put aside.

"On a professional level there is no doubt that Ronaldo represents a role model for all young people. We try to convey Cristiano's values ​​to the youth, trying to preserve his example even after leaving the club so many years ago." Varandas said.
The idea itself might seem unexpected because Sporting has, for the last 63 years, been faithful to one iconic personality in the stadium name. Jose Alvalade was one of the club's cofounders more than a century ago and the old stadium was named after him in 1956. The new arena, opened in 2003 with Ronaldo on the field, continues the tradition.
One option for the club to not sacrifice Alvalade's naming would be to merge the two figures in one name. As a footballer, Ronaldo didn't play a major role in Sporting's history after all, having played 31 games, scored 5 goals, before being sold as an 18-year-old to Manchester United.