Bruges: Opponents propose new stadium site
source: focus-wtv.be / voetbalkrant.com / nieuwsblad.be; author: michał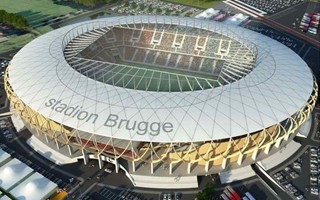 The city of Bruges has already declared interest and will evaluate the proposed relocation of new 40,000-seat stadium. It would be moved only 1 kilometer east of the currently earmarked plot.
Despite being nearly a decade under consideration, the new stadium in Bruges just isn't coming. At present its case is being considered by the Council of State. The city of Bruges has publicly claimed that there is only one group opposing the stadium, a nature conservation society called Groen vzw.
While Groen vzw pushed back in a special statement and denies being the only opposition, it is true that the society is solidly against building any new stadium in Bruges, pushing for serious consideration to remodelling of Jan Breydel Stadion.
However, a board member of the group has this week proposed to push the planned stadium from Blankenbergse Steenweg to a site located 1km east, a triangular plot between railway lines at De Spie. The area offers 20-25 hectares for development.
Mayor of Bruges, Dirk De fauw, expressed cautious enthusiasm to the proposal. "I am happy to investigate this again, together with Club Brugge. The big advantage is that it is next to a railway line. You could create a station so that it is easy to reach the stadium by public transport. It's a bit more difficult to reach with a car. The question is whether you can build a large parking lot there."
The proposal is yet to be commented on by Club Brugge.