Albania: Final opening date for new national stadium
source: własne; author: Agnieszka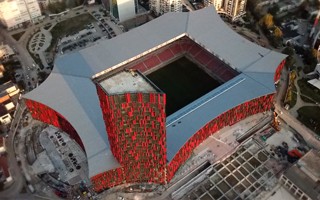 Though official inauguration won't happen until Albania's Euro 2020 qualifier against France, Albanians will have the chance to visit the new stadium 2 weeks earlier, too...
After numerous small delays, this time it seems nothing can stop the opening of Albania's new national stadium. It's already complete, has the field maintained, lighting and sound systems operational. It's time for the first game!
Official opening is scheduled for November 17, when Albania will take on France in their last Euro 2020 qualifying game. The Balkan country can still go to play-offs, so the momentum is there.
But before that prestigious match can take place, at least one test-game is required. This role will be played by female footballers of Vllaznia and Apolonia, two teams fighting for Albania's championship. That game will happen on November 3 and kick-off is set for 8pm in order to test the lighting as well.
The new national stadium is being built on the site of Stadiumi Qemal Stafa, the historical home of Shqipt national team. The successor even retains the monumental main entrance. Covered with black and red panels, the 22,000-seater is conjoined with Albania's tallest skyscraper, the 100-meter Stadium Tower. Though higher structures are also being built in Tirana, for now the stadium also boasts the height record for now.