Russia: Kaliningrad stadium surrounded by cavities
source: RFERL.org / Sport-Express.ru / NewKaliningrad.ru; author: michał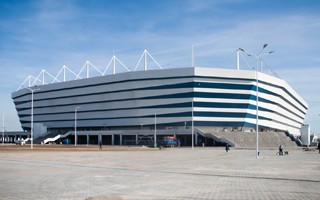 Asphalt rolling into waves, pavement holes a meter deep, sewers and drainage not working and all of that blamed on... beavers? No, that's just a local joke in Kaliningrad, where stadium construction remains a controversial issue.
The westernmost stadium of Russia's World Cup has been subject to controversy well before the tournament. It was, after all, the single last project to get off the ground, following problems with marshy ground at Oktyabrskiy Ostrov. That very issue has become a theme over a year after the World Cup.
Already before the tournament paving around the arena began to subside, which hasn't stopped to this day. The deepest holes created are a meter deep, while water covers surfaces after every major rainfall. No wonder, since manholes were uplifted along with land movement. Adding to the list, asphalt has rolled in several places, creating humps on roads.
Even along the main spectator promenade asphalt surfaces have collapsed by as much as 15-20 centimeters. Or, perhaps, the stadium moved upwards? It's exactly questions like this that cause uncertainty about safety of the main structure. Assurances from authorities aren't convincing, after all there were also declarations that situation would be mitigated and it hasn't been to date.
At a recent meeting of top officials in Kaliningrad Aleksei Moisa, director of municipal subsidiary maintaining the stadium, criticised what he called a 'lack of urgency' in dealing with the issues, particularly regarding sewage and drainage.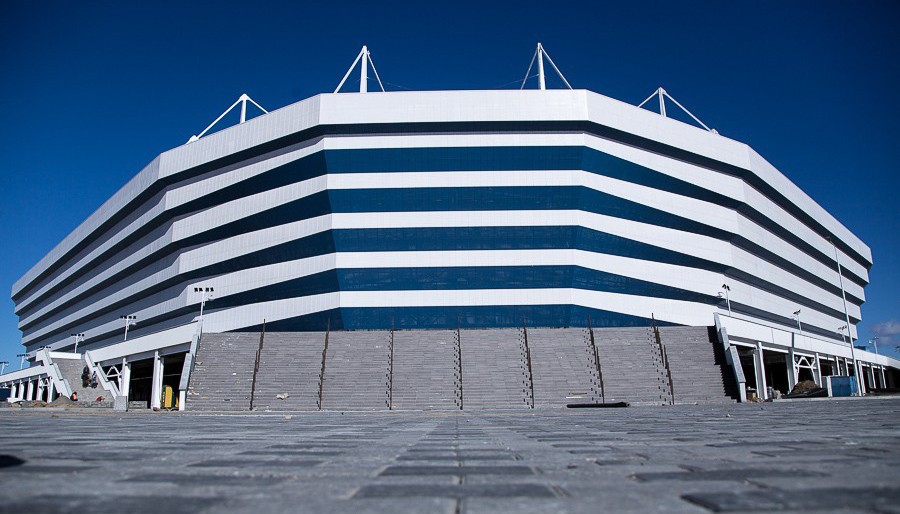 © Pravitelstvo Kaliningradskoj Oblasti
Situations like these cause both fears and... laughter. With water covering roads and pavements around the stadium, locals began joking that it was caused by beavers. The rodents have been a theme locally after shooting them was ordered due to damages caused.
But there's a serious part, too. Several people are still under arrest for the supposed crime of embezzling funds designated for stabilisation of the wetland area ahead of actual construction. Until yesterday even the former Kaliningrad minister for construction Amir Kushkhov was among those arrested in Moscow, but his precautionary measure was changed to house arrest.
Leaving jail he was very talkative and argued that all decisions leading to the stadium's construction were correct, including decision to build on the marshy island and proper stabilisation.
"We're talking about an irreversible physical process. It's irreversible, because it was confirmed by the mathematical model, which was the basis of this project. And according to the model, in the time stipulated by the project, the soil is compacted, that is, its stabilization is only 90%, and 10% of the changes will occur over 50 years. And this happens everywhere. This is not a unique method of Kaliningrad, it is in Sochi, it is the Dutch method. And this will happen whether we want or not. The method was chosen as the cheapest method of soil stabilization." Kushkhov said yesterday about the soild subsiding.
But Kushkhov's case is still ongoing. Kremlin-connected businessman Aras Agalarov, whose company was responsible for delivery of the stadium, had publicly claimed that only half of the required amount of sand was used in the enabling works process and that the wrong kind of sand was selected, too. Thus the charges of embezzling nearly RUB 800 million ($12m), which doesn't include the cost of mitigating resulting damages.
The Kaliningrad stadium itself remains fully operational both for FK Baltika games and internationals. Most recent clash between Russia and Kazakhstan on September 9 was carried out without issues, but sports columnist Dmitry Zelenov wrote in Sport Express that he was wondering whether the national team would ever return to Kaliningrad, having seen the subsiding land in person.