Poland: Widzew fans install kneeler at new stadium
source: StadiumDB.com; author: michał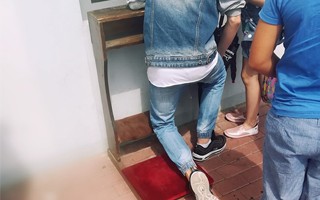 It would have been just another record-breaking season ticket campaign for Widzew Łódź supporters. But thanks to a simple idea by fans association it became a viral story that brings a smile to people's faces.
Regularly this time of the year we would at best mention that Widzew Łódź has broken Poland's season ticket record once more, for the 6th consecutive time. Which isn't really that much of a story, even if their 16,362 result is still well above domestic competition. Still impressive, they're a 3rd-league team after all, just not exciting.
Thankfully yesterday their supporters' association, OSK Tylko Widzew, installed a church kneeler in front of the ticket window, where all fans pick up their season tickets. It was meant as a gesture of gratitude to all those purchasing tickets. The initiative was welcomed by many because the window opens at waist height only.
It's not necessarily a design flaw. As the municipal stadium authority explained (yes, major national media forced authorities to respond), the stadium was designed with a different window, which was changed late into construction for the current one. Reasoning behind the change is safety of the cashier behind it.
Nevertheless, OSK Tylko Widzew's move proved very popular and the group called it 'a step to heaven', making the purchase of season tickets nearly sacramental. But the stadium is their temple, after all...