New design: Everton finally reveals all cards
source: StadiumDB.com; author: michał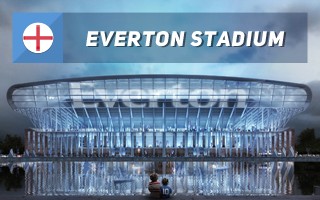 The leaks were confirmed as to stadium design but that didn't take away any of the excitement. Everton might have a very bright future if this beauty in the docks is delivered as planned.
Today marks the start of second stage consultation on what will hopefully become Everton's new stadium. Because at this point renderings have to be presented, the Toffees decided to take all of Thursday's evening to mark the premiere.
Before renders, virtual tours, plans and sections go on tour for the public, they were presented to guests at the Titanic Hotel. The concept behind Bramley-Moore Dock Stadium was described by its creator himself, famous American architect Dan Meis.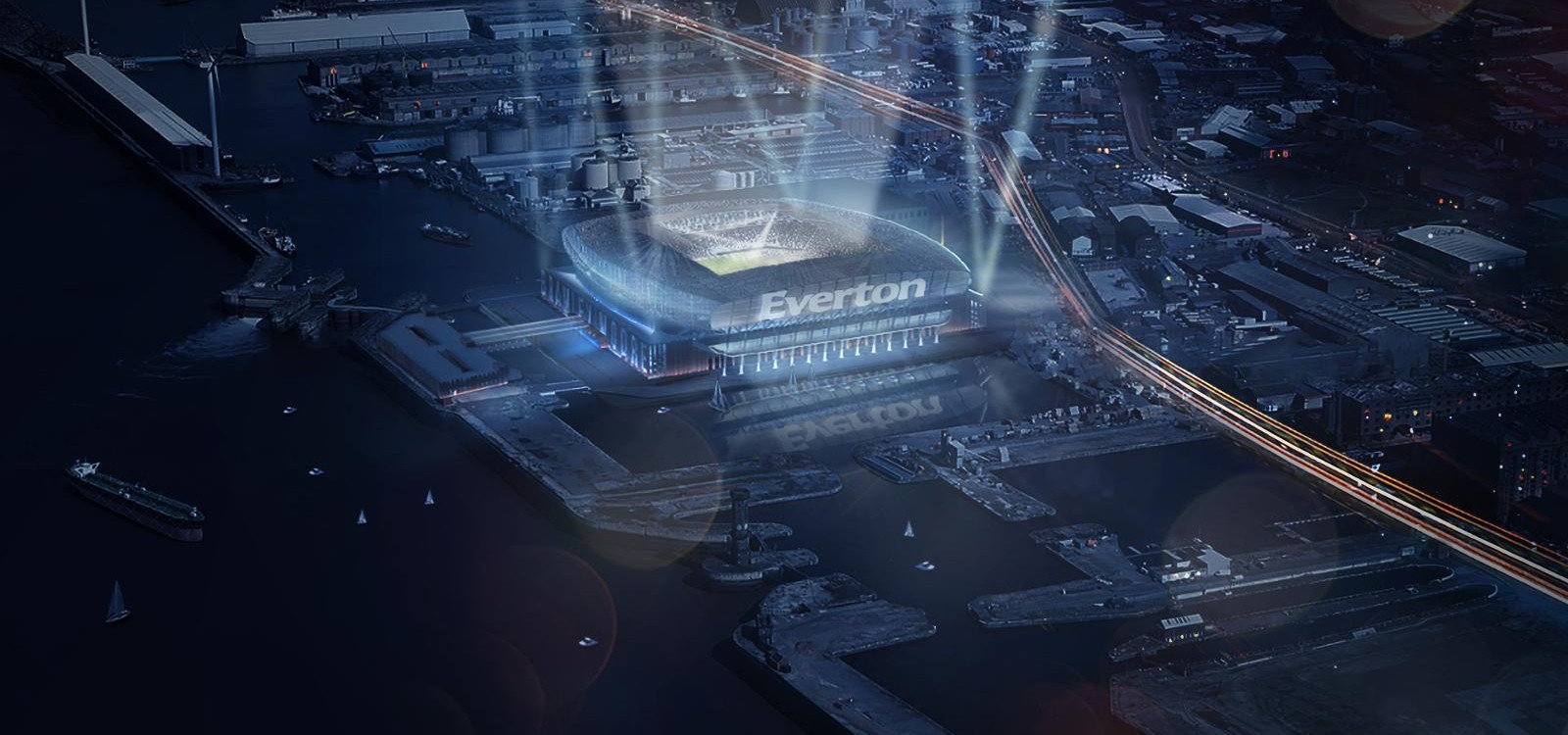 © Everton FC, Meis Architects
Planned almost on the bank of Mersey, the new Everton stadium would sit within the Bramley-Moore Dock, once it's reclaimed from Mersey's waters. The building's orientation will be north-south, which is optimal for stadia overall and in this particular case will ensure enough space on both sides to organise crowd circulation.
The new stadium would be neighboured by a multi-level parking in the west. However, the parking would be low enough in height not to hide the stadium in Liverpool's landscape or – on the other side – to hide the Mersey riverfront from people within the stadium's hospitality areas.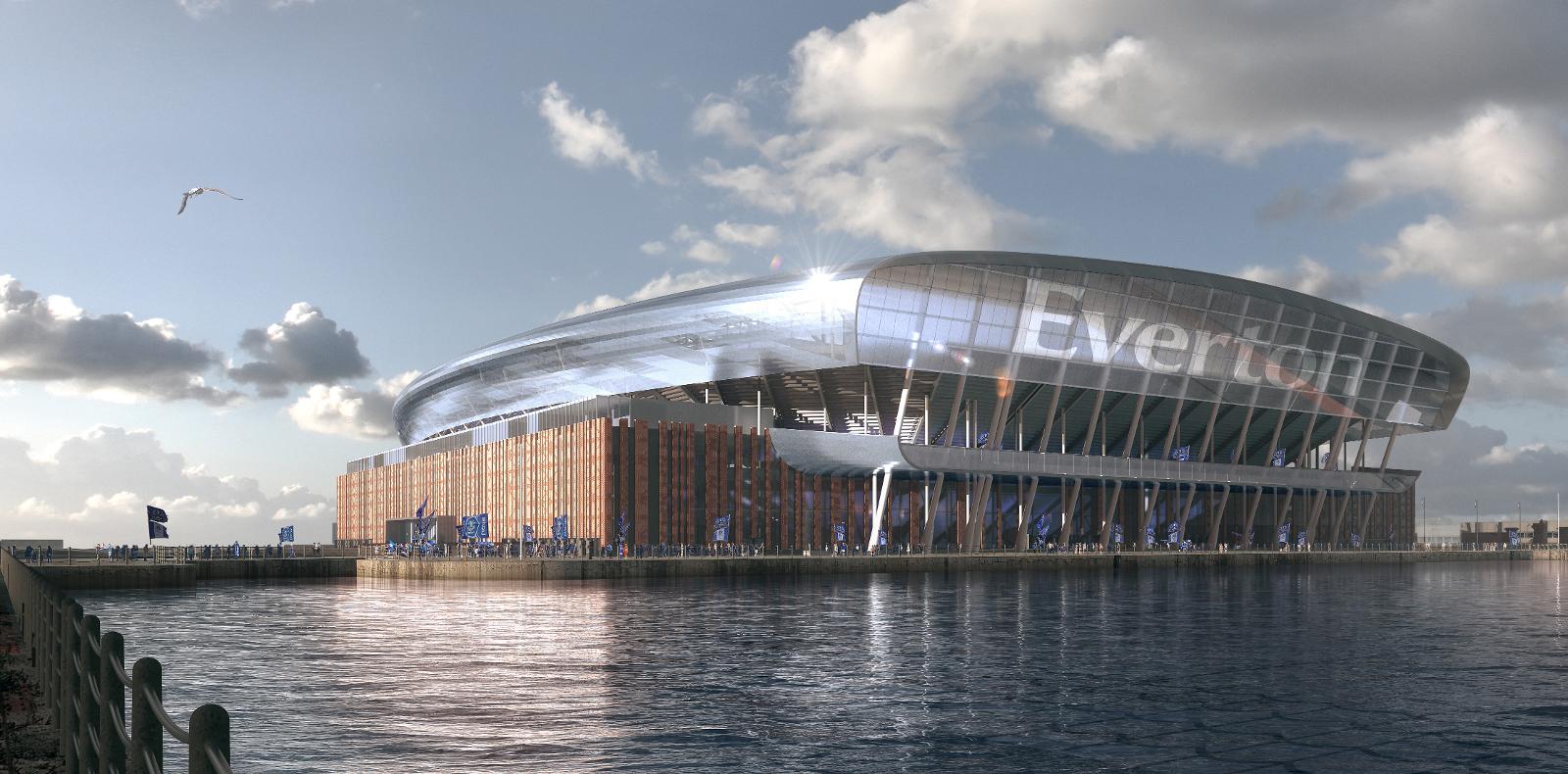 © Everton FC, Meis Architects
Because the entire riverfront is a UNESCO-listed global heritage site, the Meis Architects team decided to divide the stadium into two horizontal forms. The lower is directly connected to the dockland architecture, its brickwork being inspired directly by the nearby Stanley Dock. Also, the latticework brick facade would be a loose tribute to Archibald Leitch (whose works include Goodison), sometimes called the father of English stadia.
The upper form is far more modern and also significantly lighter, if only visually. Here steel, concrete and glass mix to create a cloud-like form atop the stadium. Translucent and illuminated at night the hovering upper form is also contrasting the shape of the stadium's lower half. Below, it's robust, rectangular, traditional. Above – you get a simple yet rhythmic bold oval, cut on both ends to meet spatial constraints.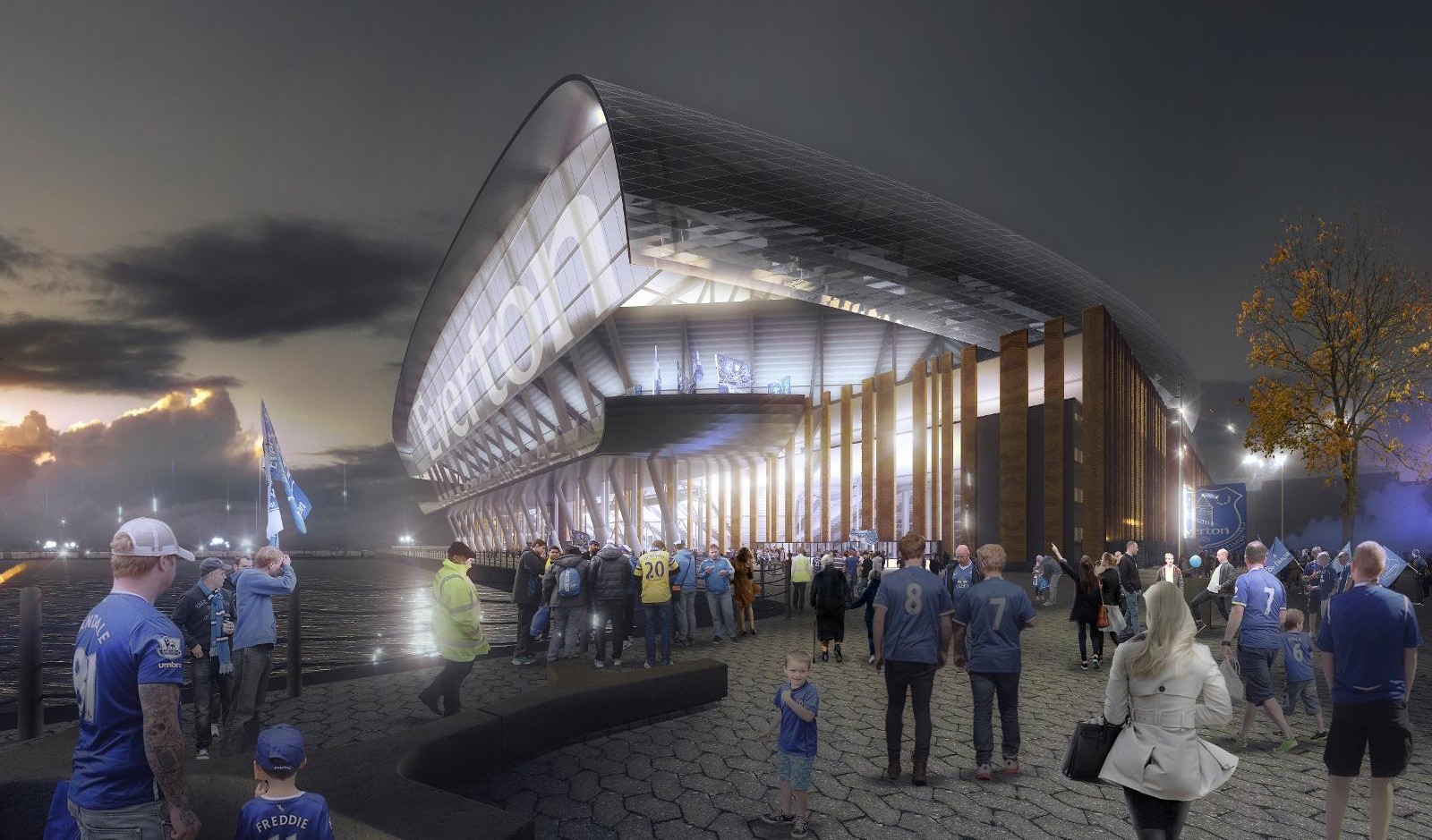 © Everton FC, Meis Architects
There's just enough room around the stadium to properly organise matchday crowd flow. Because vast majority of fans will approach the stadium from the east, this is where the main plaza will be created, providing a meeting point before and after games. There are three main access routes planned for people using public transport or simply walking to the stadium.
Perhaps the most interesting part is the seating layout. Stands were divided into two and three tiers, except for the solid single-tiered south end. The main grandstand, in the west, would have three levels, owing the division largely to its corporate hospitality contingent. East and north stands should have two main tiers. All stands might be as close as 5 meters away from the field, making it a very compact auditorium for its capacity.
The south end is expected to deliver most of the atmosphere, having a very steep incline and holding 13,000 people, just more than Anfield's Spion Kop. Also, should legislation allow such move, the stadium's south and north stands are able to easily be converted to safe standing areas at least partly. Such move might result in total capacity growing from all-seated 52,000 to 62,000 with some standing.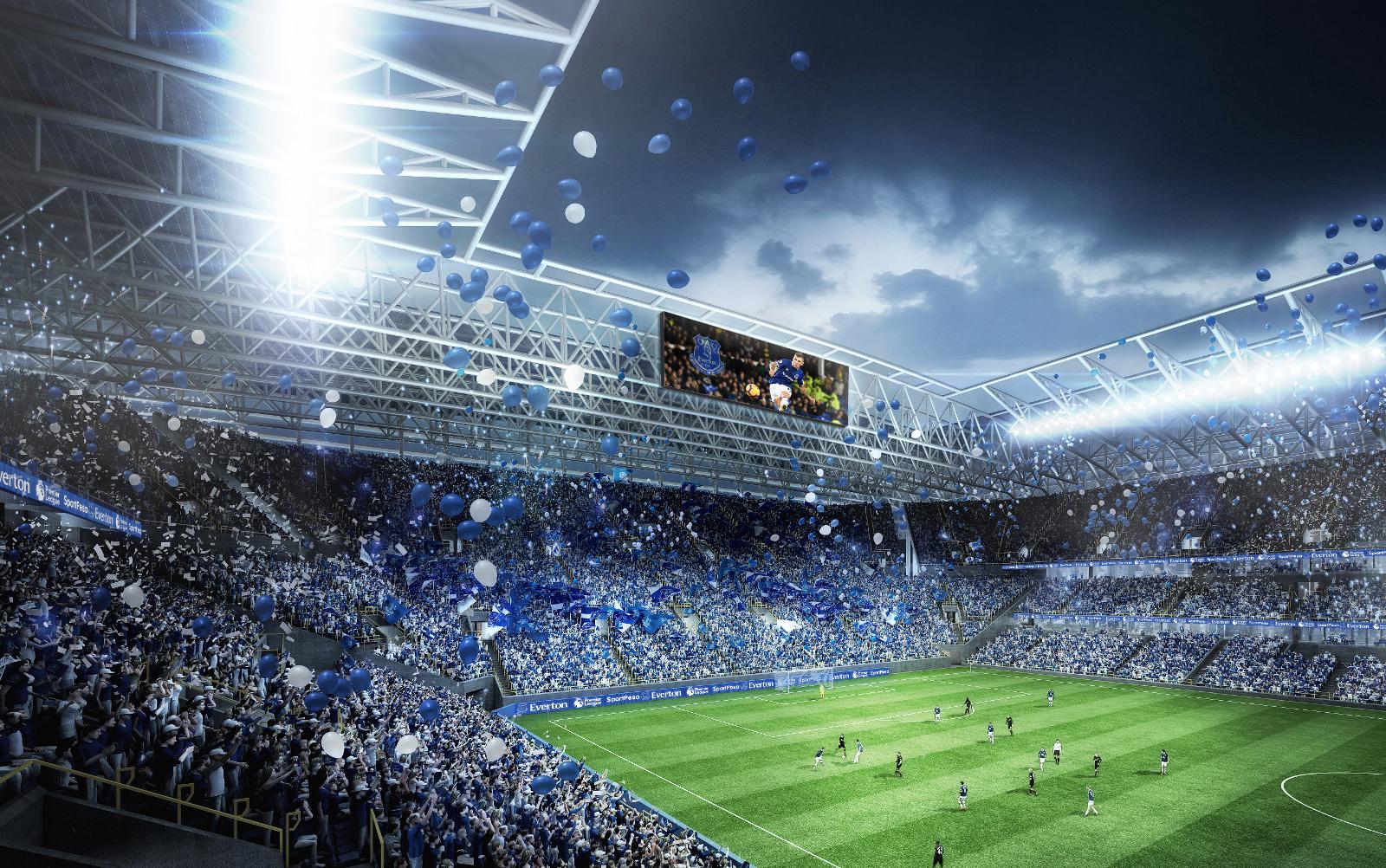 © Everton FC, Meis Architects
When will it happen?
The consultation process restarts today and will take a month. Events are planned around the city to allow everyone voice their opinion. Everton are hoping that all necessary amendments would be implemented within a few months and planning application should be filed before 2019 ends.
There's no guessing how long proceedings would take from that point, even if only for the project's immense scale and importance. But hopefully construction would begin in 2020. Once the ground is broken, it should take no longer than 36 months to complete the stadium.
© Everton FC, Meis Architects
It's also not clear how much it would cost. Early estimates from 2016/17 suggested a budget of just £300 million, but the amount was changed to 'over £500 million' by the end of 2017 already. On Thursday evening there was no more detailed estimate, we should expect it later into 2019.
What happens to Goodison?
Crucial part of the consultation is L4, the fourth district of Liverpool. This is where Everton's heart has been beating for over a century. For locals it's not just an exciting development, it's sometimes even an existential question of "what now?!". When Everton relocate, they'll take thousands of regular customers along with them.
To mitigate the loss, Everton have been investing in local community, spending over £10 million over the past 5 years. It's already certain that Goodison would not be preserved like Highbury was, however the club are considering leaving statues and other Everton-dedicated elements behind.
According to this initial masterplan, a football playing field would be at least symbolised by the central square. The area would primarily serve residential purposes, but with significant amount of retail and office space, too.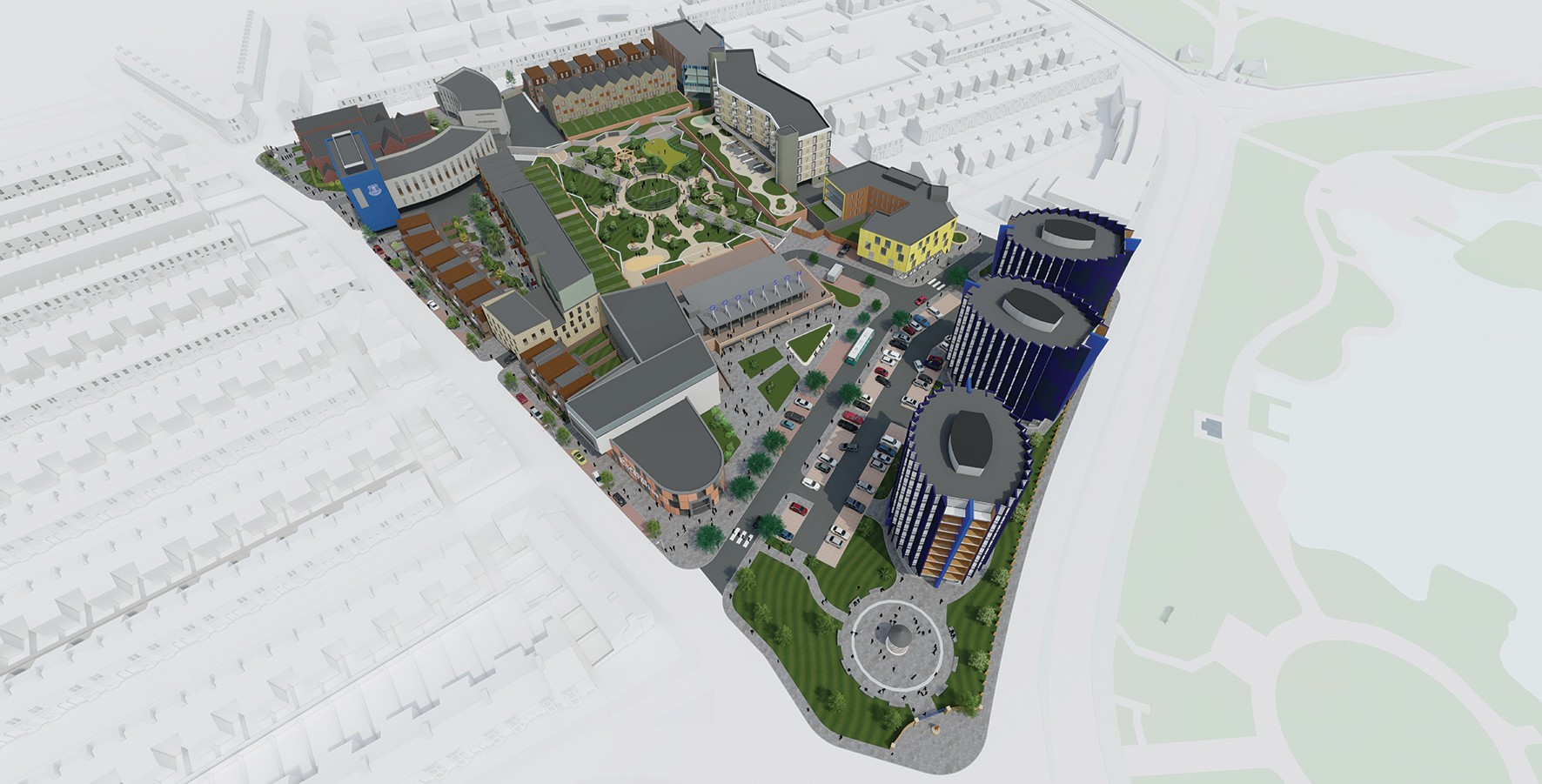 © Everton FC, Meis Architects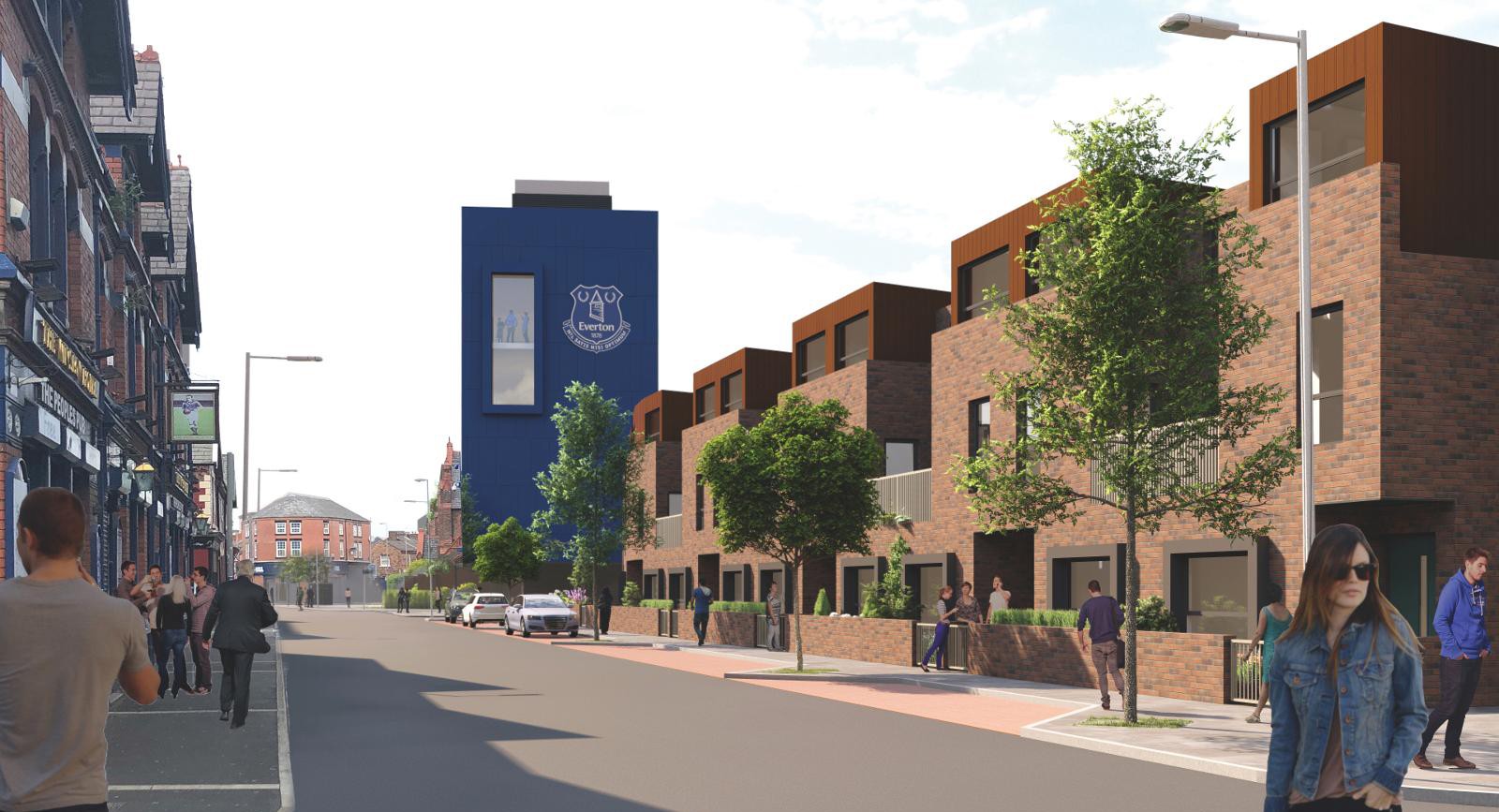 © Everton FC, Meis Architects