Brussels: Anderlecht with first naming rights deal
source: HLN.be / Voetbalkrant.com; author: michał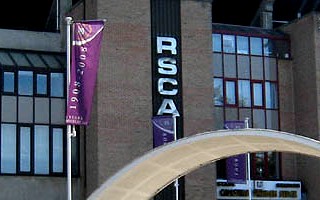 It was a major event in Brussels on Friday. Anderlecht officially confirmed that their stadium will be renamed to Lotto Park. Some find it painful, others cheers for extra revenue. But there's one more fear...
On Friday Anderlecht officially revealed that after 102 years (!) their home stadium would have a commercialised name. This comes as a major change for more than one generation of supporters. Ever since it was rebuilt in 1983, the arena was named after Constant Vanden Stock, previous chairman.
Starting this Sunday, the name is subject to a commercial contract with Lotto, the national lottery. The company was rumoured to be in talks over stadium name for many months, Even this week the club failed to prevent a leak when new banner with Lotto Park on it was being mounted on the facade. One watchful supporter with a camera was enough to cause nationwide headlines.
Perhaps more surprising than Lotto is the second part, changed from Stadion to Park. It was considered more digestible for supporters, who often refer to the stadium as 'the Park' because of its location within Astridpark. New logo of the stadium also includes the number 35, under which Anderlecht figures on the list of professional teams established in Belgium.
This Sunday Anderlecht is hosting a 'fan day' for supporters to get accustomed to the new naming. It hasn't been revealed how much Lotto is paying, however the deal will last 4 seasons. It could have been 5, according to the club, but last season Lotto decided not to buy the name in order to not overwhelm supporters.
On Friday journalists asked whether Anderlecht will even be here, at their spiritual home, in 4 years. "I think so. It's almost illusory to think that you will end up somewhere else during that period, given the approvals you need in Belgium." said CEO Jo Van Biesbroeck.
At the same time the naming rights deal has already caused some concerns. According to famous sports economist Trudo Dejonghe the contract with Nationale Loterij might be considered unfair. After all, the lottery is a state-ran company, which maye be considered a hidden subsidy to Anderlecht.
"And I'm not saying that because I am a supporter of Club Brugge. When Lotto stepped into cycling, there was not a single Belgian team anymore. That was a defensible form of support. Now there is one club that benefits from tax money." Dejonghe said, speaking to HLN.be.
In recent years the Belgian league has been very competitive, seeing a different club claim championship in three last campaigns. With Lotto on board, Anderlecht is feared to leave Club Brugge and all other competing clubs behind, using taxpayer funding.