Stadium of the Year: Popular Vote – WINNER Volgograd Arena!
source: StadiumDB.com; author: michał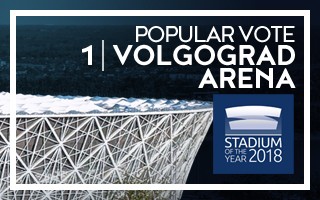 Standing proudly beside the Mamayev Kurgan, this stadium had to be built with respect for its historical location. But it was most importantly built in a satisfying way for locals, who showed (also proudly!) their devotion towards Volgograd Arena.
History is being made right here, right now. For the first time in history Russia has its own Popular Vote winner. Incidentally, it's also the country's second Stadium of the Year award in just a year, following last edition's Jury Award victory for Luzhniki.
Volgograd Arena takes victory with huge advantage over other candidates. That is: with support in Volgograd itself. We've monitored reactions by populations to press coverage of the competition and nowhere else has a nomination to our award caused as much enthusiasm as in Volgograd. Which is exactly what a great stadium needs: a community that identifies itself with their new arena.
Of course victory would be impossible with votes just from Volgograd, in fact – just from Russia. The stadium was also ranked highest by significant portions of voters from Poland and USA, scoring well with its highly decorative, almost gothic outer form!
In total 16,460 votes represent 46.6% of all votes cast, while over 10,700 five-star ratings mean it's beyond any comparison with other candidates for Stadium of the Year 2018. We're thus proud to be sending our award to Russia once more, congratulations!
Furthermore, it's the first time in history that the entire podium is occupied by stadiums from a single country! We did anticipate such outcome in advance. After all, there was no single outstanding candidate and Russia did deliver 7 world class stadia in 2018, more than any other country. Add to that the significant popularity of the Popular Vote among Russians and... well, enough said!