Stadium of the Year: Popular Vote – 3rd | Stadion Nizhny Novgorod
source: StadiumDB.com; author: michał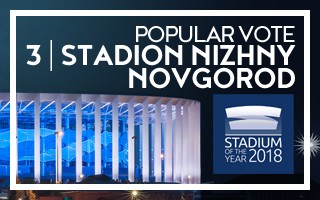 One of the most impressive hosts of the 2018 World Cup, located in a unique and historical spot. Monumental enough to get on the podium, not quite to win... even among Russian stadiums alone.
With 14,168 votes in its favour, Stadion Nizhny Novgorod was selected as one of five best stadia by 40% of all 35,330 voters in this year's Popular Vote. While surely significant, this proved not enough to fight for victory.
Ironically, it may have lacked support from Russia itself. Only 54% of Russian voters included this particular stadium in their top five. Its high position was thus prompted by many foreign voters enjoying the whirlpool-inspired architecture.
Almost one in three Polish and Belarusian voters supported this stadium and it became the single most popular stadium to be selected as 3rd best (4,172 three-star scores). Its position should thus be no surprise.