Stadium of the Year: Jury Award Winner – DVTK Stadion!
source: StadiumDB.com; author: michał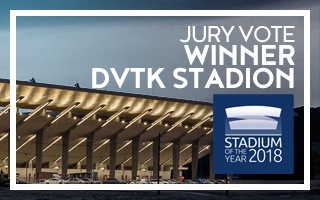 Never in history has a stadium so small won an award in our competition. But if there's one deserving it, it's this one! Finally, Hungarian stadium architecture is being noticed for the quality it represents.
Built within a disciplined time and budget, with this exact location and community in mind. The new stadium in Miskolc already scored well in the first round but in the final it left no doubt at all.
It's a strange feeling to to award such a small stadium with Stadium of the Year title a year after the mighty Luzhniki received the honour but it's also very fitting. Hungary has been delivering outstanding stadium architecture scaled to the demand they have.
As one of the Jurors told us, the new DVTK stadium was simply far ahead of the competition. "Every element [was] considered to produce this impressive stadium." says Robert D. Kennedy of Holmes and Miller, who particularly appreciated the vision and elegance displayed by Közti Architects.
We should note that small size of the stadium doesn't make it less interesting. In fact, covering 20,000 m2 with aluminium mesh (manufactured locally) within such a compact buidling is a challenge itself. Meanwhile in this concept it adds sharpness and style to the open, chalice-shaped stadium.
Optimal crowd circulation and gathering areas were planned to address existing customs of the DVTK fanbase, while steep auditorium ensures good atmosphere during games. A stadium tailored to demand is what's truly worth awarding, congratulations!