StadiumDB Newsletter: Issue 69 - 6,000 votes so far, here's more
source: StadiumDB.com; author: michał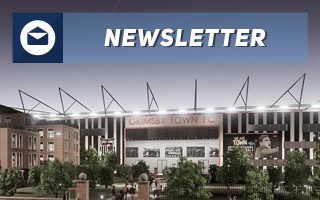 First update on the Vote, first Juror presented - that's how we top the first week of Stadium of the Year. Anything could still happen and we expect it will as last emails informing about the competition leave our mailboxes.
Oh, how time flies! Week 1 of Stadium of the Year 2018 vote is behind us. While we never reveal partial results before closing the voting platform, Readers of our Newsletter deserve a peek into the voting dynamics. So far we've had over 6,000 valid votes cast, with Russia, Belarus and Austria being the top voting nations. But don't make assumptions based on this information, everything is still very much open and even the single last stadium can win – that's how close this year's Popular Vote is. So be sure to take part in the competition and select the most impressive stadium of 2018!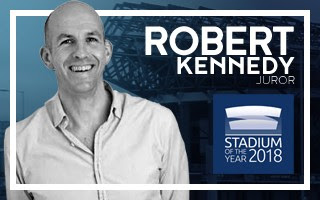 Before the weekend we began presentation of our Jury, with Robert D. Kennedy revealed as the first Juror. Author of amazing British stadiums like Murrayfield, Ricoh Arena or King Power Stadium, among others, he's the first ever Jury member from Scotland. Before this week is over the remaining two architects will be revealed publicly. Because you've subscribed to our newsletter, you'll hear the names first. The remaining two Jurors are Alfredo Angulo Quevedo of Paraguay (architect of last year's winner La Olla Nueva) and Gino Zavanella, living legend of Italian stadium architecture. It's a huge honour for us to have them as Jury members and we're excited to see how they vote. Keep in mind, the Jury vote has two phases: first a shortlist of 10 finalists is selected, then the winning stadium.
But we aren't limited to Stadium of the Year, of course. Last week we visited England a few times, most notably to bring news of Grimsby Town's latest stadium design. It's preliminary and not commissioned by the club, which made it slightly confusing at first. However, should it go ahead, it might be a fantastic solution to over two decades of failed relocation schemes. In London QPR are in a war of words with the Hammersmith and Fulham council, which doesn't signal a happy end to the stadium-building effort. And finally, third stand of London Stadium received an official name, honouring Billy Bonds, who played almost 800 games for West Ham.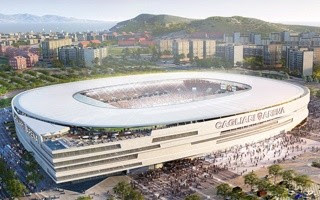 In Italy major news comes from Rome and Cagliari. AS Roma's new stadium received further reassurance from public authorities with independent report by the Turin Politechnic confirming it would be beneficial to the city. Issues regarding mobility remain but should not be decisive. Cagliari received its own share of good news as the proposed stadium expansion to 30,000 has been approved. We're talking about a project yet to be built in the first place but the evaluation means Cagliari may be part of Italy's Euro 2028 bid.
Sydney's latest football venue, Bankwest Stadium, is nearing its completion. Over 25,000 of the 30,000 seats have been installed and we're just 7 weeks away from the opening game, one of 20 (!) scheduled for 2019 already. The 'rectangular' stadium will host rugby union, rugby league and football games primarily, though other events are also expected. The naming rights deal with Bankwest was signed for 7 years.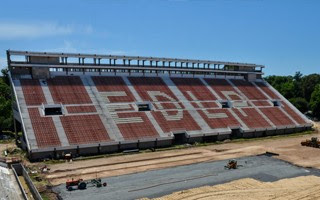 Finally, finishing touches are also expected to come sooner than later in La Plata, Argentina. The redeveloped Estadio Jorge Luis Hirschi will have its hybrid turf installed in February and should be able to host its first training game in March. Whether the stadium would be entirely operable by then seems unlikely, though.