England: York stadium hit by delays
source: YorkPress.co.uk; author: michał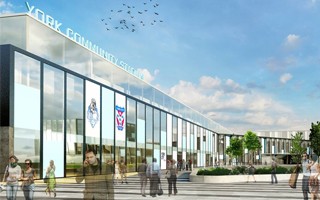 Despite several football and rugby games already having been scheduled for the summer, York Community Stadium will not be ready in time. This means no rugby this season and delayed football inauguration.
As revealed byYork Press earlier this week, the new community stadium has been hit by new delays. It's unclear as of now how much longer its delivery would take, however inauguration in July is no longer viable, August is also very unlikely.
This alone has serious conesquences for both York City Knights and York City FC. Knights will not be able to play any of this season's fixtures at the new stadium as it was only planned that two final games would be held there. York City in turn are forced to cancel four high-profile friendly games and several smaller events which were to mark their departure from Bootham Crescent.
A spokesman for City of York Council said: "We understand there will be a delay to the completion of the York Stadium Leisure Complex. This would mean a handful of games would not be able to take place in the new stadium as planned and the accompanying leisure facilities will be unable to open as soon as we'd hoped. This is subject to commercial discussions so we cannot comment further.
"Work will continue with all partners to minimise any delay and open the York Stadium Leisure Complex as soon as possible, without compromising on quality or safety."
At this moment it's understood that both teams will continue using Bootham Crescent until the new ground is complete. York Community Stadium hold just over 8,000 people. It's being built together with extensive multi-use development, including retail, cinema, swimming pool, gym and medical facilities, among other.