Stadium of the Year 2018: Nominate your favourite now!
source: StadiumDB.com; author: michał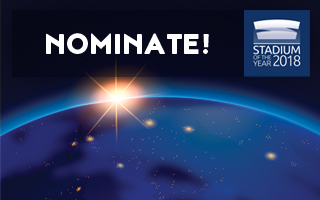 Before we even managed to open the nomination process, over 20 entries were submitted. And they will be considered, of course. Still, from today until January 30 you're invited to nominate your favourite stadium of 2018!
From today until and including January 30 everyone around the world is invited to name a stadium deserving to be among Stadium of the Year 2018 candidates. We have only set a few conditions for a stadium to qualify. Each venue has to be new or largely reconstructed, be fully opened by the end of 2018, able to host a football/soccer game and hold no fewer than 10,000 seated people.
In a brilliant sign of enthusiasm we have already received over 20 entries, starting 4 days ago! Thank you and keep them coming. Current list of approved candidates can be found below. Further stadia will be added once we evaluate them. Please take into account that including some stadiums will require some research or communication with authorities, which means you might not see your favourite immediately.
Al Najaf Stadium, Najaf

Audi Field, Washington D.C

Banc of California Stadium, Los Angeles

Diósgyőri Stadion, Miskolc

Diyarbakır Stadyumu, Diyarbakir

Generali Arena, Vienna

Kocaeli Stadyumu, Izmit

MOL Aréna Sóstó, Székesfehérvár

Mordovia Arena, Saransk

Optus Stadium, Perth

Rostov Arena, Rostov-on-Don

Samara Arena, Samara

Spor Toto Akhisar Stadyumu, Akhisar

Stadion Kaliningrad, Kaliningrad

Stadion Nizhny Novgorod, Nizhny Novgorod

Sun Devil Stadium, Tempe

Suzhou Olympic Sports Centre

Tire Stadyumu, Tire/Izmir

Tsentralnyi Stadion, Yekaterinburg

Volgograd Arena, Volgograd
As every year, the voting process will only begin after the nomination process is complete. This year we expect the voting platform to be ready on February 3. From that point onwards everyone will be able to cast one valid vote.
How to nominate?
It's easy, open and democratic. Everyone has the chance to nominate a stadium via a comment on social media or direct message. You can also send us an email to michal@stadiumdb.com, please include the word 'nomination' in the title. Please mind, all it takes for a stadium to be included in the final vote is one nomination. Even if you send 300 messages, chances will not increase, we evaluate every nomination based on merit, not popularity.