India: Record stadium being born away from spotlight
source: StadiumDB.com; author: michał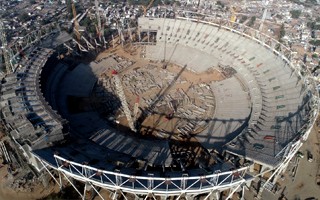 No World Cup will be held here, at least not one for football. That's partly why the stadium in Ahmedabad is being built away from global attention. But these photos shared by Parimal Nathwani show the true magnitude of what will soon be a 110,000-seater!
Almost exactly two years ago we showed you how the new cricket stadium in Ahmedabad's Motera district would look. Considered a brainchild of the prime minister Narendra Modi himself, the project is piloted and meant to become home to the Gujarat Cricket Association.
GCA's vice president Parimal Nathwani has just shared photos of the project's progress and they're stunning. Just look at these aerials and compare the circular stadium bowl with ant-like individual homes around.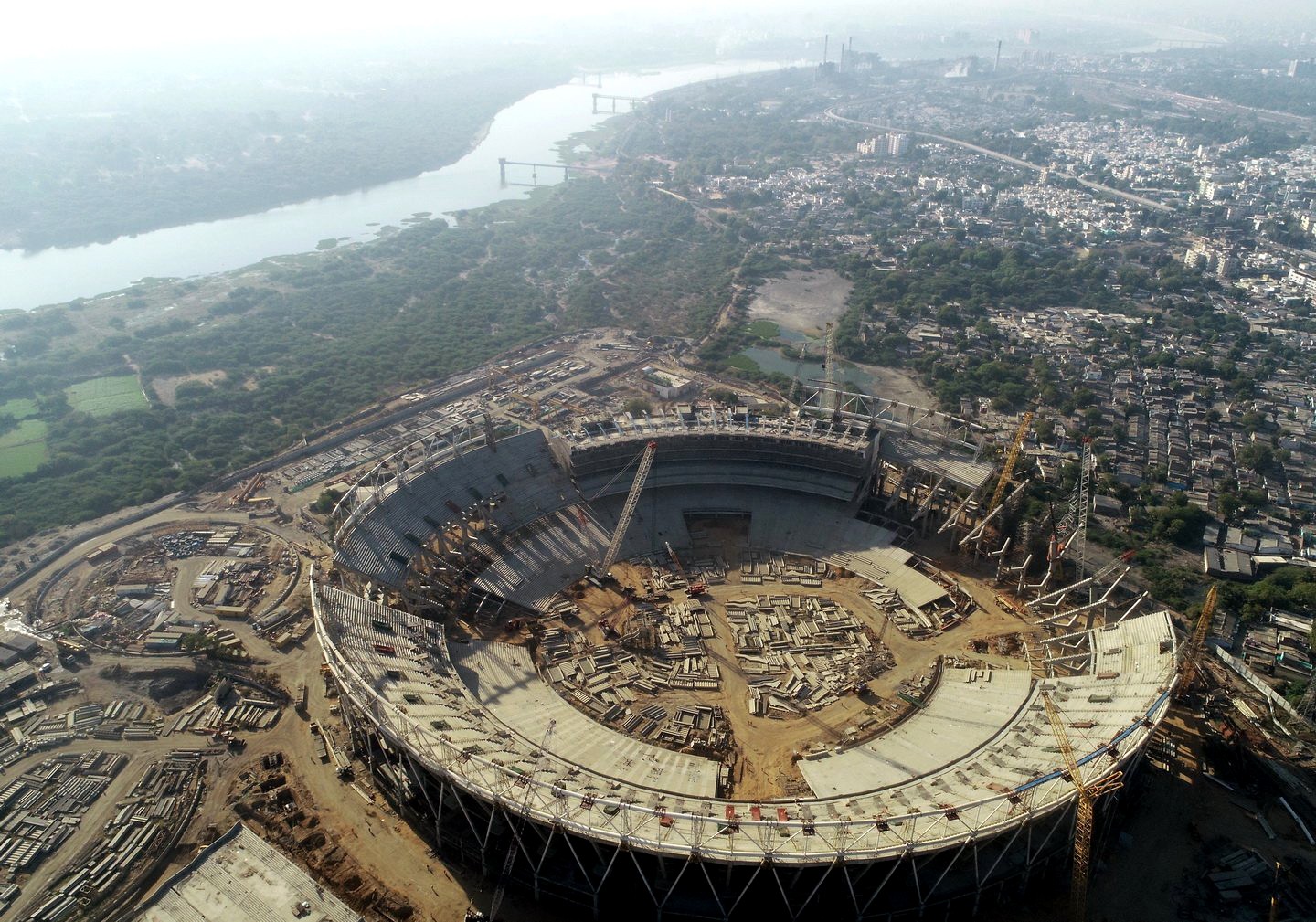 © Parimal Nathwani
The immense crater you're looking at is what will become the 110,000-seat stadium, likely to retain the name of its predecessor (with capacity of 54,000), honouring Sardar Patel. Now each of the two tiers of seating will house some 50,000 people.
With such scale, the building will become the world's largest cricket stadium and the world's second largest all-seater overall, losing just slightly to North Korea's Rungrado May Day Stadium (114,000).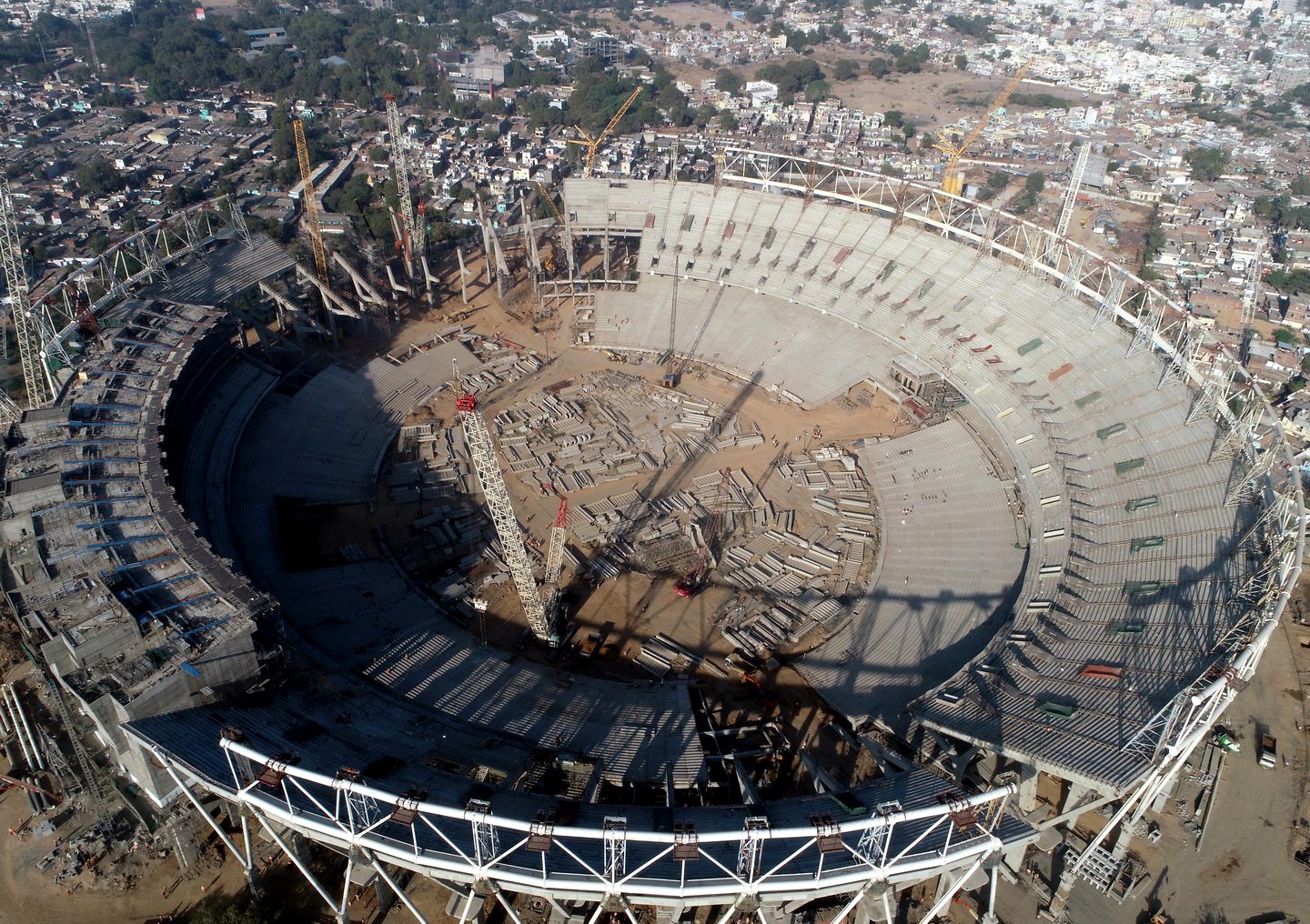 © Parimal Nathwani
To make the project even more impressive, its price tag is reportedly still at the initially-declared amount of 7 billion rupees ($100.2 million at current exchange rates). This makes price-per-seat count exceptionally low, at some $911.
Let's go even further, a third of the price (2.45 billion rupees) is actually consumed by the roof, which will cover most people in the upper ring. It's a totally independent structure, only attached to the concrete seating bowl. This way it should work seperately during earthquakes which may happen in the seismically active Gujarat. Covered ith PTFE and awaiting its big lift later this year, the roof may resemble the initial one from London's Olympic Stadium and no wonder, since they're both designed by Populous.
Vast majority of the infrastructure will be housed by the stadium's south stand, which has a multi-level pavilion already built. This is where not only offices will be housed but also the 76 skyboxes planned at the stadium. The southern facade will look rather impressively, especially with the price tag included, as you can see below. Remaining sides will have no outer wrap, revealing the rhythmic columns.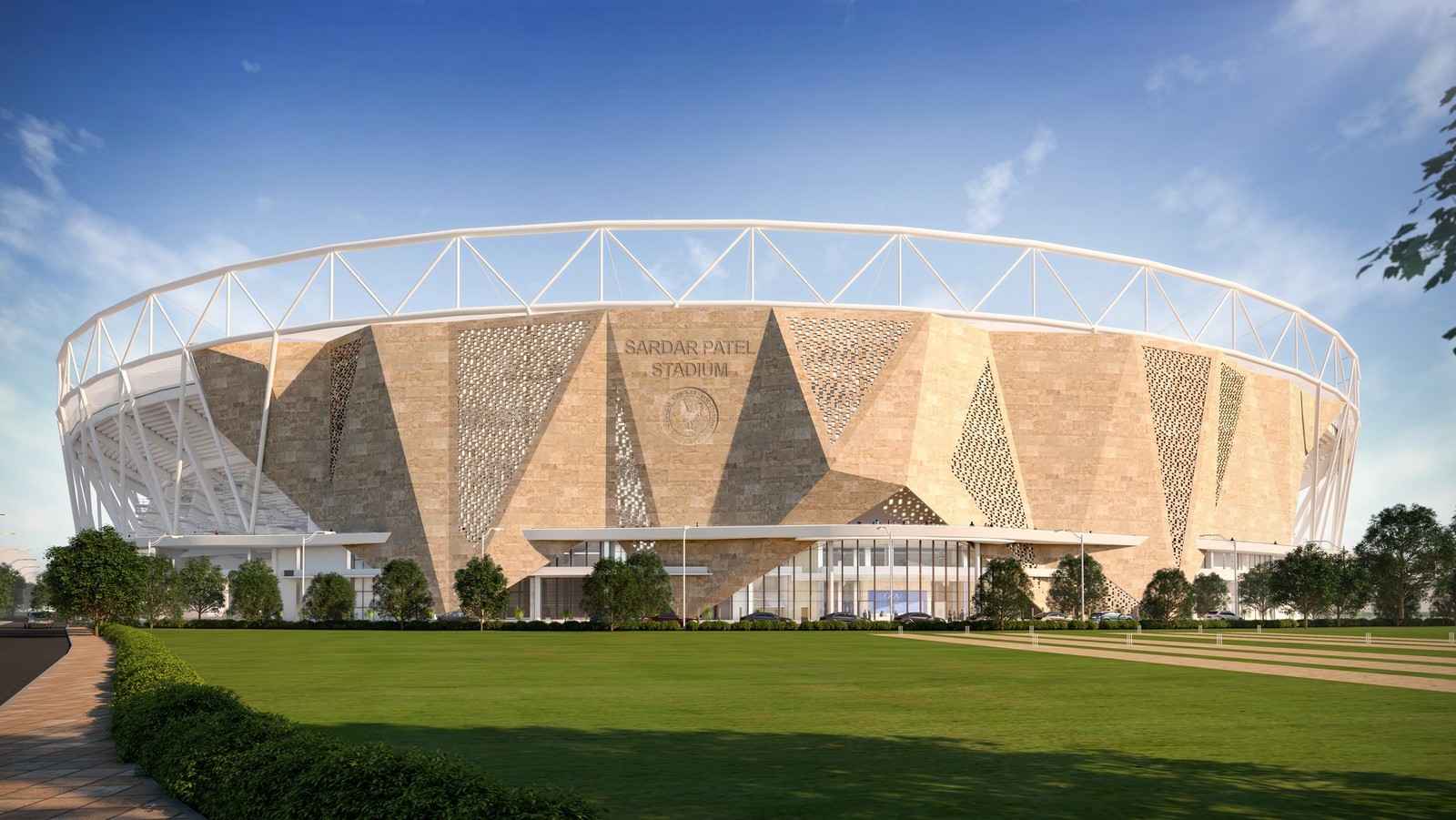 © Populous
To cope with massive matchday demand, the stadium puts road traffic on ground level, with 3,000 car bays and up to 10,000 for bikes. Meanwhile, pedestrians enter the stands through a 12-meter ramp surrounding the stadium's perimeter. Because the lower tier is immediately accessible, it may serve as primary seating bowl for events with lower demand while the upper one is sealed off.
Want to make it even more impressive? The stadium is supposed to be built in just two years. Although, that schedule is possible thanks to a small cheat. That is, official foundation stone laying took place in January of 2018, which makes late 2019 delivery even sooner than 2 years into the project. But in truth, construction actually began a year earlier, on January 16, 2017.
Still, delivery of such giant in less than 3 years is commendable. Especially that no tower cranes were erected – often considered to make work more efficient – and there are only giant crawler cranes moving around the venue.