New design: Old combines with new for Levante
source: StadiumDB.com; author: michał
One more Spanish club fulfills the requirement of stadium improvement to meet La Liga standards. For Levante it's a mix of the 1969 stadium with 21st century features.
Yesterday a very important presentation took place in Valencia, where Levante announced upcoming redevelopment of their ground. This concept delivered by IDOM is good news to supporters in love with old, traditional stadia.
Estadi Ciutat de Valencia will retain its seating bowl created in 1969 despite major reconstruction ahead. Instead of altering the auditorium, Levante opted to build upon it in order to meet growing standards of the Spanish league and expectations of fans.

Of course the selected vision is primarily dictated economically, it's simply cheaper to build upon the existing seating bowl. Also, timing of specific works is chosed so that Levante can play at the stadium throughout. Crucial works are to be carried out between seasons and vast majority of elements will be prefabricated.

The project, planned to be carried out in phases, will begin with installation of a brand new roof. Entirely independent from the existing concrete structure, the roof will see installation begin already during the 2018/19 season, in April of 2019.
Supported by external pillars, the canopy is a classic tensile cable structure with two rings, ensuring low weight and efficiency. Along with it two giant screens (23.5 x 5m) and new floodlighting. Timing is picked so that the big lift takes place before end of summer break in 2019.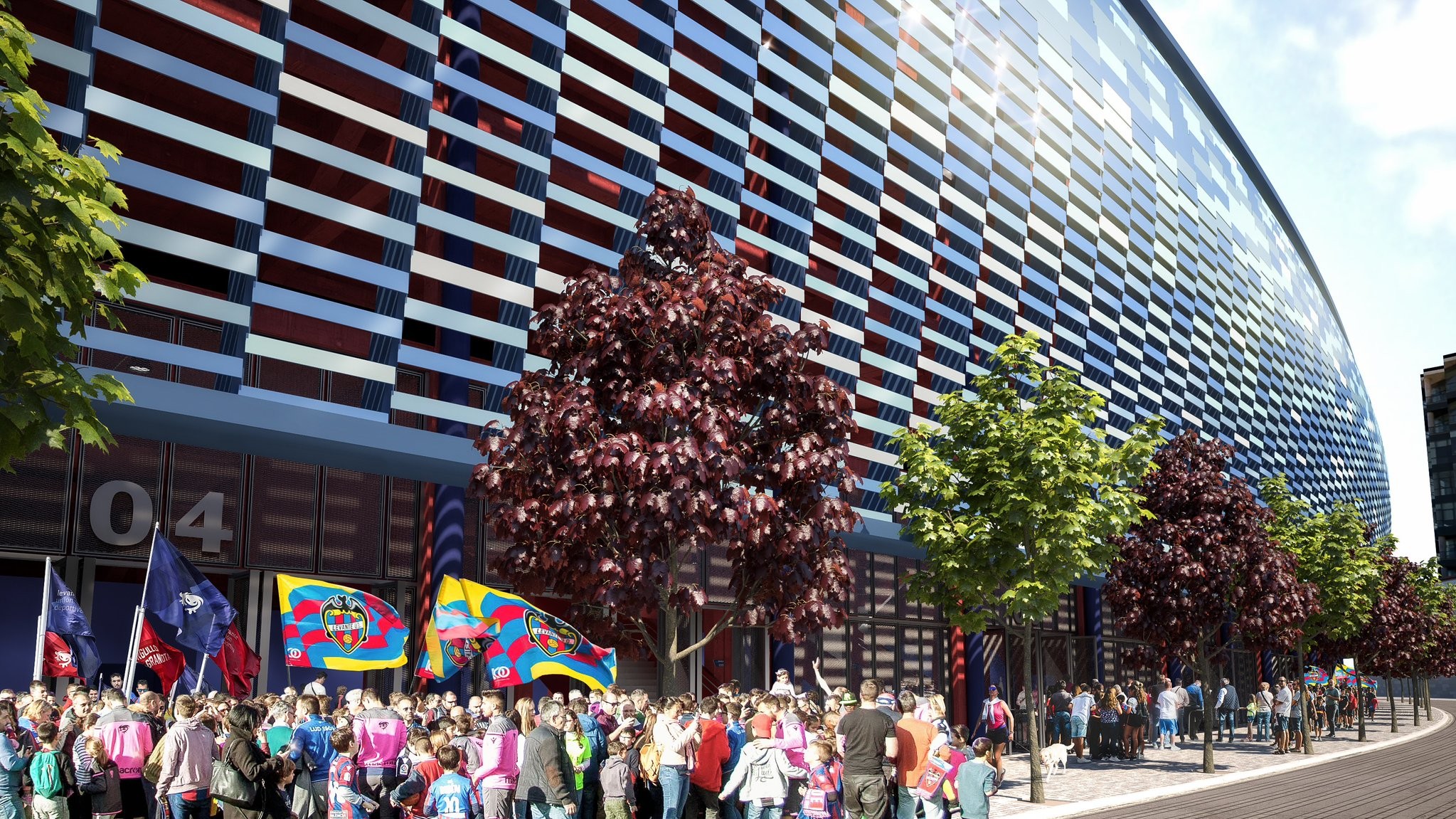 Before the end of 2019/20, the stadium will see second phase begin, starting with expansion of available floor space. Largely focused around the main west stand, the espansion is also planned around the public concourse, ensuring a better matchday experience for all visitors. Obviously, the biggest increase is expected within club offices and hospitality areas, including fresh skyboxes.
Lastly, the stadium will see an openwork facade wrapping around it, providing a modern form of mosaic with vivid nighttime illumination. Interestingly, the south stand is expected to have a giant screen incorporated into its facade, opening people in the park to messaging by the club and sponsors.