Budapest: Honvéd to also have a new stadium
source: StadiumDB.com; author: michał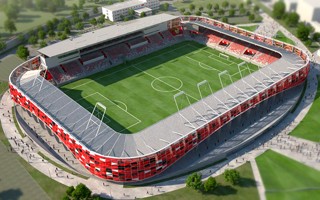 After Ferencváros and MTK another Budapest-based football club is getting a brand new stadium. Contract signed, we should see construction begin in 2019 and end in 2020.
They were among the first teams to show a stadium concept but had to wait longer than some of their league rivals. Proceedings were delayed after the initial presentation back in 2014 and so was the demolition of current Bozsik Stadion. but finally now the time has come: earlier this month the contract was signed for a brand new stadium for Honvéd.
The HUF 11.799 billion deal was won by a joint venture of Pharos 95 and West Hungaria Bau. At current exchange rate this represents €36.7 million, which is very significant. However, it should be noted that construction prices have risen overall since the Hungarian 'stadium revolution' began several years back.
Groundbreaking should take place early into 2019 so that the new stadium is delivered by the end of 2020. We're talking of a very simple UEFA Category 4 stadium with a footprint of 10,000 m2 and overall surface of 70,000 m2.
In order to reach the UEFA capacity criterion capacity should sit at just over 8,000. That's excessive for the club's current needs (regular turnout just under 2,000) but should allow Honvéd to grow. With one level of facilities throughout the perimeter and three floors within the main stand, it will host all necessary amenities for both domestic and international football up to Champions League semi-final level.
The stadium will be joined by 438 parking spaces and will have a special elevated access platform for away supporters. In total some 1,300 reinforced concrete prefabricates are expected to be used along with 670 tons of structural steel and 2,700 cubic meters of concrete.