Ecuador: Capwell's illumination a landmark in domestic football
source: StadiumDB.com; author: michał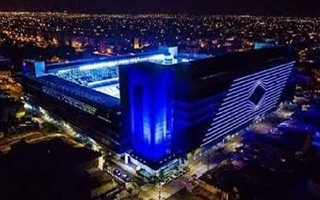 Even though only two most-exposed sides of Estadio Capwell are illuminated, installation helped the unique stadium become a major landmark and serves as means to boost commercial revenue for Emelec.
Every night from 7pm until midnight two vast facades of Estadio George Lewis Capwell are being illuminated, mostly in blue and white. The system is operational since late August and brought quite some interest to the stadium, making it a nighttime attraction.
Created with 10,000 LED nodes, the system was created by Philips Lighting, in association with domestic provider Ammco SA. Colours and shapes can be displayed throughout central parts of the facades, though with some limits. LEDs are laid out in 14 horizontal strips in the north and 9 strips in the west, following the pattern of blue metal panels adorning the stadium.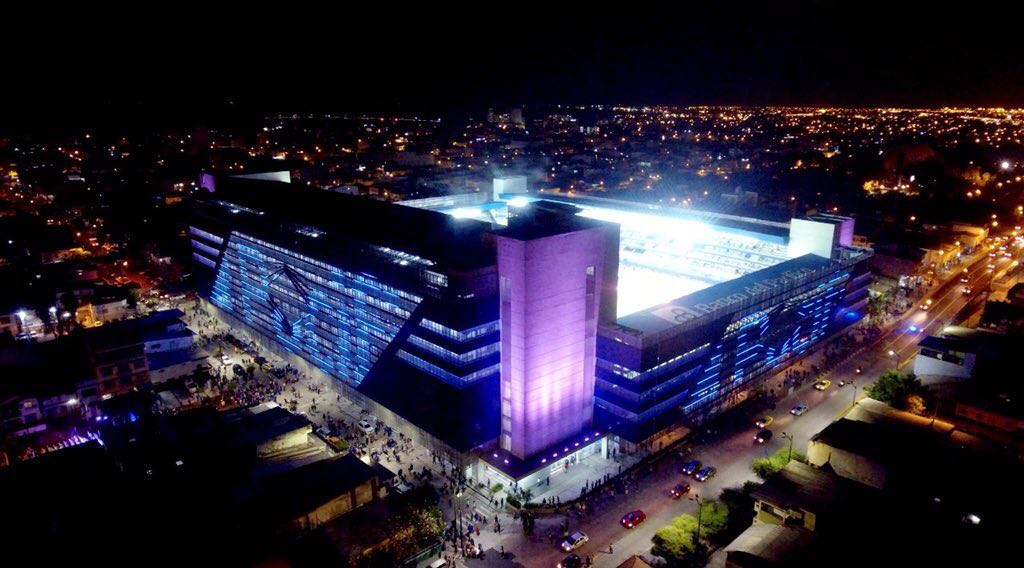 Still, the project is attracting sponsors, already having displayed names of companies who are not regular supporting partners of Emelec football club. The team want to make the new feature available for all companies when renegotiating current sponsorship contracts.
Estadio Capwell is the first in Ecuador to use such means in a commercial way and it has already attracted quite some coverage. Being a trailblazer may not be easy or cheap, but it seems to have paid off with the increased public interest.
The lighting project is the culmination of the stadium's largest ever reconstruction, carried out between 2015 and 2017. It came later than initially expected, partly because of constant use of the stadium, which made structural alterations more difficult.
Also, at this point the south and east sides of the stadium are not illuminated. They are less exposed to public view and the club hasn't put a time frame on potential expansion of LED lighting. It's not ruled out at this point, but no more details are known.