Warsaw: Funds secured for new Polonia stadium
source: StadiumDB.com; author: michał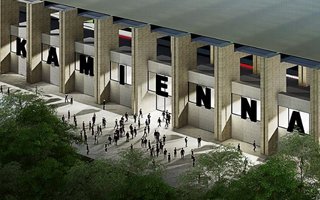 It wasn't a unanimous decision, yet no-one voted againts. The Warsaw city council decided to agree on spending 158 million zloty on a brand new stadium for Polonia Warszawa.
It's the biggest stadium spending decision voted on this year in Poland. As much as PLN 158 milion (€36.8m) is expected to be pumped into a brand new Polonia stadium in Warsaw. It wasn't a unanimous vote, because only 32 of 55 councillors were in favour. Interestingly, none of the remaining participants voted against, they all abstained.
While surely not final (depending on final design and tender outcome), the funding should be sufficient to deliver a brand new stadium at the location of current Stadion gen. Kazimierza Sosnkowskiego. Istead of current 7,000, it will hold as many as 15,500 fans. That's a significant upgrade from last year's proposal of 12,000.
After many years, even decades, of unkept promises fans of Polonia are right to be skeptical. At the same time, it's the closest they've been to a brand new stadium since its opening almost exactly 90 years ago.
One major thing connecting the future stadium to the current one is its western facade. The entire facade of the stadium and the plaza in front of it are a listed monument. It means any future development will have to respect the existing elements and their historical context.
At the moment the city of Warsaw is awaiting for recommendation of the monument conservator's office. Once it's delivered (expected by October), the design competition should begin. Aside from the stadium, including underground parking beneath it, there will be two additional buildings commissioned: an indoor arena for 2,500 spectators and a secondary sporting building of similar size.
Should all proceedings go smoothly from now on, construction could begin in 2020. It's expected to take 3 years to complete.