Scotland: Announcement about Dundee FC stadium by month end?
source: EveningTelegraph.co.uk; author: michał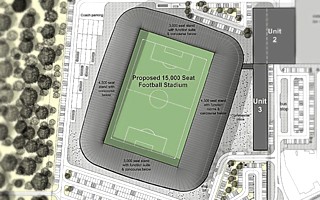 The new 15,000-seater is progressing and American owners of Dundee FC hope it would fuel te club for the next 10-20 years after completion. But even if not built, it will not end their engagement.
As reported by the Evening Telegraph, the Dark Blues' American owner has been in Dundee over the past couple of weeks to help managing director John Nelms put things in place for their proposed stadium plans, which would see Dundee FC move away from Dens Park.
The Camperdown Park development is understood to be progressing despite some issues around traffic and access being addressed and possibly increasing the project's cost to as many as £20 million instead of the 15-18 million estimate.
An announcement about the proposed 15,000-seat stadium is expected around the end of August. However, even if the planned venue doesn't happen, the Keyes family will not back away from Dundee FC.
"It's going to be far more than just a football stadium, it's going to be an event arena and provide something the city of Dundee doesn't have at the moment.
"The stadium project is important but, if for some reason it didn't happen, it wouldn't sway our commitment to the club." said club owner Tim Keyes.