New design: If only this was built in Nowy Sącz
source: StadiumDB.com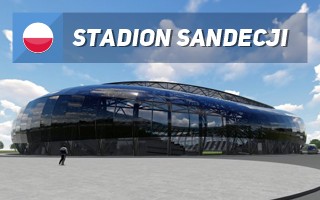 It would have been one of Europe's most impressive stadia below the 10,000 capacity. But let's be real, it's not getting built. Still, because it's an official presentation released by the city of Nowy Sącz, we should cover it.
Last season Nowy Sącz was the only city in Ekstraklasa not to have a stadium approved for matchday use. Sandecja thus had to play in Nieciecza. Now both Sandecja and Nieciecza are relegated and the team can again play home games in Nowy Sącz. But planning work for a new stadium in the Lesser Poland city is now advanced.
Which is why many supporters of Sandecja became interested in the official presentation published by the municipal Office for Architecture and Construction in recent days. It's a surprising release for any municipal body because we now know with certainty that the published concept is not getting built. Why?
In late May, following many months of delays, the city finally selected the architectural office to design the new stadium. The company, ATS 999, has time until end of August to present their draft vision, which would serve as basis for final design.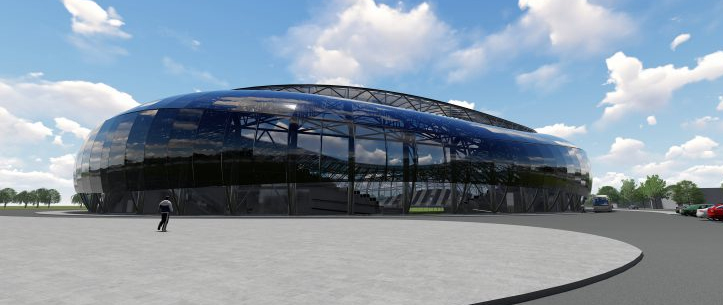 Meanwhile, the published vision was commissioned earlier from the Faculty of Architecture at the Krakow University of Technology, with which Nowy Sącz is working on long-term municipal development options. It's a master thesis by Tomasz Trzupek and while certainly captivating, it's just one of several stadium concepts drawn at the university. Still, because it's an official release by Nowy Sącz, we cover it for reference.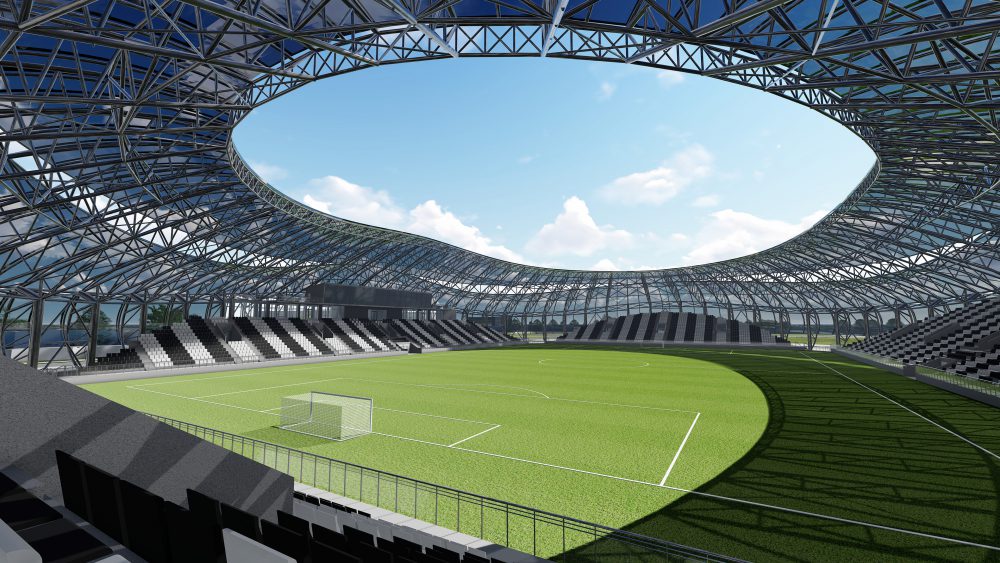 The concept foresees a unified, fully enclosed football stadium in the place of old multi-use Stadion im. Władysława Augustynka. Total capacity of 8,500 seats would allow it to reach UEFA Category 4 and meet all criteria for international games, let alone domestic.

With limited demand, the auditorium would be divided into 4 independent stands, each with a single tier. Both ends would only have one level of floor space for catering and sanitary use. The north side would offer two levels, while the main south side would have 4 floors, including corporate hospitality, commentators cabins and command centre.
The signature feature of this stadium would be its dome, divided into two interconnected rings. Covered with translucent material, the dome would reach 26 meters, well enough to avoid erecting floodlight masts.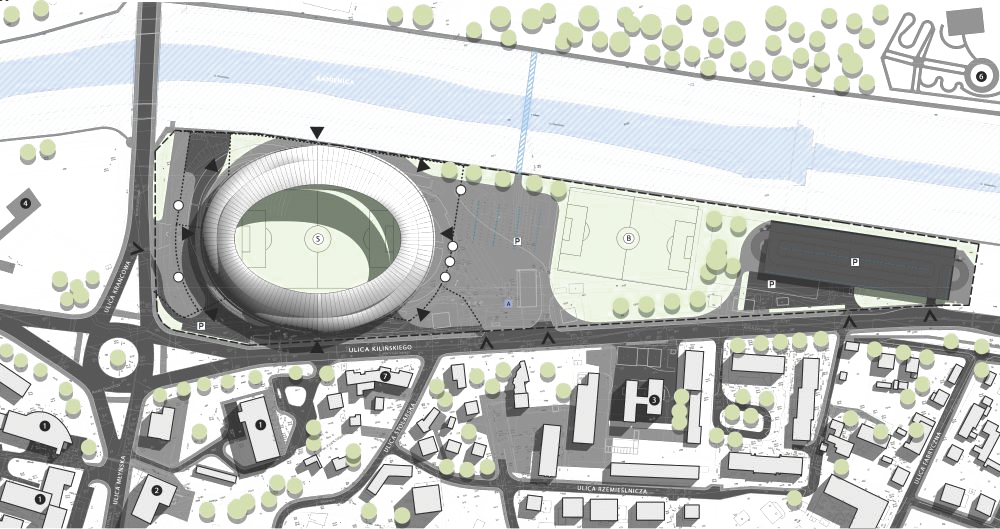 Perhaps the biggest letdown of the new release is that official stadium concept cannot be that spectacular. The city has very limited budget, set at PLN 50 million (under €12m), and has previously rejected a bidder who – seemingly accurately – estimated cost of the stadium at PLN 60 million. Also, the final stadium will have lower capacity, between 6,000 and 8,200.