Dublin: Richmond Arena unlikely to happen
source: Independent.ie / RTE.ie; author: michał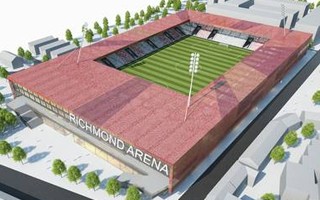 According to information gathered by the Irish Independent, the proposed stadium for St. Patrick's FC is not getting built. Instead, the site in Inchicore is to be occupied by affordable housing.
It could have been Ireland's most modern league stadium and first ever built in the Swiss model, which would see real estate company HRS deliver the venue along with numerous other uses. However, the project named Richmond Arena, a 12,000-seat stadium built on top of a shopping centre, now seems dead.
According to information acquired by the Irish Independent the 12-acre site will instead be used for Ireland's first affordable housing project, co-financed by the European Investment Bank (EIB). As many of 500 houses are to be built in Inchicore, 70% of them to be rented below market value.

If confirmed later this week, the scheme would be a pilot programme and response to Dublin's housing shortage. However, it would also leave St. Pat's without a new stadium at the site beside their current home.
The club's football director Ger O'Brien labeled the suggested move a nightmare waiting to happen. "Regardless of a stadium or not to lump more houses in to an area that has nothing in it is another nightmare waiting to happen," he tweeted on Friday.
"When I say 0, I mean 0 in it. No bank in Inchicore. 1 bank link in the whole village. 1 playground for kids. Pubs, off-licenses, bookies fast food is what Inchicore has to offer."
A petition to support St Pat's plans for the area was set up two days ago and has well over 2,000 signatures to date.
Earlier in July the club tried to avoid such decision by broadening their own planning application by addition of as many as 500 new homes, of which up to 50% would be in the 'affordable' category.