New stadium: Samara Arena
source: StadiumDB.com; author: michał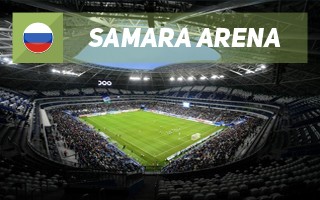 The spaceship stadium was the single last one to 'land' and open its doors to Russian spectators ahead of the 2018 World Cup. It's not really finished yet, but operational and ready for the international tournament.
To give you a clear background of this stadium, we have to rewind to 2009. When Russia fought for the hosting rights to the 2018 World Cup, most stadiums were planned along the banks of Volga and river transport was to be one of major innovations compared to previous hosts. In Samara the tournament stadium was initially envisioned on Korovij Ostrov (Cow Island), a picturesque island south of the city.
However, the remote area proved unfeasible and location was switched away from Volga, to the northern outskirts. Here, beside the 4-lane Demokraticheskaya Ulitsa, as much as 40 hectares of public green area was earmarked for development, to be connected with buses and trams before the tournament.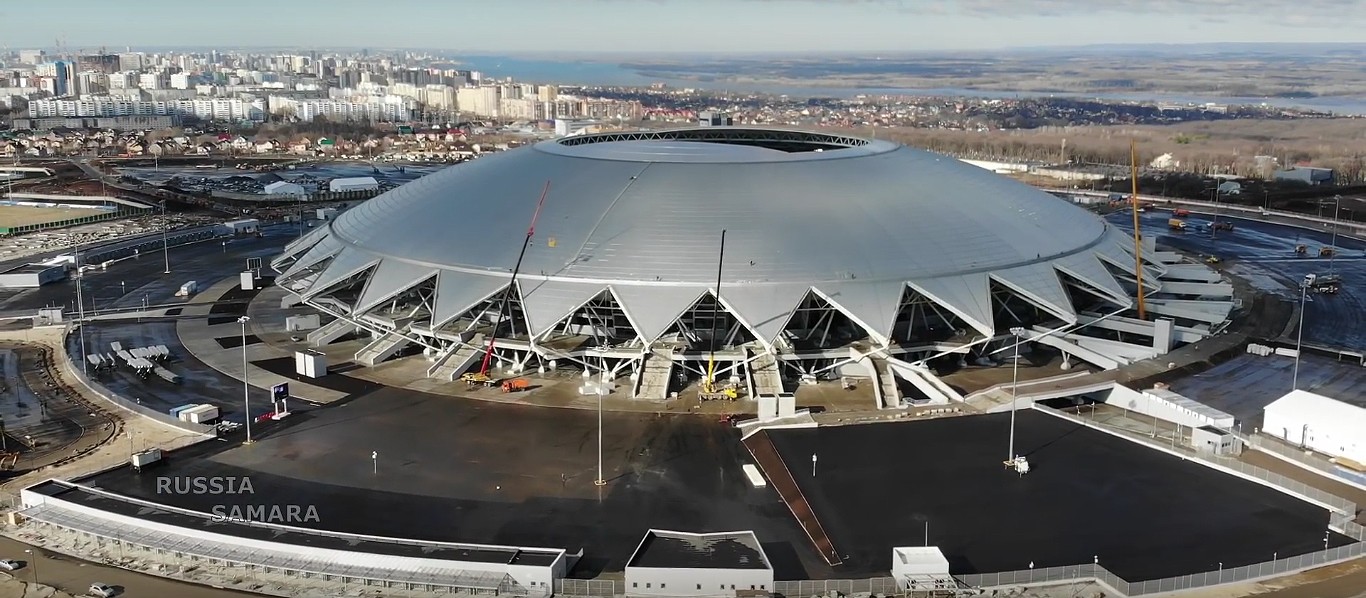 © Александр Карягин
Samara's long tradition in aviation and cosmic industry served as inspiration of what was initially nicknamed the 'spheroid' stadium, later voted by residents to become Cosmos Arena. As the names suggest, a vast circular dome was created, resembling a UFO landing softly on the ground. The initial dome was created as international cooperation with GMP Architekten, later developed mostly in Russia.
According to the initial vision the dome would have a stunning height of 80 meters despite any masts, arches or spires, a stunning result in the stadium industry. It would become a landmark, topping the large municipal park, named after the 60th Anniversary of Sovier Power.
However, early into the construction phase, between 2014 and 2015 the Russian economy collapsed, causing a nationwide rush to cut costs of the stadiums, at that point spiraling out of control. While the concrete structure didn't see major changes, the surrounding steel dome was reduced in height by 20 meters, its cover changed from almost transparent polycarbonate to tinware and night-time llumination scrapped altogether, replaced by a modest system.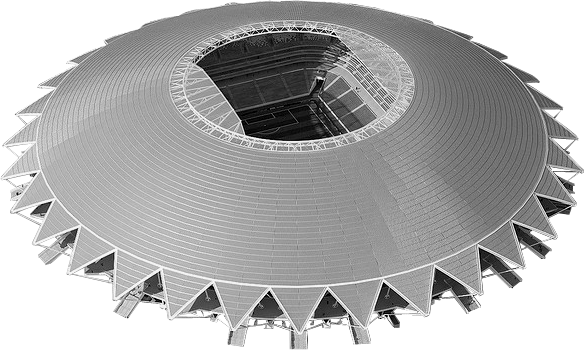 Despite such effort the stadium is still very impressive. The dome is still a huge structure with its surface of 38,346 m2, spanning way outside the auditorium and providing a fitting cosmic entry for fans. Like a starship's chasis, the steel structure welcomes visitors climbing stairs, leading them to the inner promenade. 32 long cassettes/girders gently shelter the audience from elements, even if not as spectacularly as they would have with translucent cladding.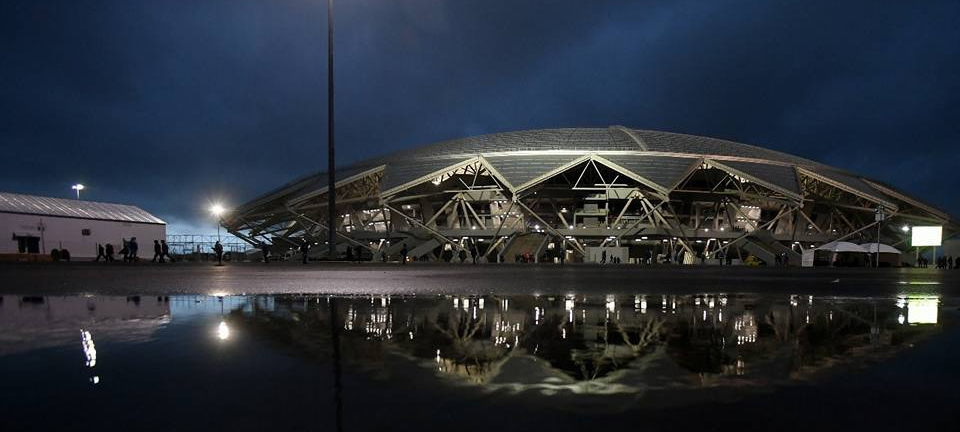 © ПСО Казань
The auditorium with almost 45,000 seats has a traditional layout with two regular tiers of seating and two strips of corporate areas between them. Initially the boxes and lounges were only planned along the sides, however during planning a continuous ring solution was selected for additional revenue and operational possibilities. One unique feature of the concrete seating bowl is its star shape, one more association with the space industry. Behind the stands as many as 6 floors of facilities were created, all above ground.

Just like the planning phase, construction suffered from numerous setbacks. To show how dramatic the situation was during economic downturn, the general contractor PSO Kazan at one point calculated that the stadium's cost had doubled from 13.2 to over 26 billion roubles. Only after cost-cutting it went back to 14.5 billion in 2017, yet by opening in May of this year it was almost 19 billion. Final price tag is likely to exceed 20 billion.
It was successfully tested just 1.5 month before the World Cup, becoming the single last stadium to open its doors. As of now there is no strong legacy plan for the stadium. Krylya Sovetov, even in its highest form, is unlikely to generate significant matchday revenue, while non-sporting use strategy hasn't been introduced.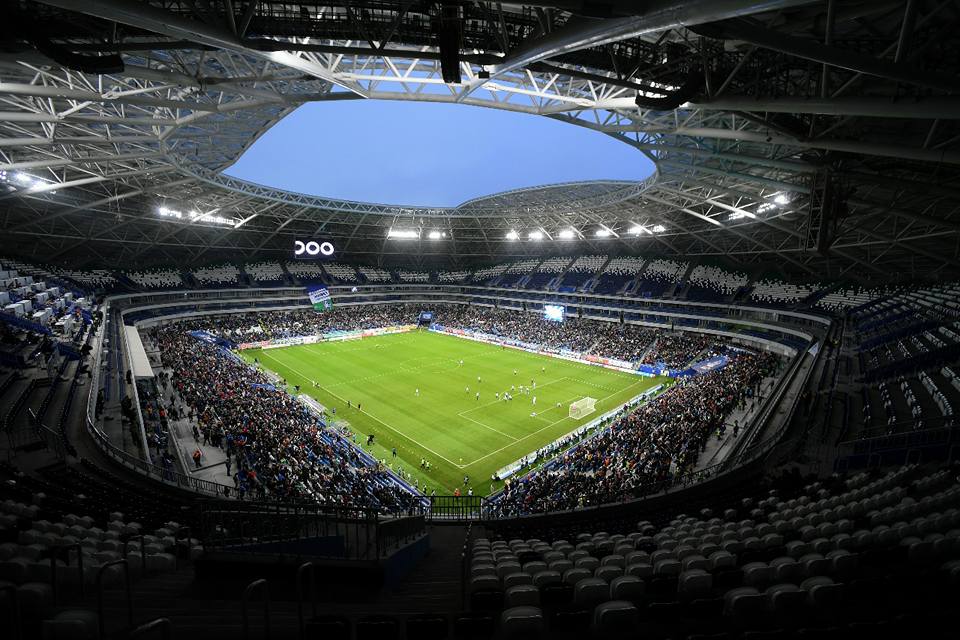 © ПСО Казань