What next for Wembley Stadium after Spurs ends its season long rent
source: press release; author: michał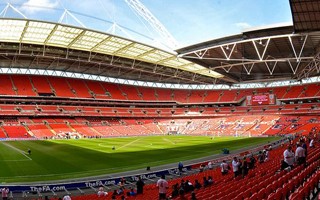 With Tottenham Hotspur ending its season long rent of Wembley Stadium, England's national stadium, what next for this iconic stadium and more importantly, will football still play a major part in an impending £1 billion bid by multi billionaire Shahid Khan.
The £15 million rent of Wembley Stadium by Tottenham Hotspur was seen at first as a bit of a gamble for the Premier League team, as they aimed to have a successful Premier League and Champions League campaigns. So far, their last objective appears to be winning their remaining two 'home' games at Wembley, in order to secure a Champions League campaign in their new stadium. Spurs have had to play away from their home, White Hart Lane, for the entire 2017-2018 season as their North London stadium is being built and due to host its first game in September 2018. Albeit, with some suggestions now being made that they will have to play away from home again for their first three games of the season as their stadium construction is a little behind schedule.
Spurs were the first team to rent out Wembley Stadium since it was built over a decade ago in 2007 for a whopping £789 million, which of course was paid for by tax payers in the UK. It is now left for the Football Association, Sport England, and Sports Minister Tracey Crouch to be questioned by MP's on the benefits of a potential sale of Wembley Stadium for an estimated £1 billion. With the stadium having cost so much to build it is a little perplexing that it may be sold for a mere profit of £210 million, an amount that can be won by a few lucky players on www.casinosinuk.co.uk/new-casinos/.

Photo: Ian Wilson (cc: by)
No doubt some of the main concerns for the Wembley Stadium will revolve around where the England national teams will play their competitive and friendly international games? With some rumours already starting to surface about a revolving tour around the country to some of the other iconic English stadiums for the England teams to play. Will the stadium remain mainly a football stadium? Will Shahid Khan want to stage regular NFL games or music concerts and scrap football altogether? And many more…
The current main earner for Wembley for football games comes from the premium Club Wembley offers which customers can pay for between £3,000 - £30,000 depending on their annual or game by game package for England games and national cup games. This is not going to bring in vast amounts of revenue which is why the chiefs of Wembley Stadium need to be more commercial, hence its hosting of NFL games in recent years. As well as music concerts, which include among others this summer's Ed Sheeran concert and many other global superstars.
It seems that for Wembley Stadium to remain an iconic stadium it must be able to offer a multi-faceted arena which of course includes football, NFL and music concerts. Without this year's tenants in Tottenham Hotspur, it does tend to sit stagnant for most of the year which is why Khan's £1 billion offer is a very tempting and commercially viable offer that the MP's will struggle to vote against. We shall wait and see what happens in the coming weeks…