South Africa: Scandal over plagiarism non-issue
source: StadiumDB.com; author: michał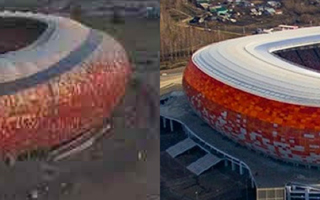 The 'scandal' exploded in hours, resulting in Russians releasing a statement and the architect of the original stadium being asked how he feels about 'suspicious similarities' in Mordovia Arena. How is this what journalists take time to cover?
We know we're not perfect as a stadium source and we'd love to be doing more in the time we have. But we treat stadiums seriously enough not to push stories like this. However, our hand is forced by emails that even we're receiving of the supposed plagiarism of FNB Stadium (Soweto, South Africa) in Mordovia Arena (Saransk, Russia).
Why would anyone accuse the Russian architects of plagiarism? Because, you know, the two stadiums have vague resemblance in shape and some similarities in the selection of colours adorning their facades. If you take two photos and manipulate them enough, you might come up with something giving you a bit of a point. Which is, regrettably, what Business Insider South Africa cared to do by presenting this image. Just to clarify: FNB Stadium is over twice the size in reality and is not as reddish as it seems in this photo, it was simply taken during sunset.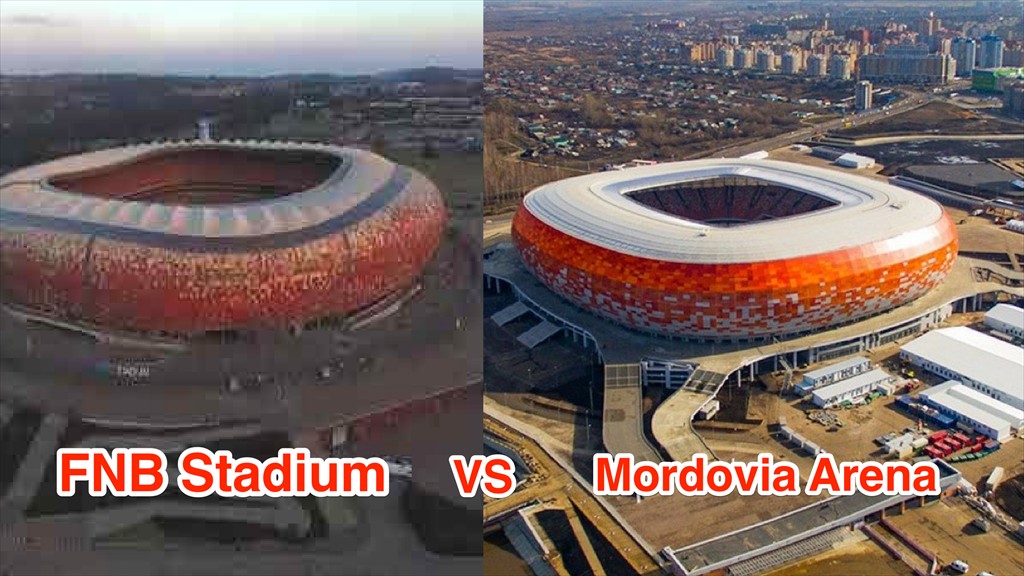 Now, we should note that this speculation was born and spread through social media, yet a serious media outlet like Business Insider actually cared to write 2 articles about it in a few hours and bother both FNB Stadium architect Bob van Bebber and the Saransk directorate for the World Cup organising committee.
Both Bob, who we had the privilege of meeting through Stadium of the Year, and the directorate took a cordial approach, claiming the similarities are flattering. Van Bebber said he would be proud if his work was used as inspiration. The Russians called the comparison nobilitating, we're talking of being compared to a World Cup final venue, after all.
But in all fairness, you'd expect more from professional journalists. The two stadiums are completely different in size, structure, design, concept and the only thing they have in common is the overall outer form and use of mosaic, possibly the most common feature of stadiums these days. They're not similar in detail, not up close, not inside, but in some aerial photos, with the right angle, if you really try hard, you can see it.
One might of course begin a debate why many stadium designs are so much alike, but that's a complex issue, not quite the conversation surrounding these two. So we took the liberty of trying co compare them in a more fair way.