London: Tottenham's deadline, sliding field and microbrewery
source: StadiumDB.com; author: michał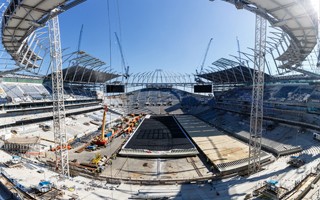 Though speculation is still rampant with just over two months left before planned delivery, Tottenham ensures August is still the opening date. Meanwhile, tests of the sliding field are going well and the first stadium microbrewery is on its way.
Theoretically there are just over two months left before the 62,020-seat stadium in north London is ready. It's certain that not all elements will be complete upon opening, but will Spurs make it in time at all? According to a source quoted by Football.London August is still the time for delivery.
Just in case, to create a safety cushion, Tottenham are asking Premier League to play first few games away, which in practical terms means that the first league game could take place in September, as was the case for London Stadium and the expanded Anfield. But even before PL games, ticketed test events are required.
The field is already moving
Last week a crucial piece of testing took place as two out of three field platforms were moved out of their south-stand garage for the first time and then traveled back inside. Only the east platform is still resting beneath the south end, waiting for machinery to be removed from the field of play.
Each measuring roughly 120 meters, the platforms were moved successfully and work on subsoil levels is already ongoing. Despite being split into three segments, the field will have all the necessary systems, including irrigation and heating.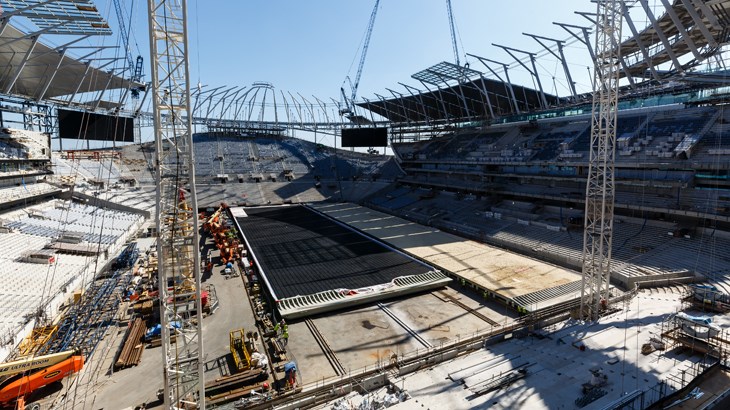 © Tottenham Hotspur FC
Division into three separate platforms is the most innovative piece of the sliding field. Until now all slising fields were built as one solid piece, which always poses a structural challenge, forcing one end of the stadium to have no supporting pillars in the ground. In London this was avoided and the south stand can be connected two the ground precisely in the place between segments.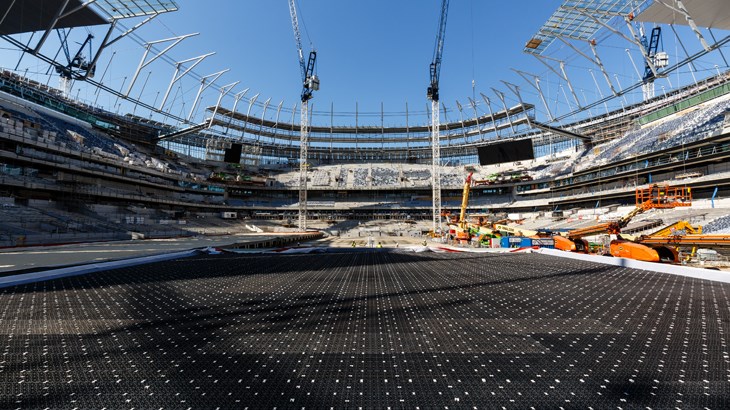 © Tottenham Hotspur FC
One major fear connected with such system is how the field's quality would be affected in the seams between each segment. To make the connection seamless, the central platform moves out first, then the two side segments join it. Once in place, their parts of the field move towards the centre and all it takes is a lawnmower to make the connection invisible. To prove it, Tottenham and special project contractor SXC have been working on this system for 4 years (!) now.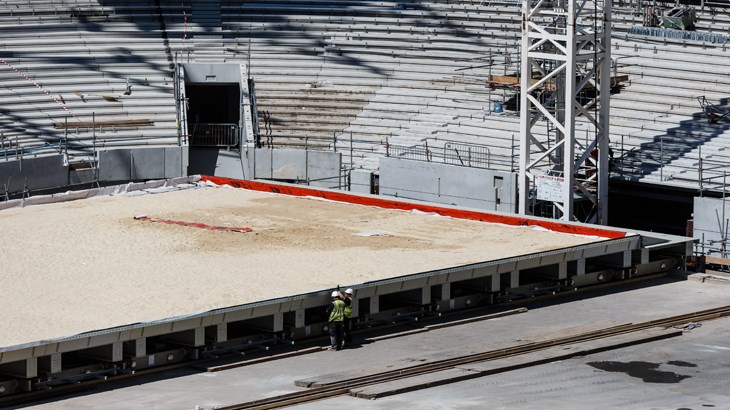 © Tottenham Hotspur FC
In engineering terms it's a major challenge. Each segment weighs approximately 3,000 tons and is built with 33 trays placed on 168 wheels, moving on rails like a train. Yet it takes just 25 minutes to hide the natural field or slide it back out. Once hidden, it makes way for synthetic NFL turf or concert surface, protecting the natural grass regardless of event. To make sure the field is always top quality, the stadium will have two head groundsmen instead of one.
Even more interestingly, the field's direct surroundings will also be moving. Massive flaps (16 in total, 8 on each side) connect the sliding field with stands and the touchline area can be lowered or raised hydraulically to adjust to natural/synthetic field height.
Microbrewery partner confirmed
Not only the field is innovative. New Tottenham Stadium will also be the first to host its own microbrewery, producing beer within the stadium, precisely the south-east corner. Partnership with Beavertown, London's craft beer giant, has been announced today. Along the brewery's regular craft beers a new kind will be made here, created in consultation with Tottenham and their fans.
© Tottenham Hotspur FC