Chelsea's out of options if Wembley sale goes through
source: press release; author: michał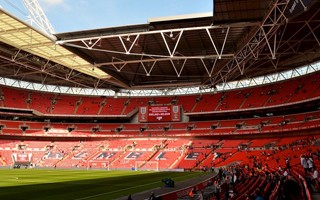 While the deal is far from sealed, potential Wembley sale is already one of the hottest topics in English football. It might have serious repercussions for Chelsea, of all clubs, whose options for a different temporary home are scarce.
It's been discussed worldwide already, even if the official bid to buy Wembley is still far from conclusion. What would it mean for, well... everyone?! While many supporters over the years hated how FA pushed as many games into the giant as possible, it's no question that the FA has a natural remit to cater for English football and has been the stadium's custodian, not only a for-profit manager. How much would things change if a private third party takes over?
It's a serious question indeed, whether you consider approaches toward ticket pricing, stewarding or other policies regarding hosting games in the future. Surely a lot of them would be covered in the potential sale, but not everything can be written down. The issue is perhaps most important for Chelsea supporters, who might console themselves with a bet365 bonus code or a drink already (play and/or drink responsibly, of course!), because this article will not leave them less stressed about their club's future.
First things first: no, Fulham is not about to play at Wembley, even if it's their owner whose offer is being discussed. It's already been confirmed that Craven Cottage is there to stay, jumping from 30,000 seats to 90,000 might not end good even if expansion of the current stadium is necessary to ensure growth.
However, even without Fulham's games at Wembley there might be little room left in the calendar for Chelsea, who wish to follow in the footsteps of Tottenham and use the national stadium during reconstruction of their old Stamford Bridge into a new, monumental temple of football. Shahid Khan seems to be aiming at establishing a fresh NFL franchise, which would use Wembley as their permanent home.
Even though the NFL season is rather short, sharing the stadium with Chelsea would be very challenging at best. You may think there's still a lot of time before NFL establishes a permanent team in London and you're absolutely right. However, it's also been taking far longer than expected to finally begin the Stamford Bridge reconstruction and it hasn't started yet, while it's expected that Chelsea might spend as many as four seasons at Wembley. So there's still a risk the two teams' fixtures might collide, even if it's purely hypothetical at this point.
Shahid Khan went out of his way to ensure there is room for Chelsea in his vision of Wembley's future, which may be reassuring. That said, it's in Khan's interest to reassure everyone about everything as the level of scepticism over his potential takeover is unprecedented. The issue is already being taken up in parliament, where the sports minister will be required to answer questions from MP's over possible sale and its outcome. So it's not surprising we've been reading several statements from the Pakistani-American billionaire promising he would work in the interest of English football.
Meanwhile, at the very same time, managers of other stadiums are sending completely different signals to Chelsea. West Ham reportedly aren't keen on sharing London Stadium with their derby rivals, even if it's taxpayer-owned. The rugby temple Twickenham is also not likely to open its doors to football tenants any time soon, too. So, in short: it's either Wembley or nothing, at least no comparably good alternative. Well, many fans would never call London Stadium appropriate in the first place, but you get the point. And there are fears Shahid Khan would be in the position to capitalise on Chelsea's lack of options by demanding more for their use of Wembley. For now these are fears only, but one might guess some Chelsea fans would just wish for his offer to be rejected so they didn't have to think of their club's stadium redevelopment being at risk.