Russia 2018: Green light, all stadiums ready!
source: StadiumDB.com; author: michał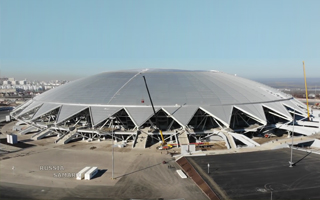 Make no mistake, construction isn't over. Still, Samara Arena was officially approved for use today, just 24 hours before its first test game ahead of the 2018 World Cup.
Today Samara Arena officially received its permission for use. In fairness, any other decision would have been an international scandal. And still, we had to wait until late afternoon on the last working day for Samara Arena to be approved.
Of course it was, tickets have been on sale and queues of hundreds of people were reported. Tomorrow the already delayed test match of Krylya Sovetov and Fakel Voronezh will take place, as required by FIFA before transferring the stadium to the global organisation.
The stadium isn't structurally complete, though. Minor works inside still need to be carried out and will happen in the next month, others should follow after the World Cup. Particularly the surroundings of the stadium need attention, as in some areas they still resemble a construction site. You can see them below on a fresh video from today by Aleksandr Karjagin, who has been of great help to us in reporting about this stadium's construction!
Unofficially nicknamed the Cosmos Arena, this stadium is indeed inspired by rich traditions of aerospace in Samara and was intended to look out of this world. While reduced in size and quality due to cost-cutting efforts, it's still the single largest structure in the city. Covering 156,000 m2 and reaching the height of 60 meters it's the tallest building of Samara.
The 45,000-seater was initially expected to be delivered by the end of December. However, delays piling up during the construction period led to a very intense finishing weeks. It was the last stadium of the 2018 World Cup to get the green light. Thus we can finally say: all Russian stadiums are ready for use!