Jerusalem: Teddy Stadium covering to begin soon
source: Walla.co.il / inn.co.il / one.co.il; author: michał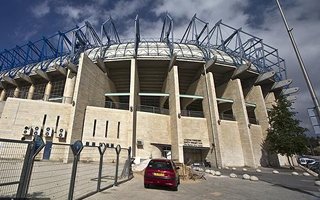 Already on May 9 the de facto national stadium of Israel will welcome players and fans with enhanced facilities. However, much bigger work will follow after the season ends.
It's almost ironic that Beitar Jerusalem is formally the away team for the May 9 Israel State Cup final again Hapoel Haifa. But it's still their home ground, Teddy Stadium, which will host the game. Not the same as always, however.
Over the past two weeks the stadium has been subject to extensive upgrades, especially in the player-related areas, from locker rooms to dugouts. A brand new public address and sound system is also being fitted.
But that's only the first and smaller part of this year's revamp. After the football season concludes, Teddy Stadium will receive its final portion of the roof, becoming Israel's largest football stadium with all stands covered, even if only partially in terms of the roof's reach.
Interestingly, since last year Teddy Stadium is also Israel's largest stadium solar plant, after installation of photovoltaic panels across the roof over three stands. It's thus the first solar stadium, delivering 690 kilowatt of clean energy.

© Green-Energy.co.il

© Green-Energy.co.il