Tel Aviv: Bloomfield Stadium to be opened in May, 2019
source: ynet.co.il / one.co.il; author: michał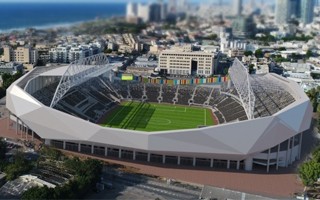 Completely reconstructed, the legendary Tel Aviv stadium will welcome spectators in over a year from now. While a significant delay, it still represents a reasonable time frame for a project of such magnitude.
It's one of Israel's most cherished football stadiums and also one of the most peculiar reconstruction cases in the world of football. In Tel Aviv almost all of the old Bloomfield's concrete auditorium is being preserved and incorporated into a newer, twice larger seating bowl.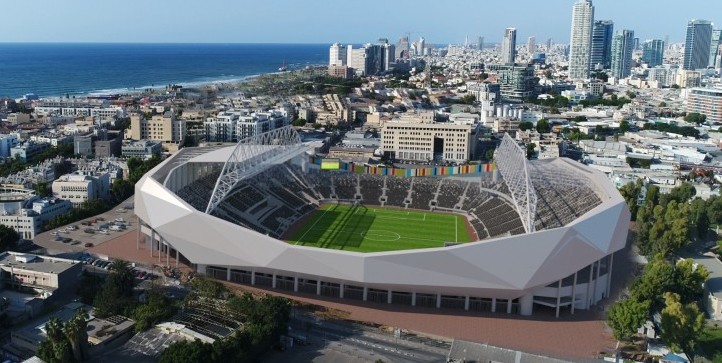 Only three parts of the west stand were demolished, most importantly its central section. Here, the new changing rooms, press areas, offices and hospitality zones will be created, topped by newly added sections.
In total, the new main stand will hold 6,210 regular fans, 1,078 VIP, VVIP and business spectators, as well as some 130 disabled fans and a similar number of their companions. Dominated by a massive truss above, the main stand will be the only one to be covered.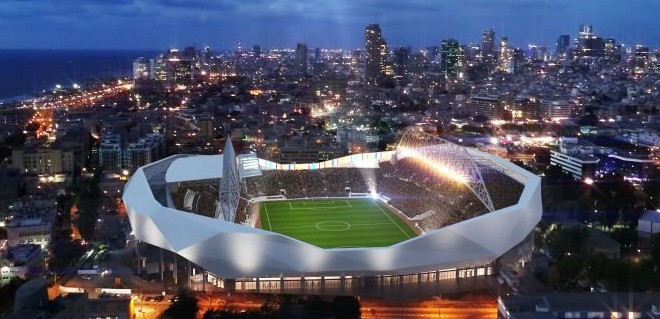 While already impressive, the west stand will be dwarved in terms of capacity by the new east side. Old sections will now hold 4,636 fans, while a new upper tier will add further 7,114. This means the east stand will accommodate almost as many fans as the entire old stadium.
Together with two end zones for 4,817 people (each), new Bloomfield will have capacity of over 29,000 people.
One downside is the timing. Initially, back in 2016, it was suggested to be ready in August of 2016, them September, then late 2018. Now it's quite clear that there's a year more left until works can conclude. It could have been ready in March of 2019, but with none of the three home teams pushing to use it immediately, the stadium will be delivered in May.