New stadiums: Three from Superliga
source: StadiumDB.com; author: michał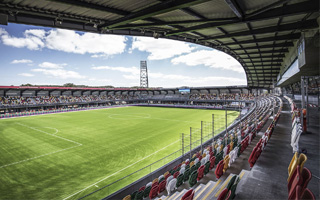 You should see these three stadiums. If not for any other reason, then to compare how different stadia are within the top flight of Denmark. Here are our fresh additions from Hobro, Silkeborg and Helsingør.
Last night we added three new stadiums from Denmark, making up for some of the lost time in a country we haven't updated recently. All the added stadiums are from the country's top flight, Alka Superliga. Yet they all represent a different standard and size. Whether you prefer the rural charm of Helsingør or flashy arena in Silkeborg is up to you, we put them in order of capacity below!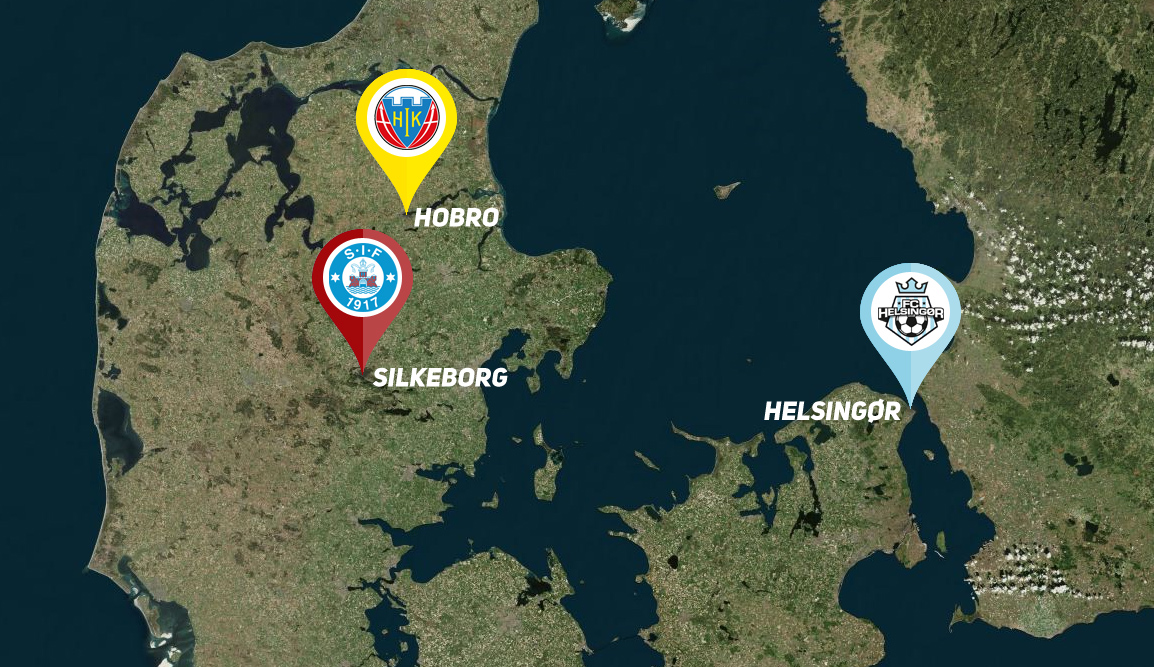 Back in 2010 the stadium was almost solely a football field with gravel running track. Aside from that only a minuscule terrace and small changing room building were located in the west. However, with the development of the nearly-100-year-old Hobro IK led to serious changes.
© Janusz Licak
First, in 2011, came the new administrative building and main stand, initially holding 415 spectators. Then in 2013 floodlights were installed, along with temporary stands. By 2015 expansion was already ongoing on three sides: main stand was extended to full field length, a new south terrace was erected and construction of the largest eastern side was ongoing.
Once complete, the east side accommodates 2,288 seats fans and adds further 1,800 standing places, as the club informs. Although declared capacity stands at 10,700 spectators, the club is yet to reach this kind of turnout.
JYSK park, Silkeborg (10,000)
New stadium in Silkeborg is a joint project of the municipality and Silkeborg IF, through subsidiary Silkeborg Invest. Initially both participants were to contribute equally DKK 60 million each, however the budget grew by 10 million, covered by the private partner.
© Årstiderne Arkitekter
The stadium was built next to brand new highway and beside already existing JYSK Arena. Its architecture was created to fit the other large venue. Thus the neutral and simple colours and shapes, practical and minimalistic. Inside the story is completely different as seats create a bright mosaic of four colours.
Auditorium has a peculiar shape. Though the stadium holds only 10,000 people (even including 4,000 terraced in the north and away section), stands are divided into two continuous tiers. Lower one, slightly below ground level, offers only 3 rows of seating, while the upper one adds further 8. Longitudinal stands are also curved, which means most fans don't only enjoy a perfect view of the field, but also an overview of the auditorium.
In terms of infrastructure, almost all facilities are focused around the west end, traditionally. Here, spread across 5 levels, the club offices, corporate hospitality, press and players zones were created. Regular fans can enter the club shop and cafe in the northern part of the stand.
Lying just 240 meters away from the beach, this picturesque stadium in northern Helsingør is quite modest and it begs the question how on earth did they fit over 5,000 people during its record-attendance game in 2017!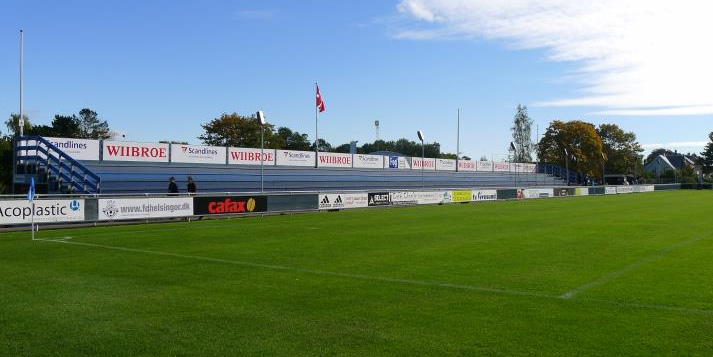 © Groundhopping.se
Operating since 1923, the stadium currently has two grandstands. The western main stand offers 282 covered seats, while underneath it also houses all the necessary player facilities. The east stand accommodates over 1,000 fans as a standing terrace or benches, depending on how fans prefer to watch the game.
However, with sufficient room around the perimeter of the field, hundreds more people can flock inside, placing themselves in front of both stands and behind goals.
The stadium first came to national attention in 2015, when FC Helsingør (created from the fusion of 5 local teams) won its first promotion to the first division. Then in 2017 the club managed to reach top flight. Following promotion temporary stands and floodlighting were added. With the current stadium proving highly insufficient, plans for a new one not far away were drawn.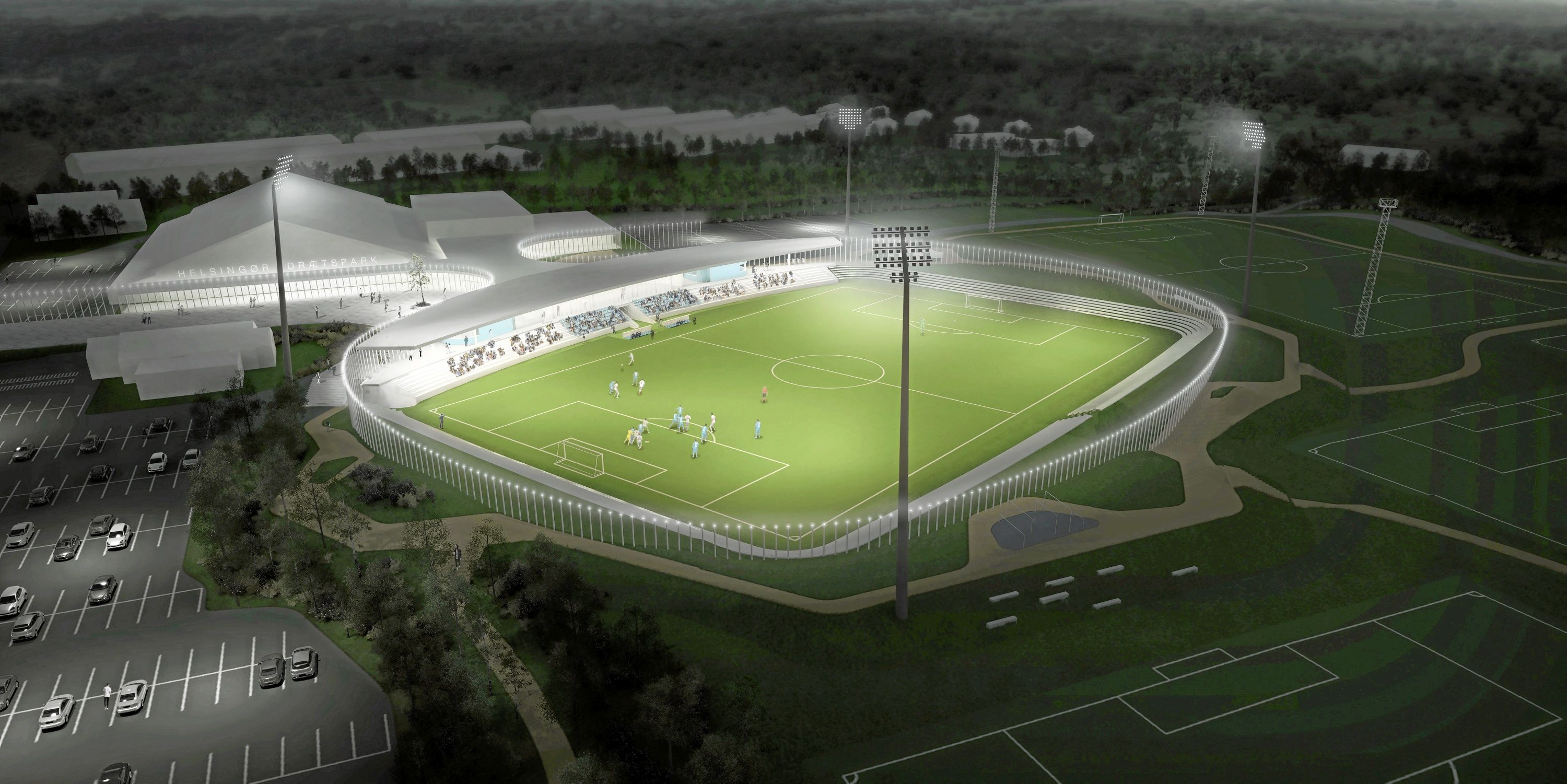 © Nova5 Arkitekter