Austria: Stadium in Wiener Neustadt approved
source: Kurier.at; author: michał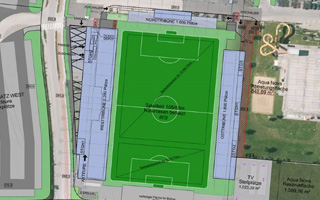 Three stands with 5,000 capacity, just enough to meet Bundesliga requirements. Early next year this will be the new stadium in Wiener Neustadt, approved by the city council last night.
Late on Monday the city council of Wiener Neustadt approved the spending of €12.8 million for a brand new stadium in new northern district, between local indoor arena and aquapark. Awarded to a joint venture of Strabag AG and Porr GmbH, the project is expected to be delivered in spring of 2019.
While designed with Bundesliga regulations in mind, the stadium might not be built with the required 5,000 capacity from the very start. Capacity decision will be made only once it's clear whether SC Wiener Neustadt wins promotion to the top flight in 2 months.
If built in the final layout by early 2019, the stadium will have a main stand of 2,200 seats, east stand of 1,800 and a north end for 1,000 people. In the south only room for temporary concert stages is planned, no room for audience.
East of the ground two full-sized fields and two smaller ones will be created, while parking sites are to accompany the venues from the west and north.
Funding for the project will come from public sources, however it's expected to be recouped at least partly by the sale of current stadium, near the heart of Wiener Neustadt.