Criminally underused and forgotten stadia
source: press release; author: michał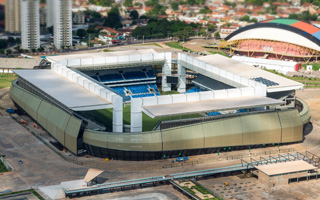 Many of major tournament stadiums have completely shifted their focus but unfortunately are barely finding a way to break even, whilst a significant amount have closed their doors completely. We take a closer look at some of the worst offenders.
Any country that is asked to stage a World Cup or Olympic Games is required to ensure the erection of their stadia is completed in time and is completely safe for human occupancy. Following the announcement, a number of hosts have swiftly drawn up plans for multiple purpose-built arenas and brand new stadia in time for the event and many of those can be considered a triumph and have undoubtedly played their part in the legacy.
The venues are awash with colour and excitement throughout the competition but, following their conclusion, many have been left as an empty husk, a desolate shell or, in some cases, a rarely occupied and oversized amphitheatre which is a drain on local resources. Many of these stadiums have completely shifted their focus but unfortunately are barely finding a way to break even, whilst a significant amount have closed their doors completely. We take a closer look at some of the worst offenders.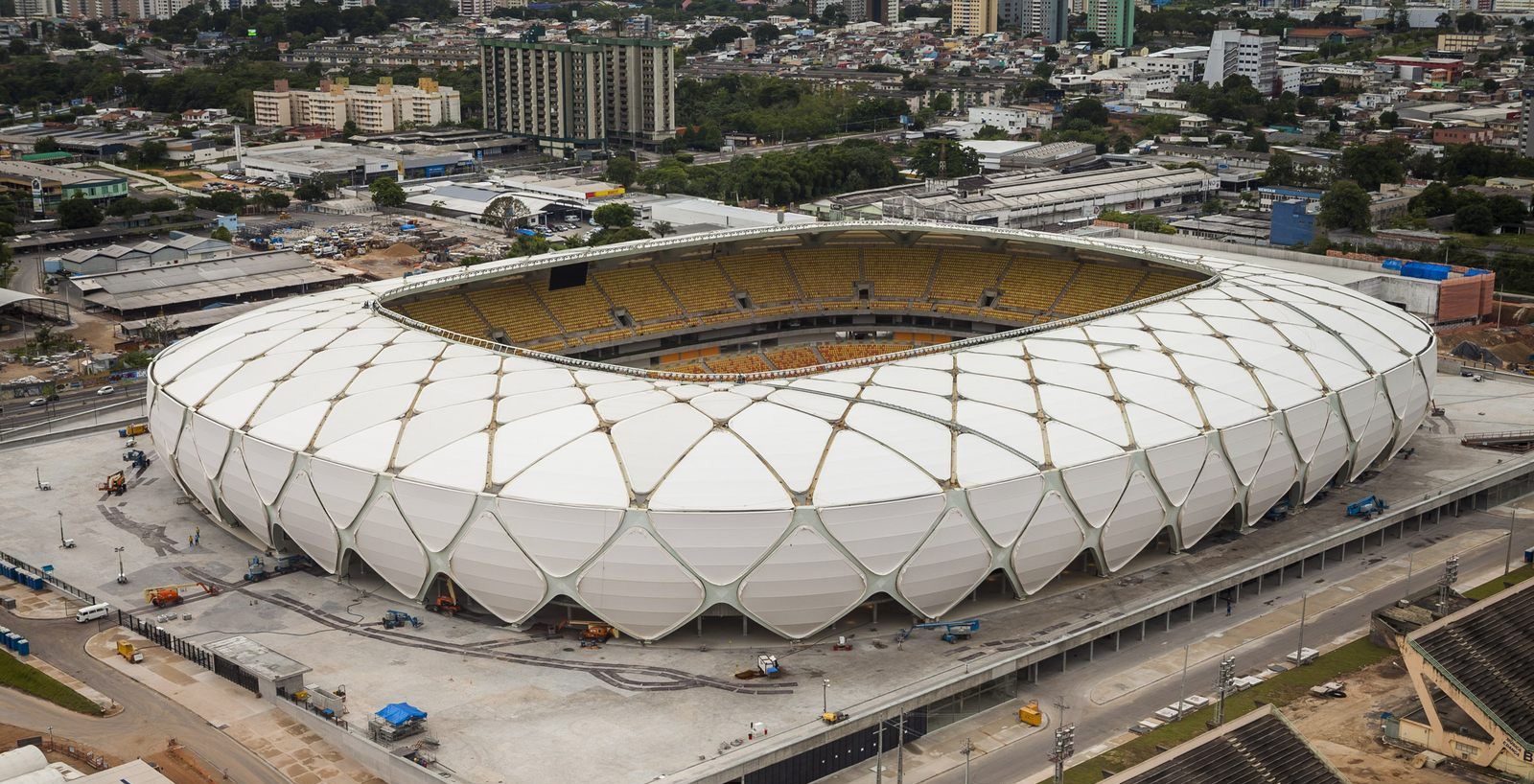 © Copa2014.gov.br
Arena da Amazonia, Brazil
The Manaus venue cost R$ 669.5 million to complete and was largely paid for using public funds. It's an impressive structure that was designed to hold 44,000 fans during the 2014 World Cup, although the actual attendance is now significantly lower. Switzerland's 3-0 defeat of Honduras was the last football match to be staged here and it proved to be a huge success during the tournament, despite the tropical conditions. Despite its remote location in the heart of the Amazon, the stadium had a European feel about it but concerns were raised about the lack of footballing culture in the surrounding areas. There isn't a top-flight team located nearby and locals aren't overly passionate about the game. Interest in local, amateur leagues is extremely low and the cost of staging these games significantly outweighs any revenue, which has resulted in teams opting to compete elsewhere. Rock band Kiss overlooked this stadium as part of their recent tour and the struggles look set to continue. Despite promising that the Olympics "will leave a legacy", this is far from the case for this largely forgotten structure.
Olympic Softball and Baseball Stadiums, Greece
Athens 2004 was a significant time for Greece and the excitement of the Olympics "coming home" resulted in the manufacturing of several purpose-built stadiums encompassing various sports ranging from swimming to archery. Many of these venues are now rusting and abandoned and are seldom occupied. The economic downturn hit the country hard and this can be partly attributed to these now-soulless facilities but Greece's lack of foresight has led to derelict softball, baseball and beach volleyball stadiums. The gymnastics venue was put up for sale back in 2014 as the government attempted to recoup some of that outlay. With the country unable to pay its debts, many of these decrepit coliseums have become a symbol for mass overspend and are generally considered to be a white elephant.
Estadio Nacional, Brazil
Costing over $550 million to build, Estadio Nacional in Brasilia was the most expensive stadium in the country and hosted seven World Cup games during 2014. It ran significantly over budget and it has little use these days. Whilst there are a number of competitive tiers in the Brazilian football pyramid, Brasilia lacks a notable team and, in 2015, it had the dubious honour of being the only stadium yet to have hosted a football match since the tournament concluded in July 2014. There are eight amateur teams located nearby but it simply isn't economically viable to stage regular matches here with some clubs' seasonal attendance not enough to fill this underused structure. Perhaps this stadium is tainted by bad memories as the final game of the 2014 World Cup held at this venue resulted in the hosts losing 3-0 to the Netherlands. It capped off an underwhelming tournament for the hosts which saw them concede ten times during their final two matches. Although this was a painful experience for the home fans attending the games at Estadio Nacional and in Belo Horizonte, it was a dream for in-play bettors who witnessed the Brazilian defence fall apart with alarming regularity. One of the most effective tips for in-play betting is to only wager on games that you are able to watch and, with pictures broadcast to over 3.2 billion viewers worldwide, this gave punters the perfect opportunity to continually back Brazil to concede the next goal of the game.
Arena Pantanal, Brazil
This impressive Cuiaba-based structure holds 42,000 spectators but a leaking roof has resulted in further costly improvements being carried out. Reports have suggested that homeless people in the area have taken refuge inside the changing rooms and throughout 2016, only occasional sparsely attended lower-league games which were costly to stage were hosted here. A few alternatives have been tested including hosting a couple of trade shows and a recent ploy to incentivise weddings and parties at the arena failed to have the desired effect. However, there have been positive steps in the local authorities bid to host regular events here with top-flight sides Flamengo vs Fluminense in the second round of the Rio Cup at the end of February 2018, one of the first high-profile games to be hosted here since the conclusion of the 2014 World Cup. There is still a long way to go but the tide finally appears to be turning.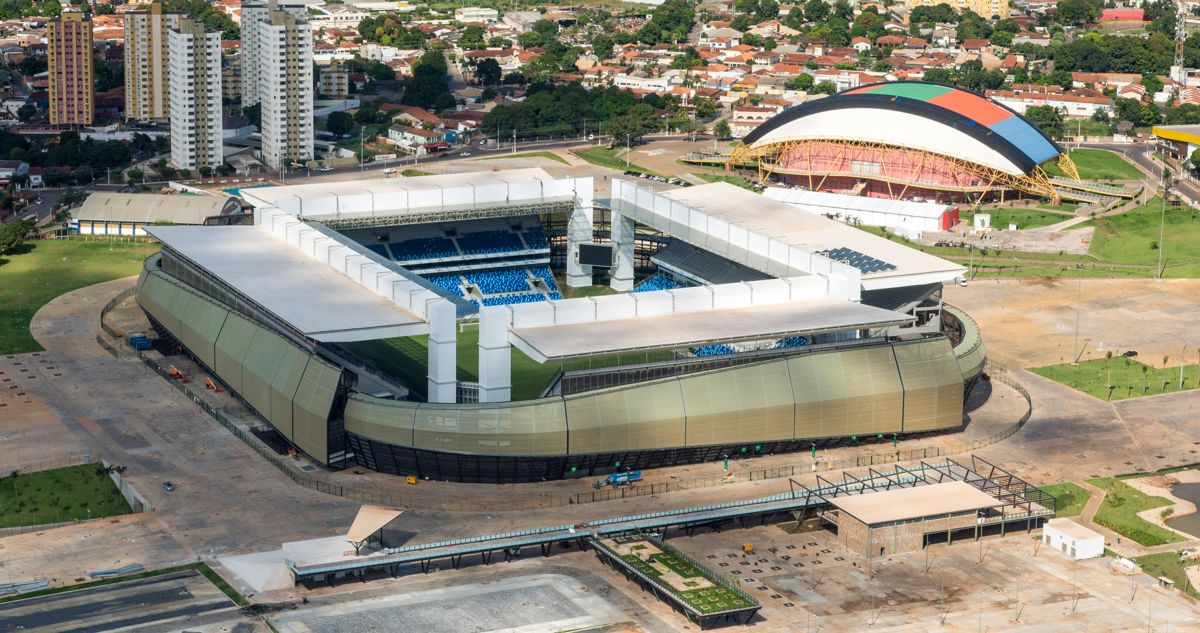 © Copa2014.gov.br

There have been mixed results for World Cup and Olympic stadia and, whilst the memories will live on, the rotting structures on the outskirts of the cities are a constant reminder of the overspend and lack of future-proofing by the authorities. The 2014 World Cup was the most profitable tournament of all-time for FIFA but it has been a costly experience for Brazil and future hosts will need to look carefully at these abandoned venues before starting the planning process.