Allegri's Juventus and how the home advantage makes all the difference
source: press release; author: michał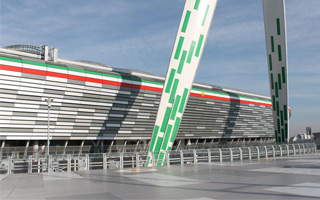 Playing at home is something most football clubs tend to prefer to playing away, and there's plenty of factors which back up what influence it has on their results when hosting sides rather than having to battle them on foreign soil. Juventus are a solid example of that and readily capitalise at home, but how much of that is truly down to their own efforts?
One website that is a big fan of keeping track of form, statistics and results is Footy Accumulators, who regularly update their website with current tips, offers and odds for football matches happening throughout the world on a daily basis. They cover all major leagues and even have specialised betting tips pages for all the leagues and competitions they cover.
There's many factors that come into what makes the world's best sides as strong as they are, and it's at home where they're obligated into creating fortresses to present a reliable hunting ground for collecting their most-amount of points.
Defensive strengths
With a view to capitalising on it ahead of all else, The Old Lady's defence has stood as the key attribute which has led them to so much success in recent years. Juventus started their run of successive league wins in 2011, where Antonio Conte kicked off his vision of a defensively sound Juve, headed by world-class centre-back Giorgio Chiellini. He oversaw the Turin-based side for three successive Scudettos before leaving to take on the Italian national side.
Former AC Milan boss Massimiliano Allegri took his place and has only continued the work left by Conte, building on it to produce the most impenetrable defensive outfit through a combination of Giorgio Chiellini, Leonardo Bonucci and Andrea Barzagli, fondly known as 'BBC'.
Unfortunately, through a reported disagreement between Leonardo Bonucci and Dani Alves, both players departed the club over the summer, leaving Bonucci to join AC Milan, which has affected Juve's defensive efforts, but their organisation has been enough to paper over any cracks.
Forming dominance in a new ground
Playing alongside local derby rivals Torino in the Stadio Olimpico Grande Torino wasn't ideal for morale, prompting Juventus to move into the Allianz Stadium in 2011, where they've been issued with a clean slate.
Since that point, Juventus have shown consistency in their defensive efforts and set a solid record throughout. La Liga side Atletico Madrid moved into the Estadio Wanda Metroplitano over the summer after being one of the strongest defensive side through an illustrious history at the Estadio Vicente Calderon, but they've had a tougher task in carrying that form over to their new ground; Juventus have started from scratch and eventually became Italy's strongest side through the transition.
Fan backing
The weakest of all factors must be the obviously significant level of fan backing seen at home but it obviously has its positives. Italian football teams always have ferocious fans with flags, banners, chants and even flares making it difficult for any visiting side to come away with much. Juve are one of those sides and make the atmosphere overwhelming for the travelling support. That could easily be said for any side though, so it only contributes a small percentage of their advantage.
Hoodoo on playing away
Losing just one of their last eighteen games on home soil proves the strength of Juventus but even that is enough to build up some pressure, as Lazio stand as the only side capable of taking three points at the Allianz. Defeating Juve continues their record over the side away from home, as they'd beaten Allegri's side to the Italian Super Cup last summer and had made themselves into a bogey team. This proves that even being perfect at home can be a damaging factor, as it's now singled out one side who are worthy of doing the impossible.
The Oldy Lady are the only side out of the top five leagues in world football who currently sit with five home clean sheets from their last five games. Their last six games have consisted of six wins and a draw, scoring fourteen goals and conceding just once in the process.
As they did with Lazio at home, Juventus have decreased their chances away from home from hyping up their home form as much as they have, amounting to a far more instable side outside of Turin.