Glasgow: Could empty Hampden sink Queens Park?
source: BBC.com; author: michał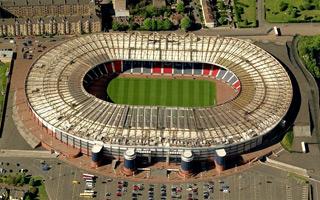 If the Scottish national team leaves after 2020, the amateur club Queens Park will be left with unbearable burden of the national stadium. Could local authorities help?
Queens Park FC is the only amateur team playing in British senior football, now ending its 150th anniversary. Few would have predicted that it might be the most challenging year for them as the Scottish FA show no interest in prolonging their Hampden Park lease after 2020.
Should the SFA decide to leave Hampden, the club would be left with a 52,000-seater impossible to sustain economically. "I don't think it would be revealing any secrets to say Hampden Park would not be a viable business without the big games, so we would have to look at a different business model.

© James Brown
"If the SFA walk away, we would be having some interesting discussions with the government and council." said Queens Park president Alan Hutchison. Indeed, public support would seem the only option on the table, though Queens Park still hope for a happy ending. After all, SFA don't have much room for changes, effectively choosing between Hampden and leasing from far bigger and more commercially-interested partners, namely Celtic, Rangers and the Scottish Rugby Union.
The amateur team argues that recent critical survey of Scottish fans' feelings towards Hampden is nothing to go by, merely a "small, non-objective poll". Which, in all fairness, it is not. Ran among almost 3,000 members of the Scottish Football Supporters Association, the survey shows clear displeasure with current facilities at the oval stadium.
"I accept that, if you are at the back of the east or west ends, you are quite far away from the park, absolutely, but that's the price you pay for having an oval stadium that allows you to have the Commonwealth Games there," Hutchison said, quoted by BBC.
He confirms Queens Park would consider reconfiguration of the stadium, but would not be able to pay for such changes. The club's future effectively hangs on SFA's decision about potential relocation of national team games after 115 years at Hampden. At the same time, there indeed seems to be no better option on the table for SFA at this point in time. Whether the latter will change is something 2018 will answer.