Genoa: Marassi for sale, but to whom?
source: Genova.Repubblica.it; author: michał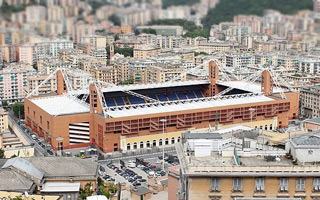 Sampdoria is reportedly ready to buy the famous Marassi stadium, but the city cannot accept a bid outright. Especially if they want both clubs to have equal chances in the future.
It's no surprise that the municipality of Genoa intends to sell Stadio Luigi Ferraris (Marassi) to a private entity or consortium. The bigger issue is possible takeover by only one of the two tenant clubs.
So far, only Sampdoria expressed interest in buying the stadium, which would leave FC Genoa at a disadvantage of paying their archrivals to use the stadium. One look at Munich shows how bad such situation can become.
Talks with Sampdoria are advanced enough for local authorities to reveal that the club commissioned its own evaluation of what the stadium is worth. However, any transaction would not be as simple as offering enough money.
© Gabriel Rinaldi
Once Sampdoria submit an official offer, which reportedly could happen in January, the city will order their own valuation of the building. Only after an independent analysis is ready, an open tender would be launched. As argued by the city councilor for sports and education, Stefano Anzalone, this order of affairs is forced by Italian law.
How much could the stadium be worth? According to Anzalone, not too much – around €10 million. "It's a beautiful stadium for this amount, with great value in it. However, it also needs thorough redevelopment. For a complete overhaul you'd have to pay €30 million." the councilor says.
Genoa's mayor Marco Bucci hopes the €10 million estimate is lower than actual bidding price, because the city has many projects to finance. However, an even bigger worry for him is the legacy use by both Sampdoria and FC Genoa. "Sampdoria have already come forward, but I would prefer both clubs, so also Genoa, to take control of the stadium." he said.
Until ownership is resolved, the municipality has to preserve the stadium in decent shape. Field of play, seats, floodlights, changing rooms and almost all of its hospitality require replacement. The city filed 26 bids for external funding to CONI (Italian Olympic Committee), who have just released €100 million for sports infrastructure across the country.